You have probably seen someone vaping on campus before or maybe even done it yourself, but sometime in the near future that could all change.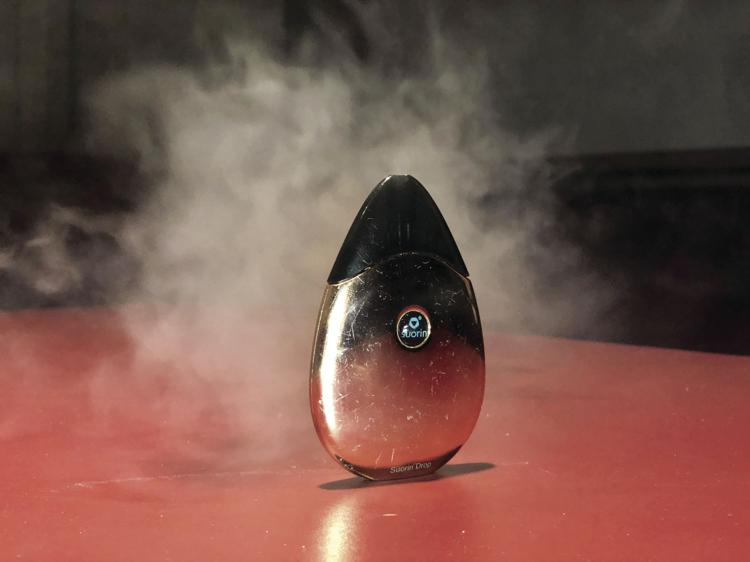 The Tobacco Free Task Force at West Virginia University recommended steps to expand WVU's tobacco ban to include banning vapes and electronic cigarettes on WVU's campus. Both vapes and e-cigs are already banned in WVU residence halls under the community standards of conduct.
The chairman of the task force, Rocco Fucillo, admitted that no one has ever been cited for violating the current policy because, as of now, no one is responsible for enforcing the policy.
While almost everyone might agree that traditional tobacco products like cigarettes and chewing tobacco are a detriment to the individual using them and the public around them, banning milder nicotine products like vapes and e-cigarettes might not be as black and white an issue.
The Vapor Hut, which sells products such as e-cigs, has been in Morgantown for seven years with two locations, one at 111 Walnut St. near the University and the other at 250 Retail Circle. Employee Chris Morgan said he has been vaping for six years and thinks that there are some benefits to vaping.
"Vaping leads to a decrease in [cigarette] smoking," Morgan explained. "Most of the customers who come into the store are looking to replace their cigarettes. Most people vape to try to get away from cigarettes, it's never the other way around."
Morgan himself said he started vaping as a way to curb his use of chewing tobacco. Morgan acknowledged that vapes have their own health concerns, but insisted that people should only start vaping as an alternative to smoking cigarettes.
"Anything that goes in the body that's not supposed to be is going to do harm," Morgan said. "So you should just use vaping as a way to get away from cigarettes. You should never start as a fad, just to show off or do tricks."
In respect to being a public disturbance, Morgan said it is up to the individual to be responsible.
"I could see where people could get irritated [with vaping in public], but it's not as disrespectful as smoking and there's no second-hand smoke or bad smell," Morgan said. "It's on the user to be mature enough to realize they are being disruptive."
It is likely that the ban on vapes and e-cigs will go through. However, as the task force moves forward with their new enforcement plans, perhaps they should consider lessening the punishments of expulsion for students and termination for employees laid out in Policy 57.