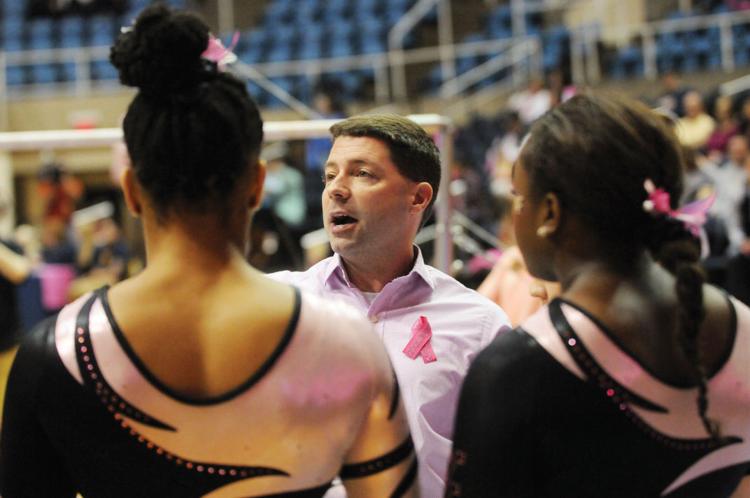 CORRECTION: The original version of this story said that the team was 9-4 (which is false) and Abby Kaufman finished first-overall in the floor exercise (which is also false).
The West Virginia gymnastics team finished in first place over Penn, Bridgeport and Temple in a quad meet at Penn on Sunday afternoon.
WVU's victory marked head coach Jason Butts' 100th, 101st and 102nd victories in his career.
The Mountaineers (11-4) finished the day with a score of 195.250, followed by Bridgeport's 194.775, Penn's 193.825 and Temple's 193.575.
West Virginia was propelled by juniors Abby Kaufman and Julia Merwin, sophomore McKenna Linnen and senior team-leader Jaquie Tun.
Kaufman registered a 9.75 for West Virginia's highest vault score while freshman Rachel Hornung and senior Kirah Koshinski also finished in the top five for the vault, at 9.725 points each.
On the uneven parallel bars, the lone Mountaineer to finish in the top five was Merwin who totaled a score of 9.825. Bridgeport secured the number one spot for the uneven parallel bars with a score of 9.90.
Over on the balance beam, West Virginia placed two contestants in the top five as Linnen recorded a score of 9.85 for a tie of first place. Hornung finished third in the event with 9.8 points.
"We are hitting routines and not falling at all, which is indicative of a top-15 program," Butts said. "We just need to execute the little details. That is what will keep this team moving up."
The floor exercise saw Tun claim first place with 9.925 points, followed by Koshinski who finished in second place with a total of 9.875 points.
Kaufman took home the second-place overall spot with a score of 38.825 points, which was followed by Temple's Monica Servidio's 38.40 points.
Servido placed in first place on the balance beam with 9.850 points while also placing seventh in floor exercises with 9.8 points.
West Virginia continued their dominance over Penn, Temple and Bridgeport as the Mountaineers now hold an 11-0 mark against Penn, 3-0 mark against Bridgeport and a 46-1 all-time record against Temple.
"It's always great to get a few road wins," Butts said. "Today's score is something I would have been happy about in the past, but we are too good of a team to score this on the road this season. It was an uninspired performance by the team, and we told them as much. There were a lot of highlights, though, and I don't want to take away from those routines. This is a very hard-working team, and we as a staff need to make them believe that they can score higher than this."
The Mountaineers will host Cornell, Utah State and Pitt next Sunday at 1 p.m. at the WVU Coliseum.