Author and filmmaker Ezra Mars turned his Morgantown home into an open mic night where 15 writers from across the state read their work for his jam-packed audience.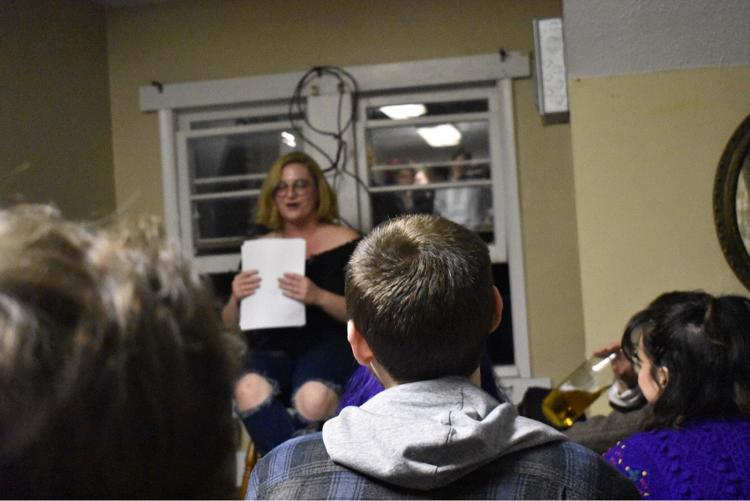 This event kicked off Friday, Feb. 22, and was Mars' first house show in Morgantown. Despite this being his very first show, the event was at maximum capacity.
"For a bit, I was worried that not everyone would fit in the space, but it worked out," Mars said. "There was at least 70-ish people who made it out, more than I anticipated, but it was a great turnout and everyone was supportive and responsive to the readings."
In the attic of his home stood a single chair in the front of the room that served as a stage.
Bustling laughs and some somber tones illuminated the room. The readings were very personal and raw­—some sad, some funny. The readers consisted of people from The Travelin' Appalachians Revue, seasoned open mic poets and some who had never read before a crowd.
"I think doing it in a house makes it more intimate and puts a sense of trust in the people that come through and that he's inviting," Lou Richardson, student supervisor of the West Virginia University Art Museum, said. " It felt very loving being at his house."
Mars, who is from Morgantown, drew inspiration for Eraser Haus, the name of his show, from his years in Chicago where he attended Columbia University and went to many DIY Houses. Upon moving back to Morgantown, he knew he had to use his space as a haven for artists to immerse into an art-driven community.
"Growing up here and not really being part of the arts scene until after arts school, I really want to make sure that I can give back to the arts community in any way that I can," Mars said. "That isn't just me going around reading my poems."
Mars plans to host an art show once a month catering to different genres of art such as visual artists, musicians and vintage fashion venders. He also plans on doing a weekly workshop for artists to meet and assess their work with others in the community.
"I have high hopes for Eraser Haus, and it's not even the space. It's really just the collective that I can be anywhere, and I can make a space for artists to thrive in the community and just be a part of it," Mars said.
Mars released three poem books this year that all sold out within a short period time. His next book of poems features photography from West Virginia University student Emily Dodson and should be released within the next month, Mars confirmed.