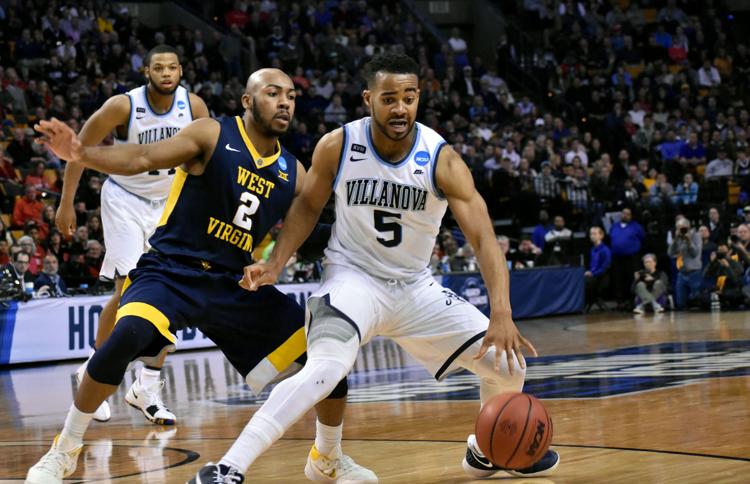 Jevon Carter took a few deep breaths, shook for a second and welled up a bit at the podium Friday.
His college career just ended less than 30 minutes before. His historic days wearing the West Virginia uniform were officially over. It was hard to take in. And I'm sure it was for so many Mountaineer fans, and who could blame them?
Carter embodied everything about a great college basketball player. He was tough. He played great defense. He never took a play off. He could score. He could get all of his teammates involved. He was a leader.
He was simply a winner.
There are so many incredible talents in college basketball every season. There are top five picks. There are the one-and-dones that flock through places like Duke and Kentucky, playing a terrific one-year of college basketball before moving onto a successful NBA career.
But few are like Carter.
The senior guard from Maywood, Ill., was not highly-touted like so many other stars at this level. Many are McDonalds All-Americans or ESPN 100 recruits. Many are tabbed as four- or five-star prospects by the recruiting websites. Many of those players produce ridiculous highlight films that garner hundreds of thousands of views on YouTube.
That is nothing to take away from those recruiting websites and the coaches that choose who to offer scholarships to. There is a reason why players like Zion Williamson, Marvin Bagley and so many other dominant players get offered from almost anywhere. Their talent level is ridiculous and, their highlights are ridiculous. They are the cream of the crop.
Carter did not have any of that. Sure, he was recruited. But he did not have any big-name offers.
West Virginia was the only Power Five program to offer him. The others: Akron, Dartmouth, Illinois State, Kent State, Lehigh, Toledo, Valparaiso and Wisconsin-Green Bay.
Those coaches saw something in him. WVU head coach Bob Huggins especially saw something.
"For me, it's been everything," Carter said. "(Huggins) gave me a chance, a small guy from Maywood, Ill., didn't have any looks. He just saw something in me a lot of people didn't."
When recruiting Carter, who was tabbed as a three-star recruit out of East Proviso High School in Maywood, Illinois, Huggins knew right away that he wanted him.
"I was in Orlando at Disney, got me a big cup of coffee, went in to watch the 8 a.m. game over in the new place, which is not the old place, and he was in the furthest court away that you could be on and I went over there, and I'm trying to drink my coffee and wake up and this guy is pressing at 8:00 in the morning," Huggins said. "No one else on his team is pressing, just him."
"So he's picking up the ball and pressuring people from end line to end line and I called my assistants and said 'we've gotta sign this guy,' and they said, 'what did he do well?,'" Huggins said. "And I said, 'hell, I don't know what he does well. But he sure tries to guard.'"
In the two years before Carter arrived on campus, WVU failed to make the NCAA Tournament. It did reach the NIT in the 2013-14 season, but the year before that — the first in the Big 12 — resulted in a 13-19 mark and no postseason appearance at all, which was the first time that happened for the school since former WVU head coach, and now current Michigan head coach, John Beilein's first year in Morgantown in 2002-03.
Then things changed, and they changed in a hurry as soon as Carter stepped on campus.
Carter brought a toughness. He brought a huge love for basketball. He brought defense. And he brought a tremendous work ethic that Huggins raved about countless times.
Was Carter perfect during his four years in college? No. But who is? Almost every star and every player makes some mistakes on the court. He made very little compared to most players across the basketball landscape.
In Carter's first year at WVU in 2014-15, WVU installed "Press Virginia." That relentless, fullcourt press defense went on to lead the country in forced turnovers. WVU ended up reaching the Sweet 16, a feat that was so great after two down years.
That was the start of a four-year era of some of the golden times of WVU basketball. During Carter's four seasons, WVU won 25-plus games each year, played in the Big 12 Championship three times, appeared in four NCAA Tournaments and played in three Sweet 16s, making it only the second time in program history that saw WVU in the Sweet 16 three times during a four-year span.
Carter finished his WVU career with 1,758 points, 559 assists, 538 rebounds and 330 steals, becoming the only player in Power Five history to record 1,500 points, 500 assists, 500 rebounds and 300 steals. His 1,758 points rank eighth in program history, his 559 assists are second and his 330 steals are No. 1. He also won 105 career games, tying Joe Mazzulla for the second-most in WVU history, trailing only behind Da'Sean Butler's 107.
These numbers place him among WVU's all-time greats and on the cusp of being an NBA Draft pick, likely in the second round as ESPN projects. His help in leading WVU to some of the best four years the school has ever seen certainly puts him there, too.
"Hard work can take you a lot of places," said WVU redshirt sophomore guard James "Beetle" Bolden. "Jevon, he's going to have a great career after this. Going pro, obviously. He just taught — not only me, but the young guys over there ­— how to put in the time. If you work hard enough, the Basketball Gods will pay for it."
Here is where Carter stands in WVU's all-time player rankings:
1. Jerry West:
He helped lead WVU to play in its only national championship game in 1959, losing to Pete Newell's Cal team by one point. He is WVU's all-time leading scorer at 2,309 points and is only one of three players to surpass 2,000 points in their WVU career. After his days at WVU, West was the No. 2 overall pick in the 1960 NBA Draft to the Lakers, where he won one NBA title and was a 14-time All-Star. His jersey No. 44 is retired by the Lakers. He is also the logo of the NBA.
2. Hot Rod Hundley:
He is the No. 2 scorer in WVU history, finishing with 2,180 points from 1955-57. Hundley was a Second Team All-American in 1956 and a First Team All-American in 1957. He was the No. 1 pick in the 1957 NBA Draft by the Cincinnati Royals, but had has rights traded to the Lakers. Due to knee problems, he only lasted six years in the NBA, but was a two-time All-Star.
3. Da'Sean Butler:
Butler is the third-leading scorer ever at WVU, finishing with 2,095 career points. He scored in double figures 108 times, which is 13 more than the No. 2 mark. His 4,491 minutes played from 2007-10 are No. 1. His 107 career wins place him as the winningest player ever at WVU. He also helped lead WVU to its only Big East Championship as a senior in 2010, capping off the season with the school's second Final Four appearance after he and the Mountaineers beat a Kentucky team that had John Wall and DeMarcus Cousins. He was named an AP Second Team All-American in 2010 before being the No. 42 pick to the Miami Heat in the NBA Draft.
4. Jevon Carter:
All of his numbers mentioned above speak for themselves. In addition to those, he was the 2017 NABC Defensive Player of the Year as a junior and was recently named as an NABC Third Team All-American as a senior.
5. Rod Thorn:
Thorn finished with the seventh-most points in WVU history (1,785). He was a two-time Second Team All-American in 1962 and 1963 and was named the Southern Conference Player of the Year in 1962. Like West, only three years later, Thorn was the No. 2 pick in the NBA Draft (Baltimore Bullets). He played eight years in the NBA. In 1964, he was named to the NBA All-Rookie First Team.