Last year The Daily Athenaeum's pet edition featured a variety of animals including dogs, cats and even horses but some may remember one four-legged local celebrity, Barley the bunny.
Barley is well-known across campus for his walks with his owner Alex Smith.
The pair can frequently be found in grassy areas on campus such as outside Towers, at the Core Arboretum or in front of Woodburn Hall.
But after a year what's new with Smith and Barley? Smith shared some highlights with the DA.
Grad School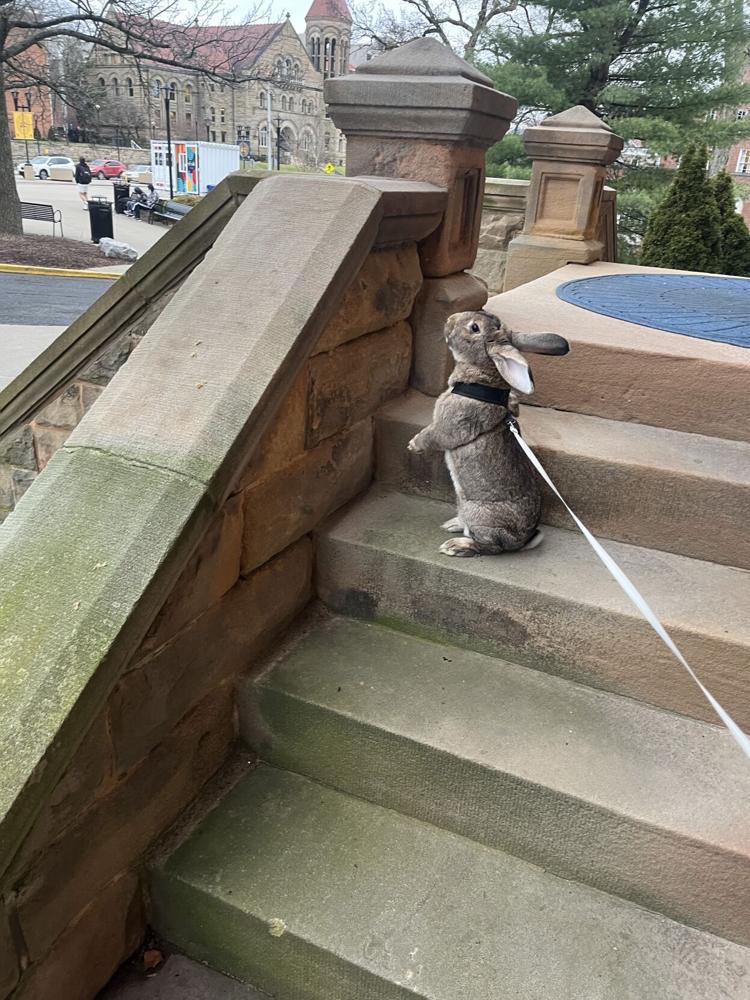 In May, Smith graduated with degrees in wildlife and fisheries and horticulture. Last semester he began graduate school at WVU to pursue a master's in forestry.
With this transition, Smith had to adjust to a heavier course load, which meant fewer walks with Barley.
"I did not have a lot of time to take him out," Smith said. "In fact, I think there was only a handful of times that semester that we were able to walk."
This semester, though, Smith's workload is lighter and he has already taken Barley out three times.
"We're trying to come out more regularly again because it's something that he really enjoys. He loves the exercise, he loves the attention. I like to meet people and teach them about rabbits. We both missed that last year in the fall."
Barley lost a pound
Despite fewer walks in the fall, the Giant Flemish rabbit is a little less giant.
"He's down one pound last vet appointment," Smith said. "So I have done better about not feeding him as many treats."
Smith said the now 10-pound rabbit is at a healthier but still large weight.
Barley got vaccinated and neutered
Over the past year, Smith has taken several steps to keep Barley healthy.
The first was to get Barley vaccinated against Rabbit Hemorrhagic Disease, a highly contagious and fatal disease that appears in both wild and domestic rabbits.
"He's been vaccinated twice against that disease. And so there's not a risk anymore of him transmitting it or getting it from wild rabbits," Smith said.
Smith also decided to get Barley neutered.
Although neutering in small mammals can be risky, Smith explained the procedure can be important as reproductive cancers are common in unneutered rabbits.
"With male rabbits too," Smith added. "Being unneutered can lead to some behavioral problems and that's kind of what was the main reason for getting Barley neutered at this age."
Smith moves in with fiancee
After spending six years in Morgantown to complete his undergraduate degrees, Smith is excited that his graduate program will allow him to remain in town for at least two more years.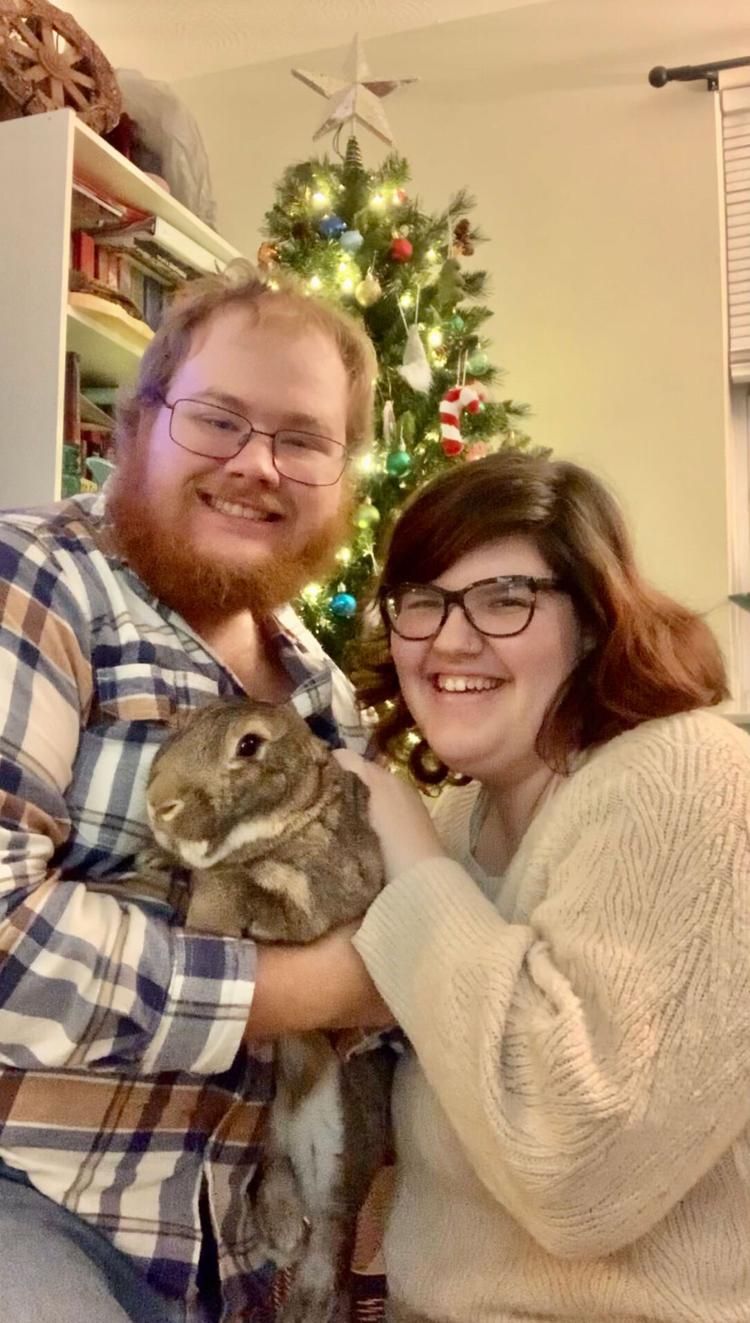 "It took me six years for undergrad because I had two degrees, I lost my father in undergrad and the pandemic. So it took me an extra year or two to get the degrees that I did. So I've lived in Morgantown for a while, and I was really going to miss the place," he said.
In December, Smith celebrated his nine-year anniversary with his fiancee and high school sweetheart, Maggie, who recently accepted a job at Ruby Memorial.
"This is the first time that we've lived in the same place since high school and so she's been an incredible support for me. And so it's been really, really fantastic that, you know, the stars aligned, and I was able to get into grad school here and she was able to get a job here," Smith said.
The couple now lives together (with Barley) and are planning for their wedding in October.
"We don't plan on ever living apart again and so it's just really, really great that I get to live with my best bud Barley and my fiancee and my best friend," Smith said.
For more updates on Smith and Barley go to @plant.bastard Instagram or @plantbastard on TikTok.