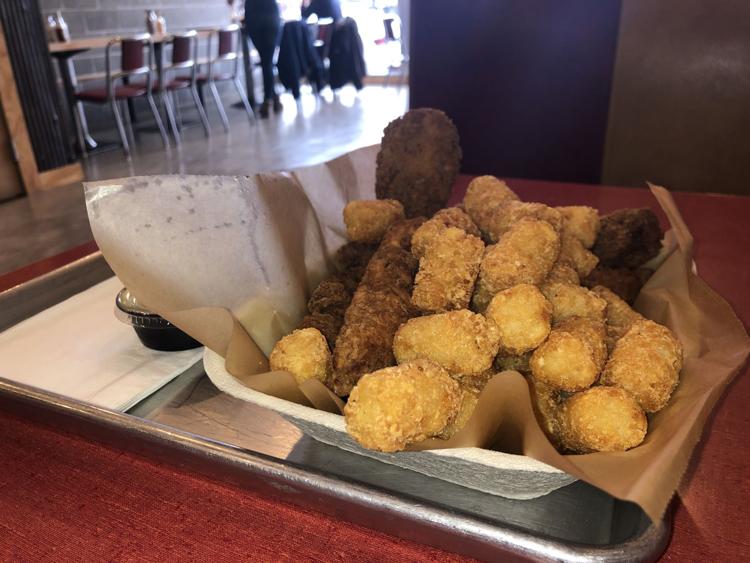 Just like pizza, burgers and tacos, wings are not rare commodities in Morgantown. A place really has to set itself apart from the pack when it comes to flavor or price if it wants to make a name selling wings.
Clutch Wing Shop accomplishes this with its vast selection of sauces as well as consistency of flavor.
Clutch Wing Shop opened in 2013 when there really wasn't a place that specialized in wing delivery. Created by the owner of Tailpipes, Evan Tauber, with managing partner Joe Reilly, Clutch Wing Shop has become a staple of the High Street food scene not only because it's the only wing-focused restaurant there, but because of the cult-following it has behind all of its food.
Andrew King, a student at WVU and Clutch fanatic, let me get a glimpse behind why people love it so much.
"I've probably spent enough money here to cover a year of tuition — I'm a big fan," King said. "Whenever I have people over to watch a game or something, we always order the big 50 box of nuggets with loads of ranch and sweet chili sauce."
Surprisingly, its chicken nuggets are probably one of the more popular items. Its box of 50 costs only $20, and a more reasonable 18-count is only about $9. This doesn't mean anything is particularly wrong with the wings, but like any good wing shop, the real flavor comes out in the sauces.
Having counted, Clutch has around 30 sauces that truly cover all the bases. When it comes to my preferences, I am a big fan of the Mango Habanero when I'm feeling spicy; like King, the Sweet Chili is for all other occasions.
On my visit to Clutch this time around, I decided to test out some of its other dishes and went for the famous chicken tenders. Not only was it a great deal, but it was filling too. The tenders themselves were crispy, as one might expect, but followed by a delectable juicy texture.
I noticed that compared to tenders you may get at your average restaurant, the breading around the chicken seemed thicker and more homemade, if you will. Getting my choice of sauce from the advice of the server working behind the counter, I was informed that the honey mustard is made in-store and never bought from elsewhere. Included with the whopping six tenders was a host of tater tots that complimented the meal well.
Apart from its nuggets, wings and tenders, Clutch Wing Shop offers chicken tender sandwiches, popcorn chicken wraps, popcorn chicken salads, as well as several delicious tater tot dishes. For those who aren't "feeling the fried," as the menu indicates, house pulled chicken can be subbed for any of the sandwiches, wraps and salads.
Clutch Wing Shop is located at 444 High Street, offering take-out and delivery, and is open Monday-Saturday from 11 a.m. to midnight and Sunday from 11 a.m. to 11 p.m.