With the University in a seemingly constant state of renovation, WVU Dining has been no different recently.
After renovating Cafe Evansdale and Hatfields prior to this school year, WVU Dining has turned its focus to The Market at the Health Sciences Center, where a Which Wich Superior Sandwiches recently welcomed customers for the first time.
The new restaurant opened Jan. 27 and filled the void next to The Market's Chick-fil-A, Burgershop and Mindful. It also completed WVU Dining's goal of a healthy restaurant going in the space.
"I think that's why they went with Which Wich, because it's so popular," said Joe Calicchio, director of contract administration for WVU Dining Services. "And it was an outside chain that was a good, popular chain. The healthy reasons are what they're pushing here."
Calicchio said Clay Marsh, vice president and executive dean for health sciences, wanted a healthy option to be added to The Market due its hospital setting and overall health-conscious atmosphere.
In addition to health reasons, Which Wich's pricing, customization options and previous relationship with WVU also went into the decision to add the restaurant.
"Some of it was the health and some of it was the amount of availability — it's been in the Lair since, I guess it's been there now maybe seven or eight years, and [it is] very, very active."
Calicchio said Which Wich has taken some business from Chick-fil-A, the overwhelming favorite at The Market and the Mountainlair, and it's performed well in the month it's been open. There was concern, however, due to the previous establishments in The Market failing because of their price points, according to Calicchio.
The previous restaurants at The Market were run by Fresh Hospitality, WVU Dining's partner before Sodexo, and Calicchio said they were not successful after being too expensive for the customer base. But Which Wich has not had that issue so far.
"Which Wich, since they've opened from Day One, they've been very steady," Calicchio said. "They've taken over a good part of the business."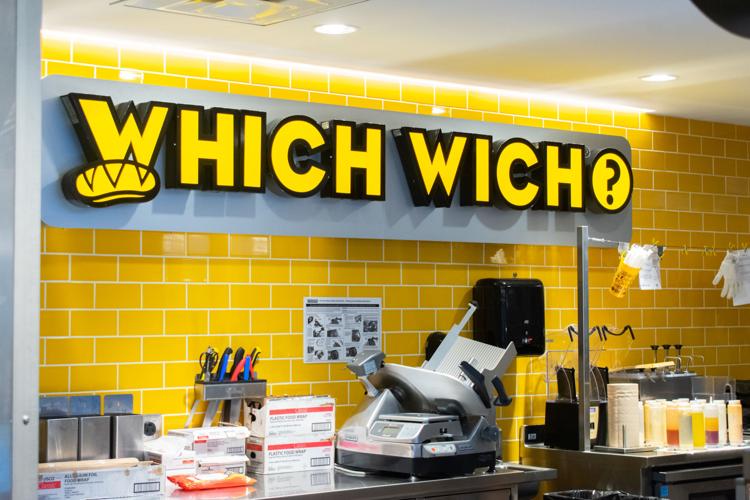 The opportunity to not only personalize your meal with design-your-own sandwiches, but the ability to order salads and wraps was another perk to adding Which Wich over other chains.
"There's a beauty and an appeal to customization," said Whitley Warbel, marketing specialist with WVU Dining. "People always want the option to see what's going into their food and make that option for themselves, so I think that's why Which Wich was such a good option for here."
A concern for WVU Dining as a whole regarding The Market is its lack of availability to customers and students. Calicchio said there's an absence of parking available and so it's difficult to access the restaurants inside.
Calicchio said there's also a lack of student activity around the Health Sciences Center that affects The Market as the main customers are those studying and working in the building and employees of J.W. Ruby Memorial Hospital.
To help this concern before deciding on Which Wich, Calicchio said WVU's Dining Committee, which consists of "eight or nine people," considered a coffee shop or juice bar to fill the space, among other options. But, ultimately, the Dining Committee wanted a healthy restaurant to pair with Mindful and is content with its decision.
"There was a lot of thought [that went into it], we didn't just pluck it and say it's gonna be Which Wich," Calicchio said. "I think the choice was correct; it definitely seems correct, and the feedback seems very good."