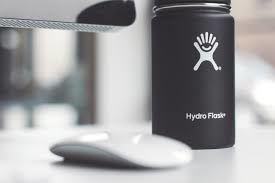 When you have such a big campus like WVU, chances are you will have to do some walking.
Whether it's through the iconic Woodburn Circle, Evansdale Crossing, or through the Mountainlair, there are many places to walk on campus. On those walks, you will likely need something to drink.
It's time to explore what could, or could not, be the next campus trend: Hydro Flask water bottles. These simple and sleek-looking vacuum-sealed water bottles were first introduced in 2009, and have since grown in popularity, at least, that's what people used to think.
"I usually just use a regular plastic water bottle, or put water in an empty coke bottle," Arden Minor, a freshman public relations student, said.
Contrary to what people may have thought, Hydro Flask water bottles are not as popular as when they were first introduced.
"I think the only reason people buy [Hydro Flasks] is for the name," Minor said.
With the growing popularity of using reusable water bottles, many companies are coming up with their own version of a Hydro Flask water bottle. Companies including Yeti and Klean Kanteen are proving to be more popular and better working than a Hydro Flask is. So, naturally, not as many students are buying the Hydro Flask brand water bottles anymore.
Sara Brown, a freshman wildlife and fisheries resources student, uses a Klean Kanteen and a Yeti, while Jacey Crayton, a sophomore music student, just uses a regular water bottle and doesn't really care about having a fancy, reusable water bottle.
While it may seem cool to some people to have a nice, reusable water bottle, to others it is no big deal.
This campus trend seems to be one that has fallen out of favor with students, and likely won't make a comeback. Carrying a reusable water bottle is much better for the environment, but it doesn't have to be a fancy one such as a Hydro Flask.
In the end, many students will always carry around a reusable water bottle, but more than likely, it will not be a Hydro Flask brand water bottle.