After cruising through the first three rounds of Barstool's Best College Bar bracket, Morgantown's Joe Mama's is now in the fight of its life in the elite eight.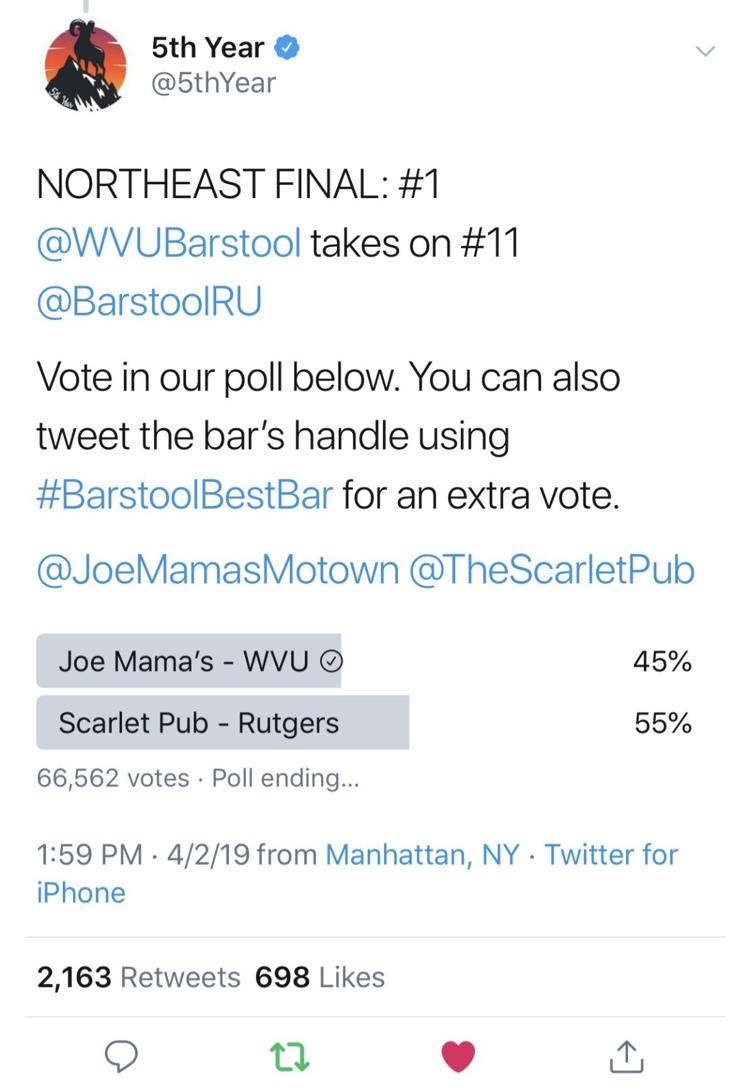 Up against Rutger University's Scarlet Pub, Joe Mama's has been trailing for much of the voting period. A recent push for Joe Mama's has made the voting closer, but as of 9:20 a.m. on Thursday, Joe Mama's is still trailing the Scarlet Pub by 10 percentage points with more than 66,500 votes cast. 
Rutgers University is a Big 10 school located in New Brunswick, New Jersey.
College culture website "The Tab" named the Scarlet Pub the best bar for Rutgers students in 2017 and described it like this: "Inside, it's home to aggressively loud EDM and a lot of frat bros from Long Island, but also to jolly rancher and BJ shots. Is one worth the other? Well, that's up to you."
The Scarlet Pub also reportedly chooses one woman to be their WCW every Wednesday and then picks up her and her friends' tab that Thursday. The owner, Naji, also appears to be a big hit among Rutgers students, reportedly making friends with anyone that walks through the door.
Whichever bar advances into the final four will likely be matched up against Sup Dogs from East Carolina University, who leads the University of Georgia's Bar South.
Voting for the elite eight is scheduled to end at noon today. 5thYear said it will work with whichever bar wins the whole bracket to put on a "big blowout party" with a bar tab, trophy, banner and merchandise.