It's not uncommon to see dogs around campus at WVU but did you know that there are actually some dogs working on campus?
Hearts of Gold is a service dog training program housed in WVU's Davis college that trains and provides service dogs for free for veterans with mobility or psychiatric disabilities such as Post Traumatic Stress Disorder.
Currently at West Virginia University, Hearts of Gold has eight visitation therapy dogs that brighten the lives of students and staff on campus. Their names are Ryder, Lily, Omega, Lucas, Rigatoni, Heidi, Titan and Ruby.
"If a HoG dog is on campus in a red vest, that dog is in-training and should not be approached to pet. If they are in a blue vest, they are there for love as a visitation therapy dog. Of course, you should always ask to love on them because they may be training at the moment," explained Michelle Paden handler of Ruby, the official visitation therapy dog of WVU's Office of Student Success.
Students interested in learning to train service dogs can take classes and help train the dogs.
Students can register for A&VS 276, Service Dog Training, and later on they can take the lab A&VS 277.
Ryder is the official visitation dog for the WVU Davis College of Agriculture, Natural Resources and Design. Ryder is a Great Pyrenees and Lab mix. In his Twitter bio, he describes himself as "large and lovable"
Follow him on Twitter @WVURyGuy.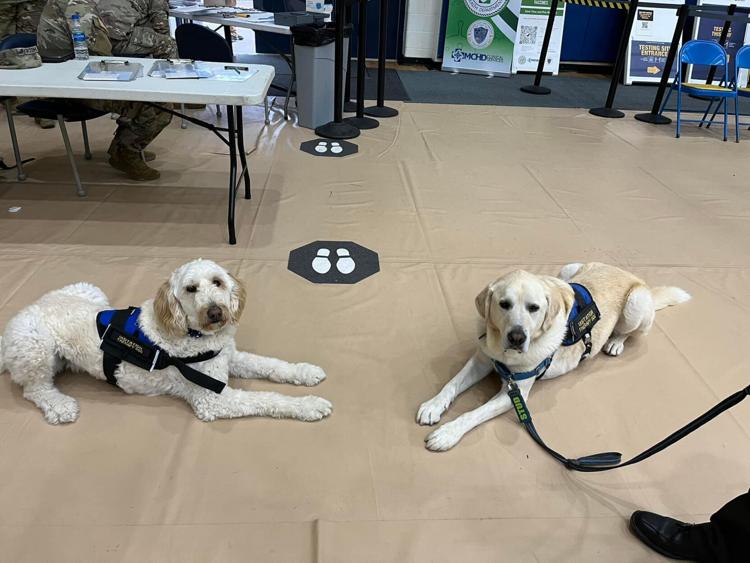 Lily is the official visitation dog of WVU's College of Education and Human Services. Lily can be seen featured on the college's Instagram @wvu_cehs.
Meet Omega, the first therapy dog of WVU's Reed College of Media. Omega recently celebrated her 10th birthday on January 14.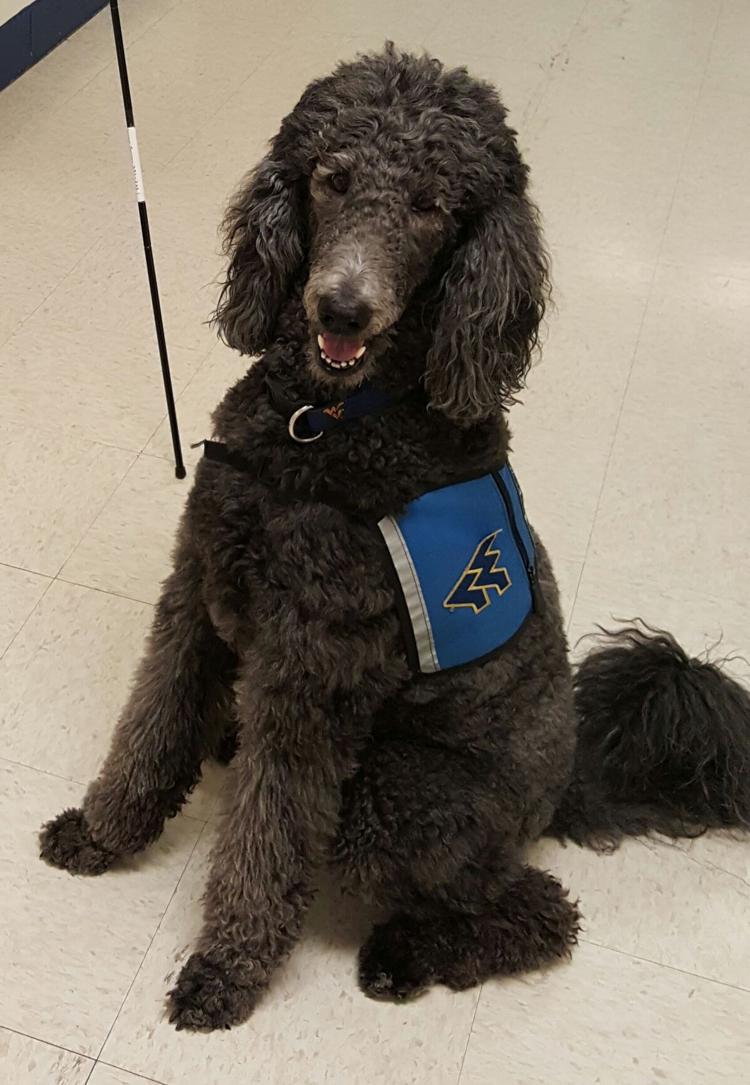 "She was named Omega because she was the 7th pup in a litter of seven and the last litter that her mother had; thus, she is the Omega—the last--of that line," explained Omega's owner and dean of the Reed College of Media Diana Martinelli.
Omega is the longest serving visitation therapy dog on campus. She began serving in fall of 2014.
"Therefore, I like to call her the queen and the dean of the WVU visitation dogs!" Martinelli said.
Lucas is the official visitation dog of WVU's Health Sciences Center. Lucas is a yellow Labradoodle. Lucas is 6 years old and was born July 26, 2015.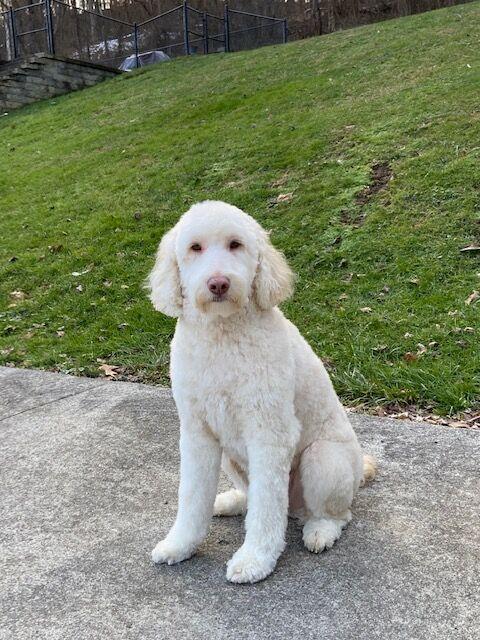 According to his owner and handler, Lucas's favorite treat is anything with peanut butter.
Lucas's handler, Kimberley Helmick, of WVU's school of medicine's department of medical education explained that Lucas can be found in the department at the Health Sciences Center.
According to Helmick, Lucas "Spends most of his time loving on all of the medical students helping them distress. He loves hanging out on the couch in the office suite so come and visit Lucas on 'HIS' couch as he would like to think."
Meet Rigatoni, or Toni for short. Toni is the first facility dog for the Children's Hospital and she joined the Pediatric Hematology Oncology Team 2 and half years ago.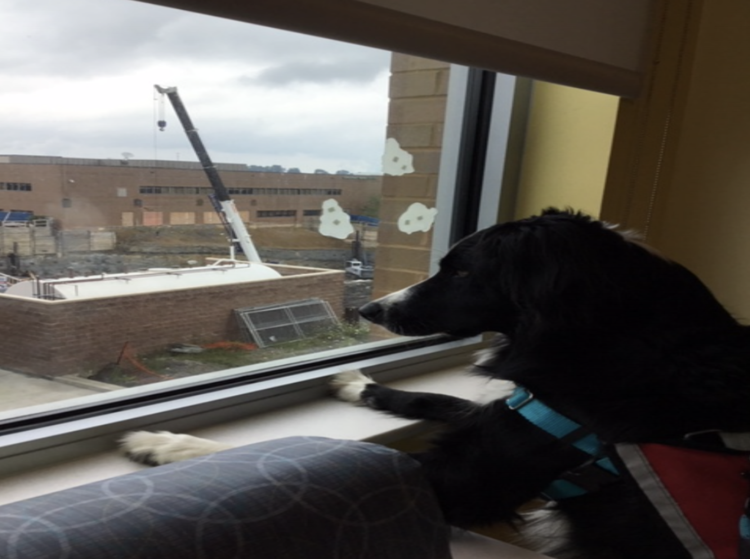 Rigatoni ​​visits patients in both the hospital and the Infusion Center.
Rigatoni's Handler, Anita Graham of WVU's school of medicine's
Division of Pediatric Hematology and Oncology, said Rigatoni comes to work Monday through Friday.
Heidi is the official visitation dog of WVU's Shared Services center.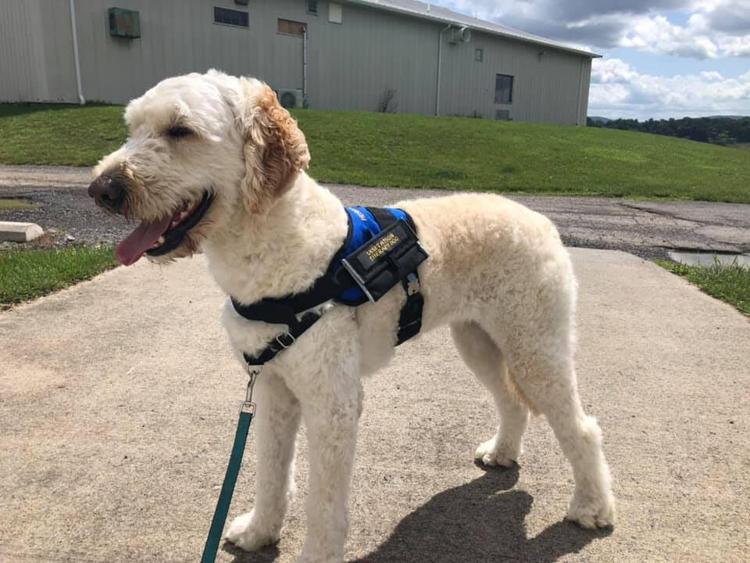 "She absolutely loves going to the office and licking as many people as possible," said Heidi's handler, Caitlin Regner, project manager for Shared Services.
Heidi is siblings with Titan of the School of Pharmacy and Ruby of the Office of Student Success. She is also the niece of Ryder of the Davis college.
Meet Titan, the official visitation therapy dog for the WVU School of Pharmacy. Titan is a poodle, pyrenees and lab mix.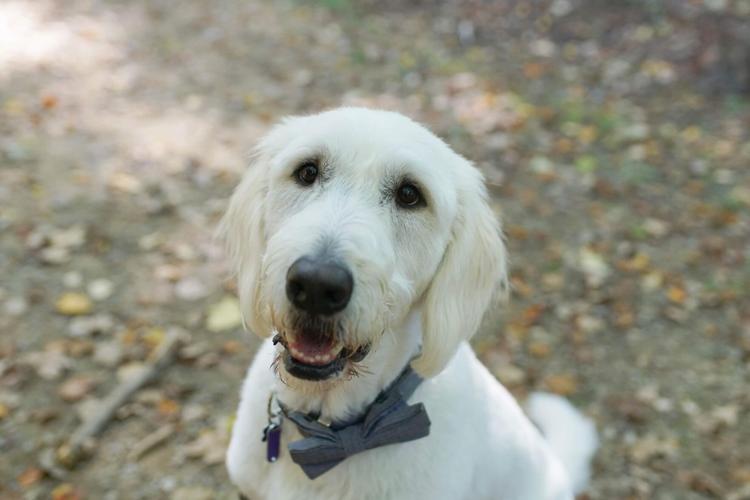 Titan recently turned 4 years old on January 21.
According to Titan's handler Ashlee McMillan, an associate professor in the School of Pharmacy, Titan is a "gentle giant" who weighs about 95 pounds.
In addition, McMillan says Titan "loves meats, hiking, playing frisbee and playing with other dogs."
Meet Ruby, the official visitation therapy dog of the WVU Office of Student Success.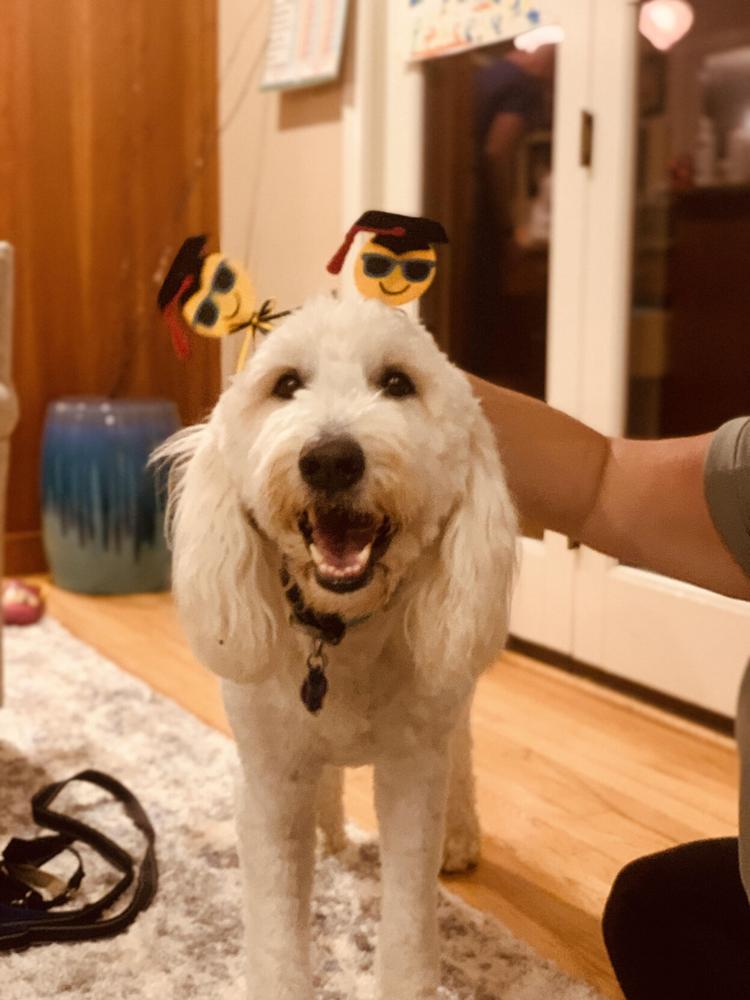 Ruby is a Great Pyranese, lab and poodle mix, which her owner calls a "Pyradoodledor"
Along with her siblings Titan and Heidi, Ruby recently turned 4 years old on Jan. 21.
Ruby is also the mother of 12 puppies, several of which are currently in training.
"She loves carrots, watching tv, and snuggle time. She sometimes gets in the mood to play, but she usually prefers to cuddle. Students are welcome to come visit her when she is on campus," said Ruby's handler Michelle Paden of the Office of Student Success.
Ruby can be found on the third floor of the Student Services Center on Mondays, Tuesdays and Thursdays.
"Ruby came to me in August, and she passed her test in October to become the visitation therapy dog for Student Success and my forever dog," Paden said.
To keep up with these dogs or to find out more about Hearts of Gold check out their website or follow them on Instagram @heartsofgoldwv.