If you're looking for something new to watch during Quarantine, try "Uncut Gems": a film that's well worth your time. This dark thriller is about a New York City jeweler that's willing to risk it all by betting on an NBA basketball game. It's a chaotic, yet captivating story.
"Uncut Gems" was recently released on Netflix, leading it to a top ten spot on the platform's most watched list on the first day. This indie film received Oscar buzz a few months ago, and has become popular thanks to the entertainment company A24.
Netflix is a great platform for this type of independent, low-budget film that may not have received much attention while in theaters. Movies like "The Edge of Seventeen," "Swiss Army Man" or "Burning" are also like this and can be streamed on Netflix now with more such as "Lady Bird" and "The Disaster Artist" releasing in June.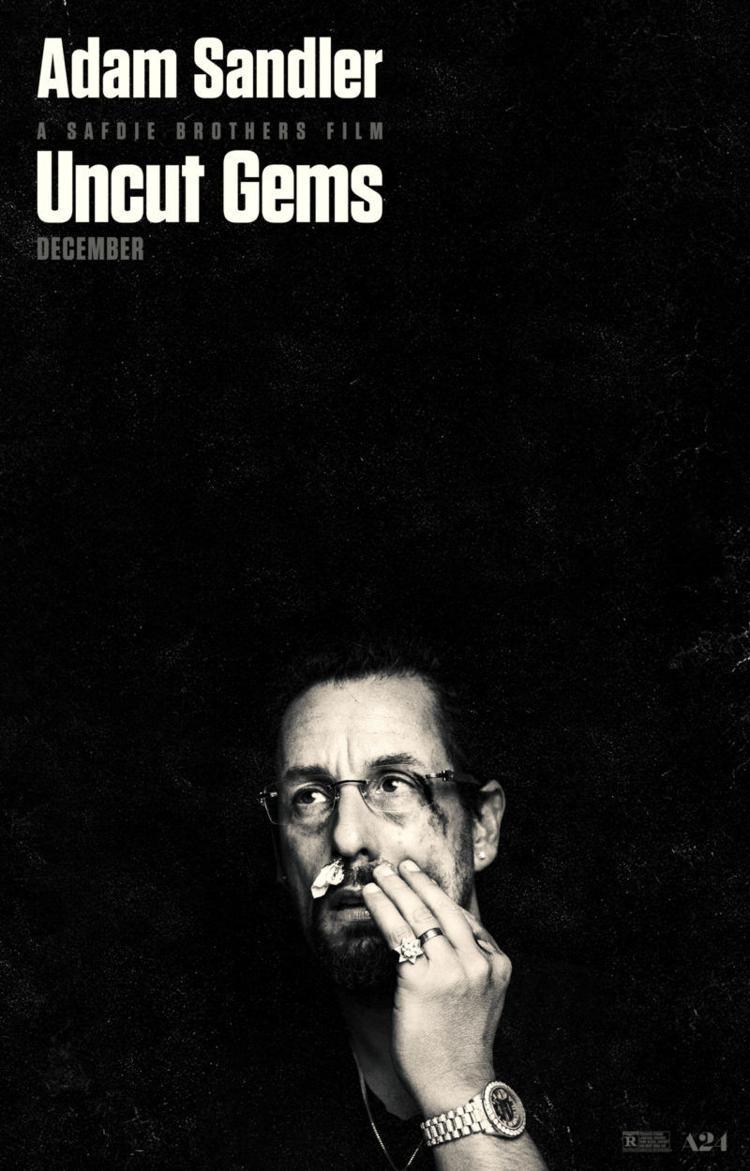 The directors of "Uncut Gems," brothers Josh and Benny Safdie, recently made news for inking a two-year deal with HBO. They've been receiving a lot of praise for their directing, and I think they deserve every bit of it.
At first, this movie wasn't something I had any interest in watching. I'm usually a fan of superhero blockbusters and will never turn down watching a romantic comedy. Yet, once I saw the trailer I was fascinated by its high-stakes plotline.  
Adam Sandler stars as the charismatic jeweler and sports gambler Howard Ratner. Sandler is practically unrecognizable from his typical roles, which really drew me into the character's story. He speaks differently and he looks unfamiliar, but I guess that's acting, right? I think this experience might be odd for viewers to see him in a dramatic role, as he's known for his comedic hits like "Happy Gilmore" or "Grown Ups."
Sandler has done some dramatic work in the past, with "Punch-Drunk Love" being a personal favorite of mine. However, I favored him in this movie more. I felt I was constantly rooting for Howard to win all of his bets even though the cards aren't really in his favor.
When Howard purchases a black opal from Ethiopian miners, he's mesmerized by its beauty and wants to quickly sell it in the New York City diamond district where he works. He sells it to famed basketball player Kevin Garnett, who becomes obsessed with the opal and believes it has the power to bring him luck in his games. 
This then sparks an idea into Howard's nutty head. He places a large bet on the next Celtics game Garnett plays in, while holding hostage some goons he owes money to in his office. He believes he can profit from taking these risks, but only creates a more difficult situation for himself and puts his family in an unsafe environment.
The overlapping dialogue only increases this tension, and I think it makes the scenes seem more realistic. Ratner likes to persuade those he makes deals with and when a customer disagrees, there can be arguments that help turn a dull scene into an outrageous one full of loud, overlapping dialogue.
The Safdie Brothers like to hire people that are similar to the characters they're portraying, which I think helps the film's authenticity. A former NBA player, Garnett portrays himself and is one of my favorite characters in the film. I also happened to sympathize with Howard's beautiful mistress played by Julia Fox.
"Uncut Gems" is rare in that there's never a calm moment in the entire film. There are betting scenes, fight scenes, a Passover scene and an appearance by musical artist The Weeknd. This story about greed is one that I've never seen before because my heart was pounding the entire time. The Safdie Brothers never let you catch a breath and relax.
"Uncut Gems" is currently available to stream on Netflix.