The WVU College of Creative Arts is hosting "Cendrillon" as the spring opera, running at 7:30 p.m. Thursday to Saturday and at 2 p.m. Sunday. All showings are in the Antoinette Falbo Theatre of the Creative Arts Center.
"Cendrillon" is the French version of the classic fairytale "Cinderella." Although there are many different twists in this version, the most impressive part is it is being sung and spoken in French. English subtitles will be projected throughout the show.
"Many of the lines in this opera are tongue-twisters even for a French-speaker, so it takes a lot of repetition," said James Mitchell, head of opera theatre at WVU.
As an assistant professor of voice and opera, Mitchell carefully chose this opera.
"I decided to program this opera in our 2019-20 season because it has an absolutely beautiful score, and there are some voices in our department at the moment that are perfectly suited to the music," Mitchell said.
When auditions were held in the fall semester, many students from the School of Music and the School of Theatre and Dance came forward. Mitchell said many of the roles are "double cast," meaning that roles are assigned to multiple people for the different performances because of the many great auditions.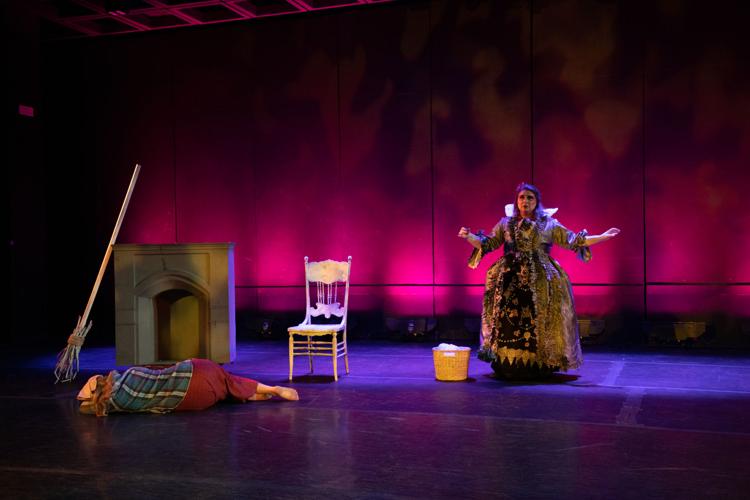 Mitchell stressed that the key to producing a successful opera is working hard. He said since the musical score is difficult, it is important to prepare and concentrate thoroughly in order to endure two hours of intense singing.
Beyond the spotlight, there are many people hard at work behind the scenes helping bring the show to fruition, Mitchell said of the stage crew.
"WVU's director of choral activities, Dr. Kym Scott, has an extensive background in fashion design, and we were very lucky that she agreed to custom design and create the gowns for both of our Cinderellas," Mitchell said.
Mitchell elaborated that Scott has spent time hand-sewing lace, beads and even Swarovski crystals onto these gowns.
Along with the costumes, Mitchell pointed to the other types of help needed to produce a successful show.
"Visually, the production is based on the silhouette art of Arthur Rackham, who illustrated a beautiful version of 'Cinderella,'" Mitchell said. "That concept is brought to sparkling life by our fantastic lighting designer Mike McGinley."
With the dazzling lights and backdrops in place, the show could not go on without talented accompanists.
"A huge asset to the performance are our pianists, Hsing-Yi Tsai and Dr. Sun Jung Lee. This is a very difficult score to play, and they bring out all sorts of nuance and color in the writing," Mitchell said.
Mitchell also explained that "Cendrillon" tells a heartfelt story of transformation and courage.
"In this version, the prince does not come to Cinderella's house with her slipper and find her. She goes on a journey from self-doubt to self-discovery and finds the confidence to reveal her identity to him," Mitchell said. "I think it says a lot about the importance of being true to yourself."
"Cendrillon" is free to all WVU students with a student ID.