As finals week approaches, stress will inevitably overtake us.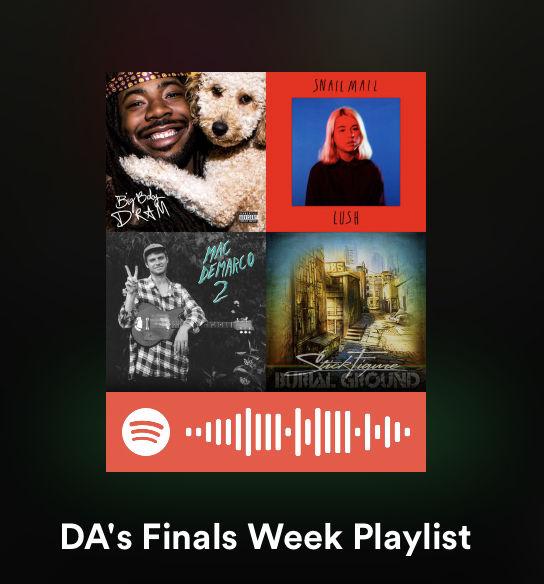 Most students find their own way of coping through the times of high stress to find some serenity in and amidst the chaos. One common vehicle for keeping your mind from drifting completely astray is music. My finals week playlist is one that sets the tone for your approach against the adversary. The music we listen to during finals week is a multipurpose aid used to not only pass tests but to keep oneself sane. 
Whether you are getting motivated for an upcoming test or relaxing the brain for an extensive study session, music will have your back. This is a diverse guide to your finals week playlist. 
A calm, relaxing song can put your mind at ease while looking over scribbled notes and study guides. It can also ease the panic when anxiety takes hold. Twangy guitars over a carrying, mid-tempo beat with bassy undertones help to create a soothing environment and are likely to put the mind at ease. 
Songs for chill:
"Ode to Viceroy" - Mac Demarco

"Sweet VA Breeze" - D.R.A.M.

"Speaking Terms" - Snail Mail

"Dusty Rose" - Oxford Comma

"Weight of Sound" - Stick Figure
The flip side of the finals week playlist is the motivational side. Sometimes what a student really needs is a catalyst to change the mindset from passive to driven. This can be done through faster, louder music. These punchy tunes are bound to get you up from your desk and march you out the door to face the exams head on. The rock-steady drums, combative vocals, and themes of overcoming hardships are what makes these songs the perfect addition to the finals playlist.
Songs for motivation:
"Perseverance" - Hatebreed

"Fight the Power" - Public Enemy

"A Poor Recipe For Civic Cohesion" - Western Addiction

"Hard In Da Paint" - Waka Flocka Flame

"Teen Age Riot" - Sonic Youth