The Kombucha Brewing Club is welcoming new members who are interested in learning more about the process of making the fermented drink after becoming an official student organization last week.
"This has been in total six months in the works, and it's something that I'm very proud of," Hunter Hardway, president of the Kombucha Brewing Club, said. "I want to spread that knowledge [kombucha brewing] to people, but I also want to make sure they know how to do it safely."
The club meets every other Thursday at 7 p.m. in the Engineering Sciences building. During their weekly meeting, the club's officers hope to educate members about the drink and to connect with others who share the same passion for brewing kombucha.
"Anyone can join. We want people from all majors. Evansdale, downtown; freshman, seniors, even graduate students," Hardway said.
Kombucha is a fermented, non-alcoholic tea drink that can be made anywhere and has the same carbonation as fountain drinks.
The drink's flavoring can vary and can be anything from a fruit-like taste to tartness depending on what the brewer mixes in. Fermentation for kombucha usually takes ten to fourteen days, but Hardway says that it can take longer in order to get the desired strength of taste.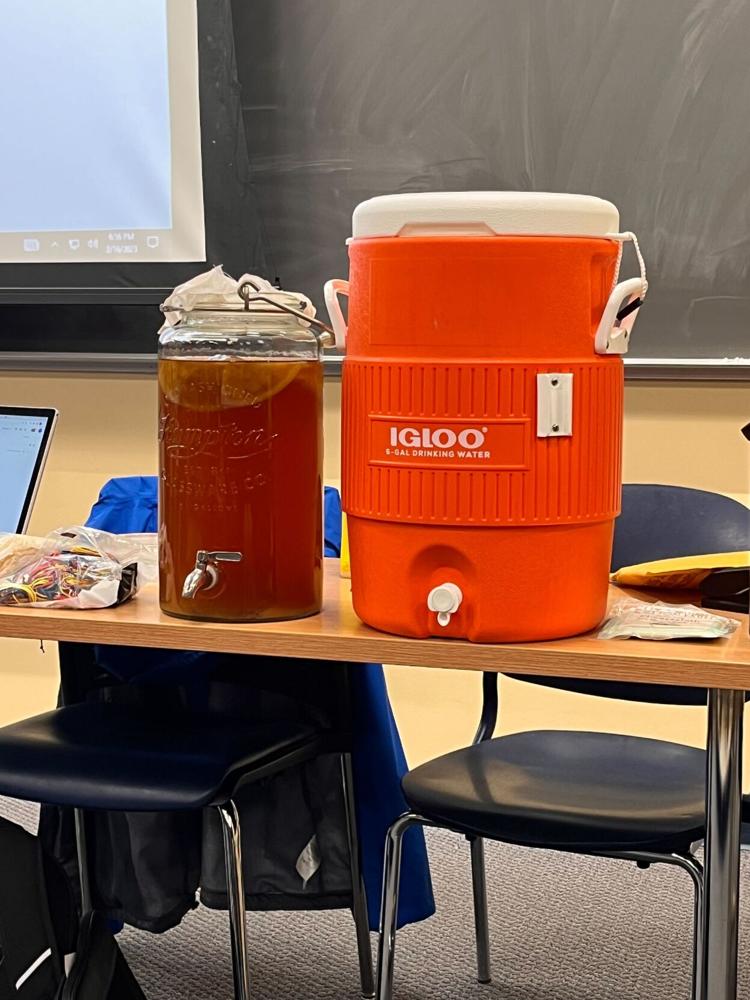 Hardway explained that kombucha can be made anywhere, including dorm rooms on campus. The drink starts with a base liquid, usually already fermented kombucha, mixed with tea and can be brewed in a glass jar to avoid getting harmful bacteria microbes like mold in the mixture, which can ruin the drink.
Kombucha also needs to be placed somewhere away from the sun for proper fermentation.
The Kombucha Brewing Club handed out starter kits for members who wanted to brew their own kombucha during their first meeting.
"There's a lot of up and coming studies showing the benefits that kombucha can have in your diet," Hardway said. "Especially as new gut science progresses."
Kombucha is said to contain probiotics, as well as Vitamin B, antioxidants and strong antibacterial properties. Depending on the tea that is used to brew the kombucha, there might be added benefits. Green tea, when used in brewing kombucha, gives the drink powerful antioxidants and protects LDL cholesterol from oxidation which lowers the risk of heart disease, according to Hardway.
Students can email wvukombuchaclub@gmail.com or follow the club on Instagram @kombuchaBrewingWVU for more information about joining.