Ever since August of 2017, Audrey Stefenson has been instructing yoga sessions every Monday night, providing Mountaineers a chance to come in, stretch and relax.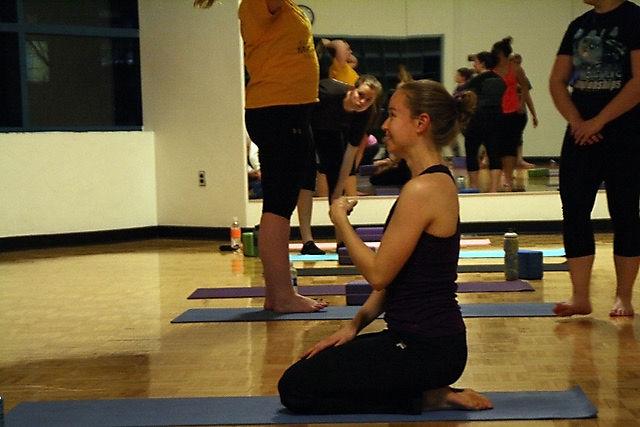 These sessions begin at 8 p.m., last roughly one to two hours, and take place in the WELLWVU Office of Wellness and Health, located on Evansdale Campus. Described by Stefenson as being a slower paced class, these sessions are designed to help people tap into a restful and calm practice.
"There are on average around eight to 10 people in the class," Stefenson said over email. "We hold comfortable positions for a minute or two at a time, often with the help of bolsters and other supportive props."
Originally from New York City, Stefenson has been a West Virginia resident for seven years and calls Tucker County her home. Currently in her second year of a Master's Degree in Counseling program provided by the University, Stefenson spends half her week in Morgantown working at the Carruth Center for practicum and WELLWVU as a graduate assistant.
Stefenson first began practicing yoga 15 years ago, while she was in high school, taking hot yoga classes as a way to exercise and stay in shape. She soon began to apply her experience on the yoga mat to her life outside of it as well.
"I've learned how to pay attention to my experience through mindful movements, breaths and connections with my deepest intentions," Stefenson said. "Some of these deeper benefits are the reasons I was inspired to pay it forward as a teacher."
Stefenson is quite confident that she is paying it forward to the students of WVU, believing firmly in the strong benefits of yoga.
"The average college student rates stress as their greatest challenge, and practicing yoga offers a great way to manage it," Stefenson said. "Yoga can be very functionally healthy for the body by way of strengthening and stretching the muscles, while also being good for one's mental health by being a medium to practice mindfulness. Research shows that yoga balances the sympathetic and parasympathetic nervous systems by activating and relaxing the body. Through this rhythm, the body and brain naturally regulate the symptoms of stress and shift them to positive emotions."
It is a well-grounded scientific fact that yoga is healthy for you, both mentally and physically. A study conducted by Catherine Woodyard, with the University of Mississippi, states that consistent yoga practice can lead to a decrease in depression with a significant increase in serotonin levels, while also providing improved flexibility and increased muscle mass.
When it comes to new students joining her on the mat, Stefenson was more than welcoming.
"I've heard people say they don't come to yoga because they're not any good at it, but I would posit that yoga is for everybody, and everybody, who is interested and curious. You don't have to be good, just show up as you are and practice what it is you want to practice," Stefenson said. "You're here to be curious and connect with the intentions that matter most to you — on the mat and beyond."
The weekly scheduling for Stefenson's yoga sessions, as well as contact and location information, can be found on the Monday listings of WVU's event calendar.