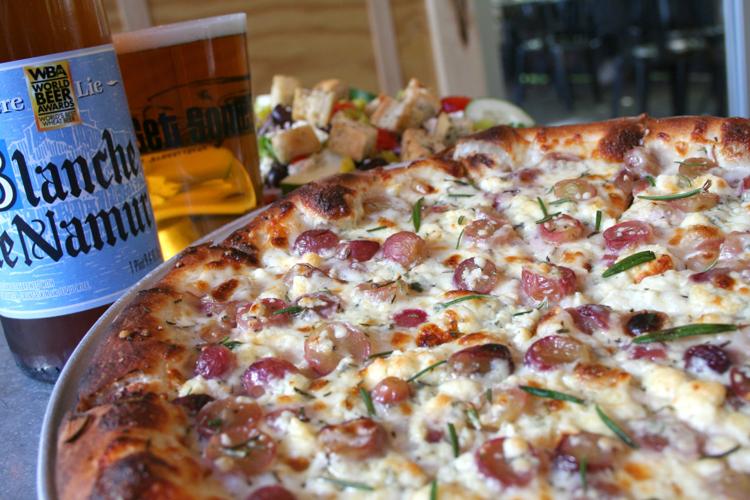 As any college town should be, Morgantown is the land of the passionate sports fans, rowdy partying and unfathomable amounts of restaurants serving up pizza they claim to be the best. 
Which restaurants are actually the best? 
The city's tourist website, tourmorgantown.com, lists a whopping 19 pizzerias, which does not begin to touch the actual number of restaurants scattered around Morgantown.
"Thin crust, thick crust, wood-fired or flatbread, Greater Morgantown has an assortment of pizzerias," the website says. "From national chains to local shops, you'll find all the melted cheese, fresh toppings and crispy crust your tummy can handle!"
According to Yelp, the top 10 pizzas in Morgantown come from Pies & Pints, Lefty's Place, PeppeBroni's Pizza, Home Grown Pizza, Pizza Al's, Mountain State Brewing, Lotsa Stone Fired Pizza, Milano's Pizza, The Pizza Place and Benny Velino's. 
Experienced pizza-eating students from Bridgeport and Shinston, West Virginia, have their own opinions about what is the best of the best.
"Summit, obviously," Grant Duvall, a freshman studying biology, joked in reference to the residence hall's cafeteria. 
Pizza Al's is the preference of junior psychology student  and Shinston native Logan Minnix. 
Freshman Jaryn Dodrill, studying exercise physiology, and freshman Rachel Reppert, studying elementary education, both agreed that Papa Allen's "slaps." 
"Papa Allen's is cheap and delicious," Dodrill said. "That is all." 
Taylor Frame, a freshman public relations student, said that Mountain State Brewery offered her the perfect slice. 
Freshman animal and nutritional sciences student Joplin Kehrer seconded Frame's claim.
Landyn Hewitt, a freshman in pre-pharmacy, is a fan of Pies & Pints. Her go-to order is the chicken gouda pizza. 
Catie Wilson is a freshman exercise physiology student. What is her favorite Morgantown pizzeria? 
"I like Domino's," Wilson said. "Are people going to make fun of me for saying Domino's?"
"I also love Domino's but was too embarrassed to say it," Duvall added.