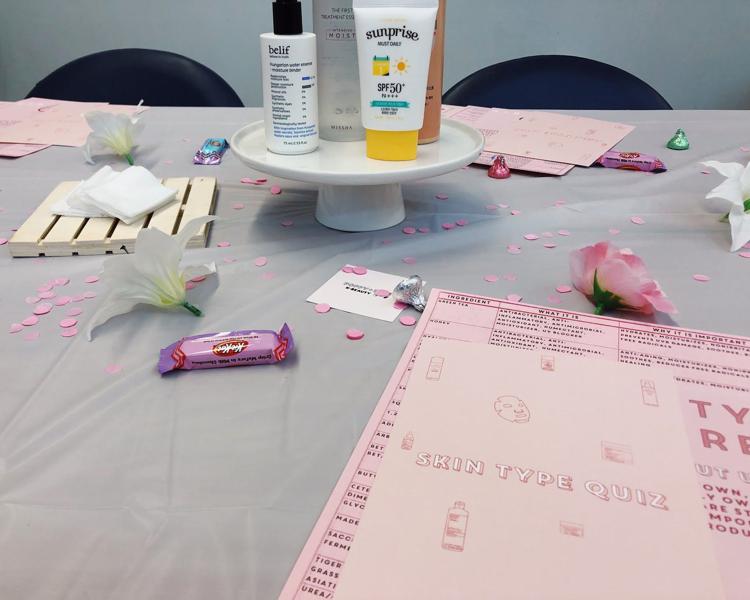 Skin care met science at last Friday's Korean Skin Care Workshop held in the Mountainlair by Poppy & Daisy, a local Korean skin care and beauty store. This workshop was hosted by The WVU Korean Club and was free for students and faculty.
The objective of the workshop was to inform students on skin care routines and what works for them with the help of Korean products. All that attended the workshop received a 10-step skin care guide, a list of 47 ingredients found in skin care products and what they do, and tester products available on each table.
Sarah and Enze Bond, brother and sister, led the workshop with extensive skin care terminology and expertise in how to make skin care work for everyone. Sitting in the front of the room with glowing, glassskin, they shared their secrets and truly took skin care to the next level.
"Skin care in Korea, I would say, they have a more holistic approach to it," Enze said. "So basically what I mean by that is skin care is not just skin care; it's about treating yourself right, lifestyle changes, and to make you feel not only better about your skin but better about yourself."
The 10-step routine provided in the workshop consisted of the following: oil-based cleanser, water-based cleanser, exfoliant, toner, essence, serum, sheet mask, eye cream, emulsion or lotion, and the most important step according to the experts, sunscreen.
"If you're going to do anything for your skin, you want to use sunscreen," Sarah said. "The main reason why the U.S. has high amounts of skin cancer is because we do not use sunscreen, and we promote skin tanning. This is really, really bad for your skin."
The workshop also included skin care "dos and don'ts," as well as a question and answer portion, a raffle, a coupon for $5 off $15 at Poppy & Daisy and three chances to win a cleanser.
WVU Korean Club President Mckenzie Harris and Vice President Jeanne Remy studied abroad in Korea, and claimed their experience abroad changed the way they viewed skin care, and, in turn, changed their skincare routines.
"The first time I went to Korea, I didn't really have a skincare routine," Harris, 20, of Charleston, West Virginia, said. "But after coming back and seeing some of the products and trying them, I definitely started to develop a more elaborate skin care routine."
Skin care in Korea is deeply rooted in their culture, which is why they lead in innovation and research on skin care products. According to CNN, Korean facial skin care products are predicted to reach $7.2 billion by 2020.
"In Korea, if you're not taking care of your skin, you're not taking care of yourself, and in America, it's just like 'keep it clean,'" Remy, 20, of Charleston, West Virginia, said. "It's like, ok you clean it, but there's still a lot that needs to be done other than just cleaning it."
"Your skin is an organ on your body. You should take care of it as much as you would another," Remy said.