On Wednesday night, Mirage Magazine hosted a release party and panel discussion to promote Resilience, the Spring 2019 issue of Mirage Magazine. Mirage Magazine is a publication created by students in the organization Ed on Campus. This year they chose the theme Resilience to have the opportunity to discuss difficult issues in a positive way.
Kristen Uppercue, a senior journalism student from Martinsburg, West Virginia, is the editor-in-chief for Mirage Magazine.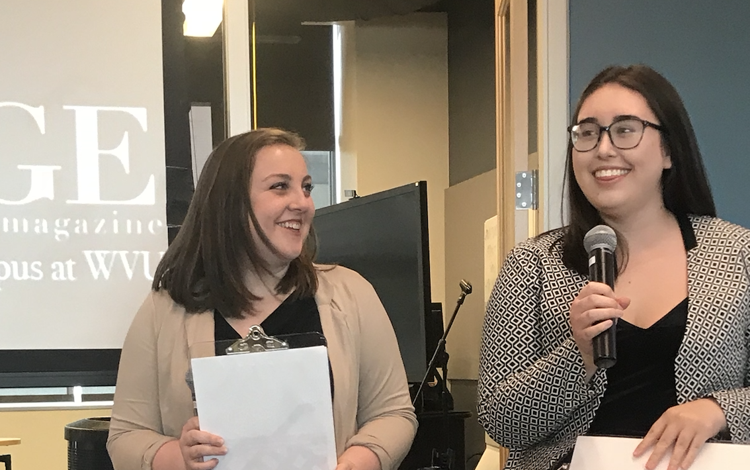 "So often as media students, we are working on stories and discussing really disheartening topics," Uppercue said. "For this issue, we wanted to do something that had substance and address those topics but in a more positive light."
As a part of the release party, Ed held a panel discussion with members of the community working to fight the opioid epidemic.
"We wanted to highlight the people in our community that are working to address and overcome challenges our region faces, which is what inspired us to call this the Resilience Issue," Uppercue said. 
In this issue, writers discussed topics including the opioid epidemic, the problems of fast fashion and how small businesses are striving to stay alive despite a harsh business inventory tax, among many other topics. 
"We wanted this to be unlike the rest — especially because through this issue, we were trying to spark important conversations and one of those main ones being the opioid epidemic and what our community is doing to help. This initiated the idea for us to have a panel to encourage our peers to engage in this conversation. So often when people think of recovery and the opioid epidemic, they think of traditional rehabilitation, so we wanted to highlight the other amazing resources and service available in our area," Uppercue said.
This is the fourth release party for Mirage Magazine and Uppercue's last one as EIC. 
"I was here when Mirage Magazine was first created, and it has been a whirlwind to work within this publication and one of the most rewarding experiences at WVU," Uppercue said. "We've spent two years establishing the brand, so I hope that next year's team will use the publication as a way to have more conversations like these and work with other organizations as we started to this year."
The panel was in collaboration with Her Campus at WVU. Maura Flynn, a junior journalism student from Cleveland, Ohio, is the president of Her Campus.
"It's important for student organizations on campus to collaborate and work together because the point of being an active Mountaineer is to support your peers and better your community," Flynn said.
Anyone interested in reading Mirage Magazine can do so at issuu.com/mirage_magazine/docs/resilience_final_by_page.