In celebration of Pride Month, Morgantown Art Party is hosting a concert and drag show on June 12 at the Retro-tique located on 218 Walnut St. from noon to 4 p.m. A second performance will be held at the Morgantown Art Bar from 8 p.m. to midnight.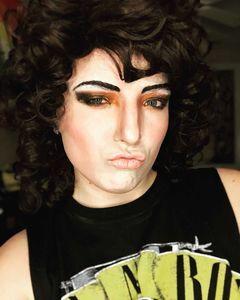 This event holds special meaning to members of the community such as Jami Diamond, a former student at West Virginia University, who helped to organize the occasion.
"This show will be the first in-person show that I've helped to produce and the first live performance I've ever done in drag in Morgantown — the place where I first saw a drag performance," Diamond said. "It's really exciting to be able to share the stage with people who I have looked up to and watched perform over the last couple of years and finally be able to shake my thing with them."
The drag show, hosted in collaboration with Morgantown Pride, will feature a variety of musical performances. Diamond will be featured alongside other performers including Andi Whorehol, Desiree Daae, Dimitria Blackwell, Tillie Gags, Sir Dallan G and Gonzalo.
"Sir Dallan G wanted to do some sort of pride month concert event, we ended up collaborating with Morgantown Pride, who pointed us towards Morgantown Art Party who was ecstatic to be able to host something like this," Diamond said.
Diamond explained how pandemic isolation has taken its toll on members of the LGBTQ+ community in particular.
"It's very easy to feel isolated during these times, especially if you're a member of the LGBTQ+ community in this area of West Virginia," they said. "When there are no in person events it gets really difficult to foster community engagement, community connections during a time where we could meet safely together in person."
With the prevalence of COVID-19 over the past year, events like this haven't typically been able to happen in person. Diamond pointed to the importance of in-person events in building relationships with others.
"With it becoming safer to be around other people again and vaccinations rolling out, it really is an important event to reconnect with the community — almost like coming out of hibernation you can say, getting the chance to make up for lost time."
In addition to a concert and drag show, the Arts Walk will feature a variety of local artists and musicians on Saturday from 11 a.m. to 4 p.m. in Downtown Morgantown.