On Sept. 13, West Virginia University alumna Emily Calandrelli gave a presentation at the Mountainlair at the "Women in STEM" event hosted by the NASA WV Space Grant Consortium.
In her presentation, Calandrelli described her career journey and provided advice to other women studying science, technology, engineering or math.
Calandrelli began with a walkthrough of her career including how she applied to scholarships and internships in her undergrad.
"When you hear all those accomplishments, just read in a line, there's a mystery to it all. And I want to remove that mystery of how I got from A to B, so that you can do that too," Calandrelli said.
Calandrelli explained how practicing her creative and technical writing skills in her free time outside of work helped lead her to paid opportunities as a tech journalist and author.
"You kind of have to prove your worth first and build up to the big book deal or build up to the big paid engagement because if you put yourself in their shoes — the person that you're trying to impress — shoes, they want to know that you can be able to do the job well before they hire you," she said.
Calandrelli advised students to reach out to WVU's ASPIRE office and to take advantage of the resources available to them.
"Sometimes when you're younger, there's just not a good way to prove that because, you know, there's not a ton of opportunities with people with no experience. And so sometimes you have to create those opportunities yourself."
Calandrelli is the host of the show 'Emily's Wonder Lab' on Netflix, the host of Fox's 'Xploration Outer Space' and a correspondent for 'Bill Nye Saves the World.'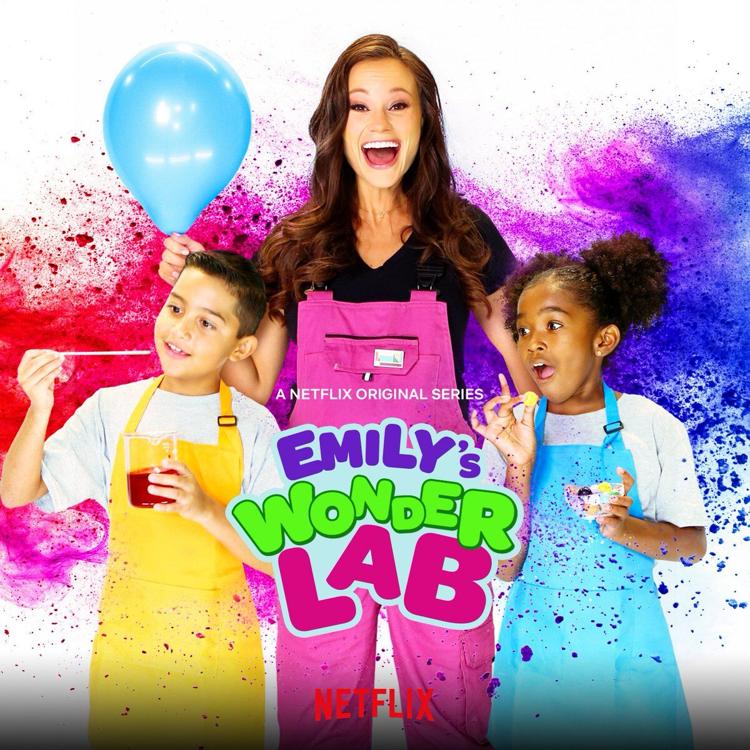 But eventhough Calandrelli was able to film 'Emily's Wonder Lab' while nine months pregnant, she also described the unique challenges she has to face as a woman in the male-dominated fields of engineering and television.
"The feedback I would receive is that, 'Our audience is predominantly male. So we just don't think that they would relate well to a solo female host,'" she said.
Calandrelli described an "endless cycle" in which networks choose shows hosted, directed, written and cast by men and created for men. These shows pull predominately male audiences, which are then used to justify choosing more shows featuring only men, she explained.
"In one particular meeting, I was asked, 'Do you have a boyfriend or something that could co-host the show with you?'" she said.
In projects like 'Emily's Wonderlab,' Calandrelli is working to change the public's perception of scientists to be more inclusive of women.
"It's not just the little girls that this is changing. This is changing the way little boys view their classmates as well."
Calandrelli told the story of one little boy who was asked to draw a scientist.
"When he thought of what a scientist looks like he drew pregnant me doing science and pink overalls with long curly hair. And that is what he saw when he thought of scientist,' she said. "So this is probably the most meaningful project I've ever worked on."