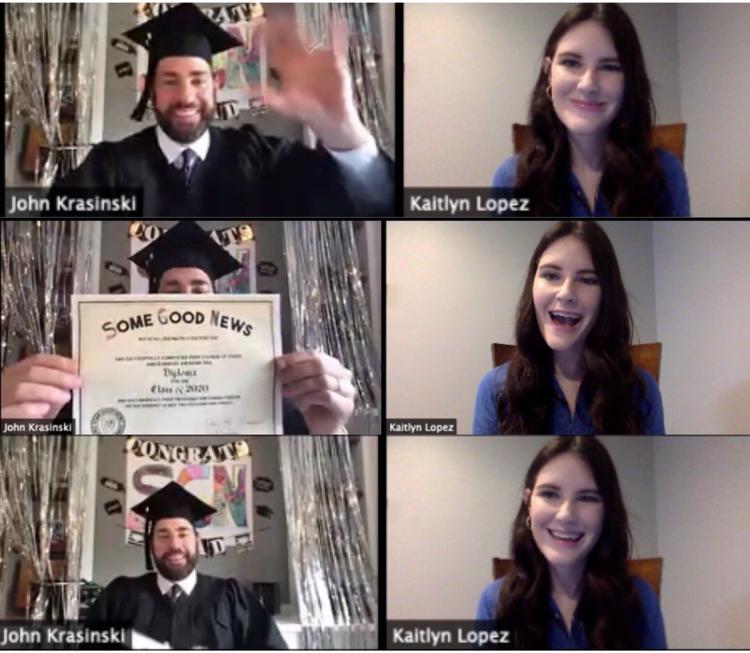 You may know John Krasinski from movies like "13 Hours," "A Quiet Place" or "Jack Ryan," or, more likely, you might know him as Jim Halpert from the TV series "The Office." 
Kaitlyn Lopez, who is finishing a Master of Science in integrated marketing communications, recently got to know him a little more personally.
"He was planning a virtual graduation for the class of 2020," Lopez said. "He tweeted something along the lines of, 'We're having a few commencement speakers. Do you have a question that you would like to ask them?' And so, I said, 'What is the best advice you've ever received?'"
Within 20 minutes, Lopez received a direct message asking for her contact info, informing her that producers would be in touch. 
"Late that evening, [the producer] sent me a text, like, 'Oh, we would love to have you on, are you free to do that?' And I was like, 'Of course!'" Lopez said.
The meetup was held through Zoom video chat, and can be found on Krasinski's YouTube channel, SomeGoodNews.
Lopez said it began as many meetings might, with Krasinski calling out for a roll call. He asked participants to shout out their name and where they are from.
"Class of 2020, let's roll call! What is your name? Where are you from? Shout it out!" Krasinski said. 
"I got on there, and a girl kind of gave a little graduation spiel, and I got to say my name and that I was from WVU," Lopez said. "There were lots of different students from all around the country, so we all got to congratulate each other, which was pretty neat."
The attendees ranged widely, from a graduate from Northwestern University, to a graduate from Brigham Young University and a young girl graduating from kindergarten. 
"I think you might be in the running for cutest graduate," Krasinki said to the kindergartener. 
Among other guests were Oprah Winfrey, host of "The Oprah Winfrey Show," Malala Yousafzai, a female education activist from Pakistan, and Jon Stewart, former host of "The Daily Show." 
"It was very lighthearted, it was fun," Lopez said. "It started off and [Krasinski] was kind of behind a curtain, and then he came out and talked to us, and he had on his cap and gown and had decorations behind him. He gave us our own diploma type of thing."