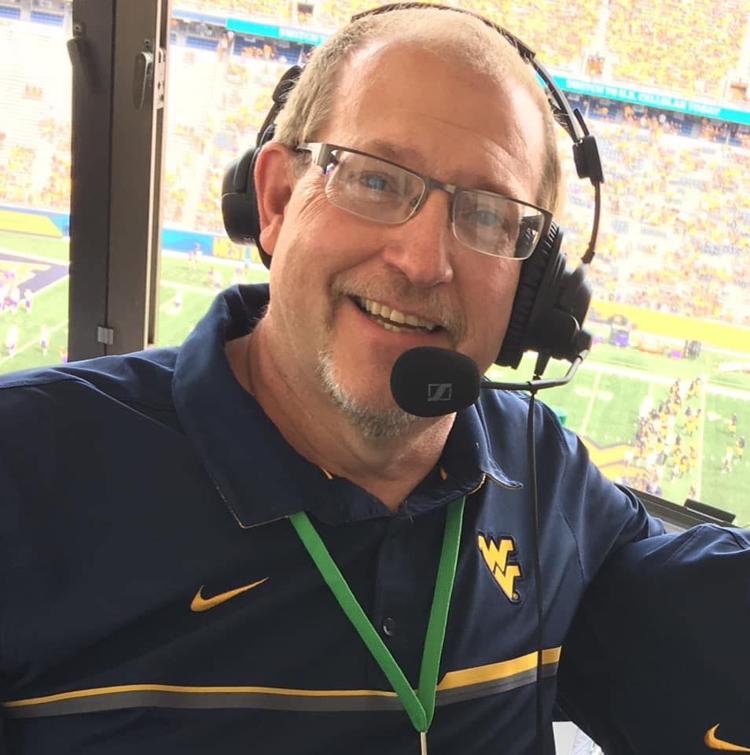 While coaches and players come and go, the booming voice of Bill Nevin voice has remained a constant at WVU sporting events for the past 16 years.
Beginning in 2004, the Ottawa, Illinois, native has taken on the role of public address announcer for a variety of WVU factions, such as football, men's basketball and the Pride of West Virginia. He also serves as the announcer for commencement ceremonies.
"I don't take my job for granted; I know there's a lot of people that would like to have it," Nevin said. "I'm blessed and humbled by the opportunity that West Virginia University gives me."
2019 was a memorable year for Nevin. In September, the National Association of Sports Public Address Announcers (NASPAA) announced Nevin as the College 2018-19 Bob Sheppard P.A. Announcer of the Year award.
The award, named for former long-time New York Yankees' public address announcer Bob Sheppard, was a truly meaningful honor for Nevin.
"I was very humbled by it, to be given an award named after Bob Sheppard, who perhaps is one of the greatest public address announcers ever," Nevin said. "[It] really was humbling and it was very gratifying at the same time to be recognized by your peers as one of the best in the business.
"It really means a lot."
The honor came on the heels of a career first for Nevin. In March, he served as the announcer for the two-day NCAA Rifle Championships held at the WVU Coliseum. While it was Nevin's first such time announcing a national championship event, and even his first rifle match, the choice spoke to his ability as an announcer.
"It was a great experience; [I] really enjoyed that," Nevin said. "I had not done a rifle match up until that point so I took in a couple of matches prior to that just to see how they worked and things like that so I could prepare myself, but that was really exciting."
Nevin has been working closely with the University since 2001 when, after a long career in radio broadcasting, he took a job with WVU's then-named News & Information Services department. He became the assistant vice president of communications for the WVU Foundation in 2007 and has been in Morgantown ever since.
Moving into the future, Nevin doesn't see himself doing anything else.
"I want to continue to do the same thing. We all can get better at what we do and so I just want to continue to get better and, as opportunities present themselves to me, I want to full advantage of them, but I have no plans to do anything different in terms of staying here.
"I love what I do. I love West Virginia University."