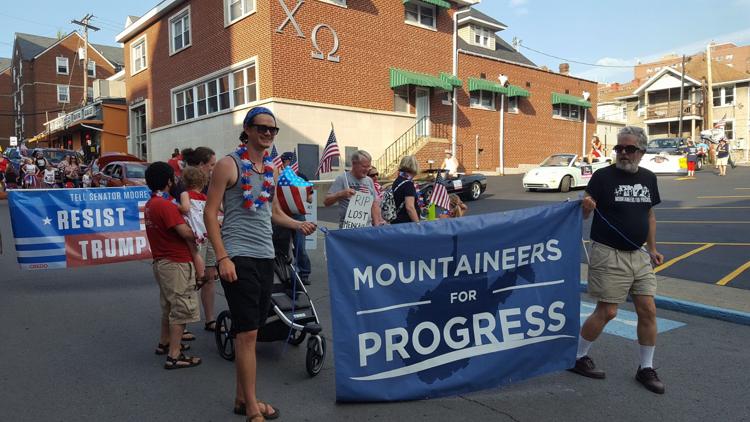 West Virginia lawmakers faced resistance during Fourth of July celebrations.
On May 4, the United States House of Representatives approved the American Health Care Act of 2017, a health care bill that would repeal and replace portions of the Affordable Care Act, or Obamacare. The vote for a revised Senate bill has been delayed until after the Fourth of July recess after failing to gain enough support.
All three of West Virginia's House representatives voted for the health care bill when it passed through the House of Representatives, despite the efforts of Mountaineers for Progress.
"To put it in five words or less, lives are on the line," said Shane Assadzandi, the organization's At-Large Director. "We believe this is an issue where we can make a stand, we can have an impact, and we're going to keep doing what we do until the day of the vote."
Mountaineers for Progress advocates for progressive solutions and candidates.
"We're a nonprofit organization started in 2015 and, as you can imagine, got a big bump in energy and activism and goals after the recent president was elected in November," said Megan Smith, the Media Communications Director.
Rep. David McKinley, R-W.Va., visited Fairmont on July 4 to recognize the Marion County Commission for their of design of Palatine Park.  The only people in attendance were two reporters, McKinley staffers, and twenty protestors. Mountaineers for Progress, along with Marion County for Progress and Progress Starts Now, were the ones waving the signs.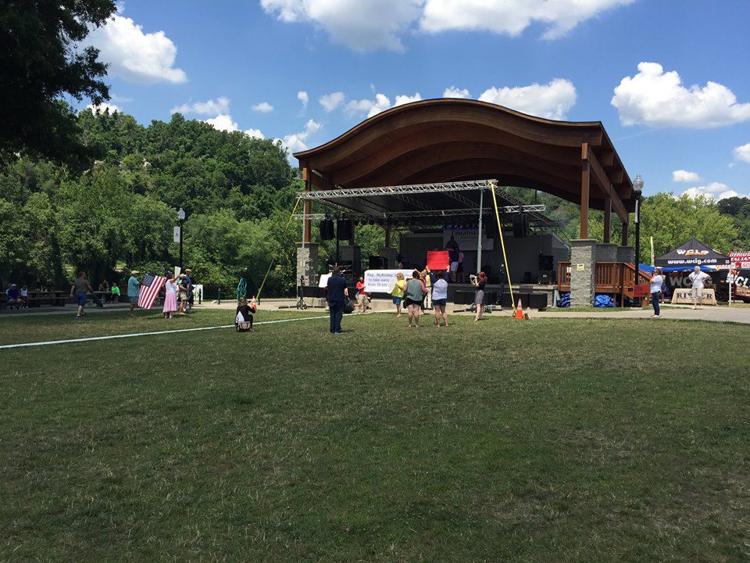 "We didn't yell anything at him while he was presenting," said Ace Parsi, a member of Mountaineers for Progress . "We had our banner and things, but we didn't drown out his presentation in any way. We were respectful. We didn't chant while he was speaking."
This is not the first encounter between Mountaineers for Progress and Rep. McKinley. Mountaineers for Progress has protested in front of his Morgantown office, including vigils and sit-ins. McKinley declined an invite to attend a town hall, through agreed to a roundtable meeting on March 13.
"In that meeting McKinley promised he would never vote for a bill that took away Medicaid from WV," said Smith, who was not at the meeting. "A week later, he revealed himself as a liar."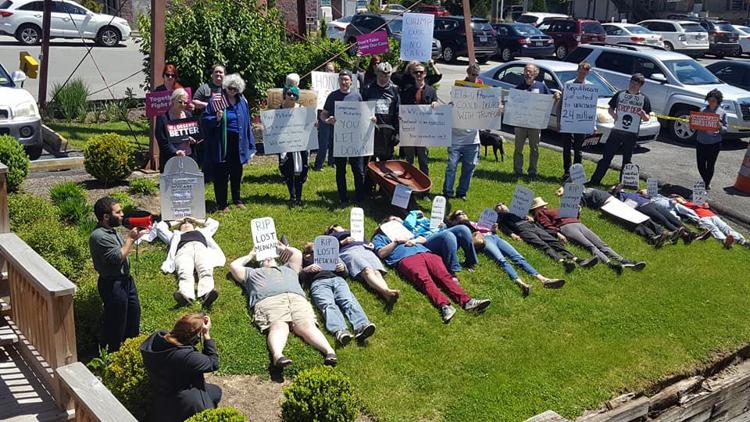 After he allegedly said he would not vote for a health care plan that cut away Medicaid, McKinley announced support for the bill.
Michael Hamilton, the Chief of Staff for McKinley, denied these claims.
"I was in the meeting and this is a mischaracterization of both what he said in the meeting and what the health care bill does," Hamilton said. "The  bill does not 'Take away Medicaid' from West Virginia. The bill specifically grandfather's in anybody who is currently on the Medicaid expansion, provided they maintain eligibility. It also gives states the ability to continue covering the Medicaid expansion population at the traditional reimbursement rate."
"Under the bill Medicaid spending increases from $380 billion annually to $500 in 2028," he said. "So the cuts you are referring to are actually a slowing of the growth rate from current law."
Ace Parsi was an attendee of the meeting.
"I was at the meeting and his direct words were that he understood that a lot of people were able to get healthcare through the ACA Medicaid expansion and that Medicaid was a line in the sand for him," he said. "The AHCA dramatically changes the federal investment in Medicaid, capping the federal contribution and turning the program from an entitlement to a block grant. Given increasing need, that's bad for all states, but is particularly bad for states like WV who are in budget holes."
Mountaineers for Progress also approached Rep. Evan Jenkins, R-W.Va., during a Fourth of July parade. The organization broadcasted the encounter on Facebook Live.
"We saw him and thought we would just use the opportunity to get him on the record in terms of his vote," said Parsi.  "We wanted to make sure he could speak to the whole state around his vote."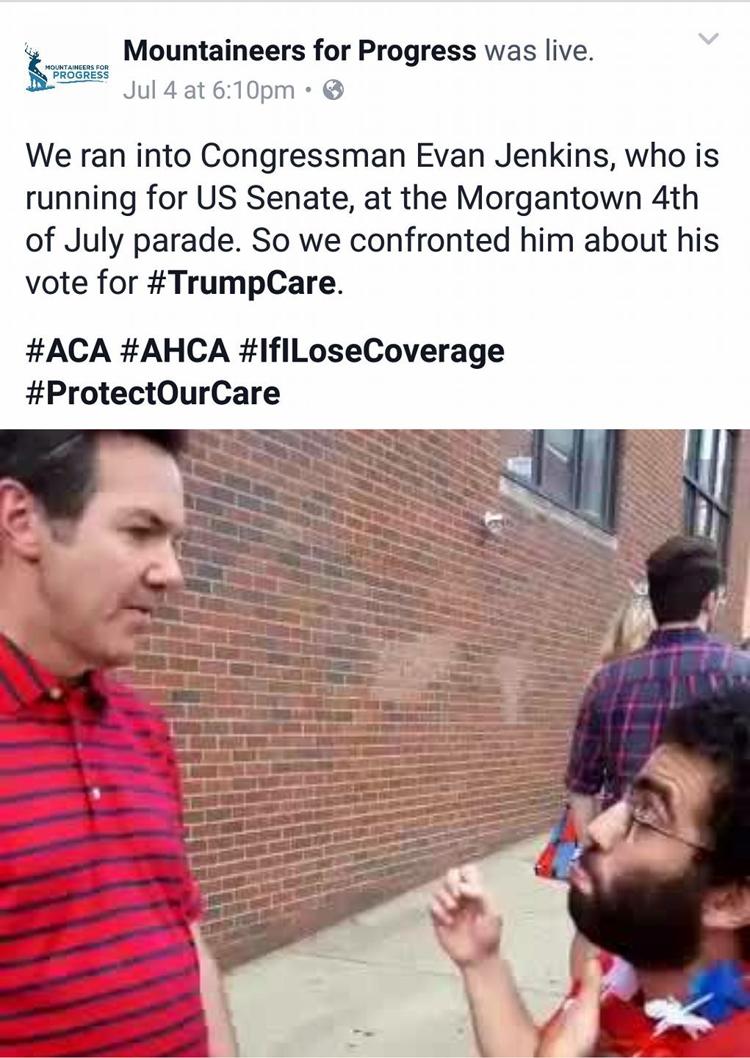 In the video, Jenkins defended his decision.
"It didn't say it was going to take away health care," he said, referencing a report by the Congressional Budget Office.
"People will actually not be forced to buy a product that they don't want," he said.
Sen. Shelley Moore Capito, R-W.Va., has a history of voting against Obamacare. As a U.S. Representative, she voted no on the Affordable Care Act in 2009 and continued the trend. On Jan. 12, 2017, she voted for a budget resolution that would begin the process of repealing the ACA. Despite this history, she pledged not to support the health care bill in its current form.
"As drafted, this bill will not ensure access to affordable health care in West Virginia, does not do enough to combat the opioid epidemic that is devastating my state, cuts traditional Medicaid too deeply, and harms rural health care providers," she said. "The Senate health care bill is not the right fix for West Virginia, and I cannot support it. My concerns will need to be addressed going forward."
Mountaineers for Progress has protested in front of her office and organized phone banks to encourage citizens to call Senator's office and request for a "no" vote on the health care repeal. On June 14, the organization brought 185 waffles to Capito's Morgantown office.
"Each waffle represented a thousand West Virginians that would lose health insurance if the medicaid expansions were revoked," said Assadzandi.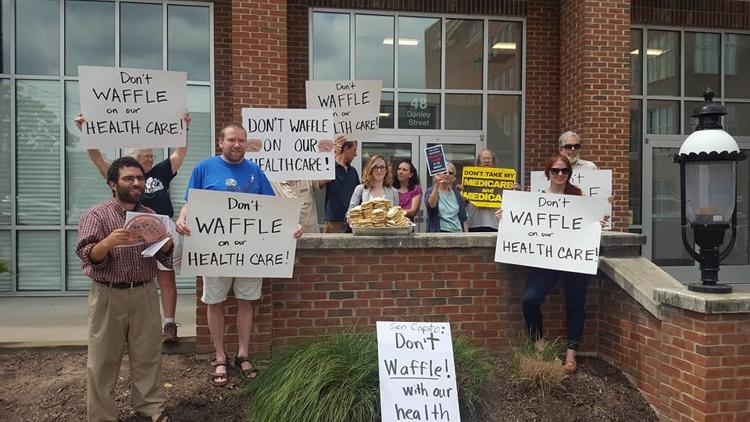 On June 27, the day that Capito published the press release, Mountaineers for Progress was outside her office, conducting a vigil for Americans who could lose their health insurance if the bill was passed. On the same day, they put together a "Stand up for Opioid Recovery" town hall, discussing the effects the bill would have on the opioid addiction problem in West Virginia.
"There are about 22,000 West Virginians that use Medicaid to pursue either substance abuse treatment, addiction treatment, or mental health treatment," Assadzandi said. "With those expansions going away those people will lose their ability to seek recovery."
Capito did not attend any public events on July 4, opting to post a Youtube video instead. The comments were disabled.