Former Deputy Mayor Mark Brazaitis, who has publicly spoken about his mental illness, said his time on the Morgantown City Council will end in July.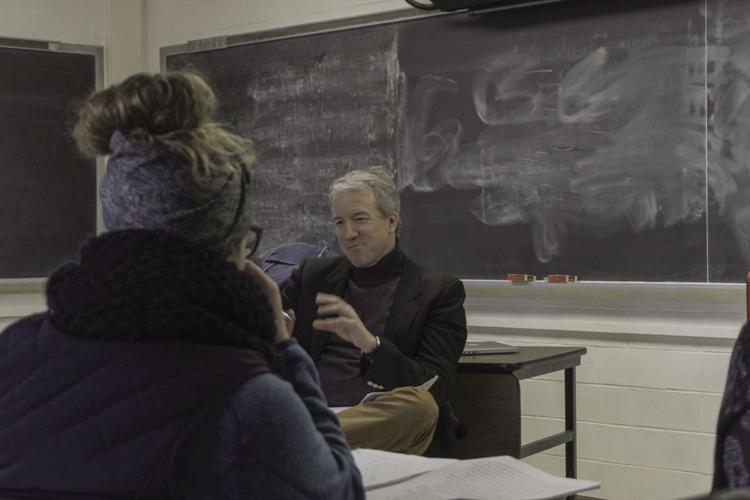 The sixth ward councilor instead plans to return to his job as an English professor at WVU. Brazaitis said he hopes to return to teaching for the Fall 2019 semester.
The councilor and former U.S. Senate write-in candidate  has encountered political and professional troubles, especially following an Aug. 6 incident involving the Monongalia County Sheriff's Department.
"I'm not going to be running for a second term," Brazaitis said. "I think one term was enough for me in city council."
So far, he is the only councilor who has announced intention not to run again.
WVU barred Brazaitis from teaching and requested him to "refrain from being on the University's campus" in a letter sent before the start of the Fall 2018 semester following the incident.
The letter, sent by Gregory Dunaway, the dean of WVU's Eberly College of Arts and Sciences in which Brazaitis was a professor, modified Brazaitis' duties to the University to only focus on research activities performed at his home. It also outlined steps through the WVU Faculty and Staff Assistance Program that Brazaitis would need to complete to return to his role at the University.
The University's decision came following the Aug. 6 incident, which was close on the heels of Brazaitis' announcement of his Senate campaign.
According to West Virginia MetroNews, the incident began at Brazaitis' Courtney Avenue residence when an attempt was made to have him involuntarily committed for mental evaluation.
Police were called to the scene for what was termed a "non-criminal matter," resulting in a 15-hour search for Brazaitis. A day later, Brazaitis turned himself in to deputies with the Monongalia County Sheriff's Department.
He then checked into Ruby Memorial Hospital and was later discharged from the University of Pittsburgh Medical Center. Brazaitis has been public about his history of mental illness, including a major depressive episode he experienced in 2004, as reported by WDTV.
Dunaway would not answer definitively whether Brazaitis will return to teaching, calling it a "personnel matter."
"Mark Brazaitis has been and remains a professor in the Department of English," wrote Dunaway in an email Thursday.
Brazaitis said he is on a medical leave. According to WVU policy, this would require him to apply for an extension if he does not return to his duties one year after his leave began.
Not long after WVU's decision, Brazaitis was removed from the ceremonial position of deputy mayor in a 5-2 city council vote, according to WAJR News. Seventh Ward Councilor Barry Wendell and Brazaitis were the only dissenting votes.
Brazaitis defended himself, calling it unfair to use his history of mental illness against him politically.
Morgantown Mayor Bill Kawecki had previously expressed reservations about Brazaitis continuing as deputy mayor, highlighting concerns that Brazaitis was perceived as speaking for the entire council in some of his controversial statements.
"He did piss off everybody on the council," Wendell said in an interview Thursday. "I mean, that's why they took him off."
Fourth Ward Councilor Jenny Selin was elected to fill the role in a 6-1 vote in the same meeting.
Brazaitis, who is also a noted author of fiction and nonfiction books revealed his intentions in an interview on Jan. 28.
Brazaitis said he has no plans to run for Senate in the future, following his failed 2018 write-in candidacy.
According to an article from the Dominion Post, Brazaitis had announced his candidacy for the West Virginia seat in front of the Morgantown Ice Complex, challenging incumbent Democrat Joe Manchin and Republican Patrick Morrisey. Throughout the campaign he referred to Manchin as a Republican.
"I didn't expect to win," Brazaitis said. "I just wanted to get some issues out there that hadn't been discussed in the campaign."
Among those issues were the legalization of recreational marijuana, raising the minimum wage and guaranteeing women had access to abortion.
Brazaitis said he would focus on the issues of a green bill, which would reduce city energy expenses and emissions, land acquisitions to support the green bill, what he called a "continued revival" of the waterfront and improving the Morgantown Airport during his remaining time on the city council.
On Tuesday, Jan. 29, city council discussed proposals for efficiency from the Municipal Green Team. The proposals included installing solar panels on city buildings, upgrading street lights to LED bulbs and transitioning the city's vehicles to electric cars.
Aside from a possible return to WVU, Brazaitis will focus on a new novel called "American Seasons." The book is set in a small American sports community in the 1960s and will touch on issues of the era, such as the John F. Kennedy administration and integration.
"It's focused on a basketball team, the relationship between the players and the coach," Brazaitis said.
His eighth book, "The Rink Girl," was released in September 2018.
CORRECTION: In an earlier version of this article, it was reported that Councilman Barry Wendell said, in reference to Councilman Mark Brazaitis, that "he did diss on everyone that was on the council." This is incorrect. Wendell said, "He did piss off everybody on the council."