Students protested on Wednesday over Sodexo's management of WVU's dining services.
Several new restaurants and dining hall changes at WVU have greeted students as they return for the fall semester. These changes came from Sodexo, a French food service and facility management company now in charge of WVU's dining services.
Students gathered in front of the Mountainlair on Wednesday at 1 p.m. for the protest, which was organized by Emma Harrison, a senior political science student.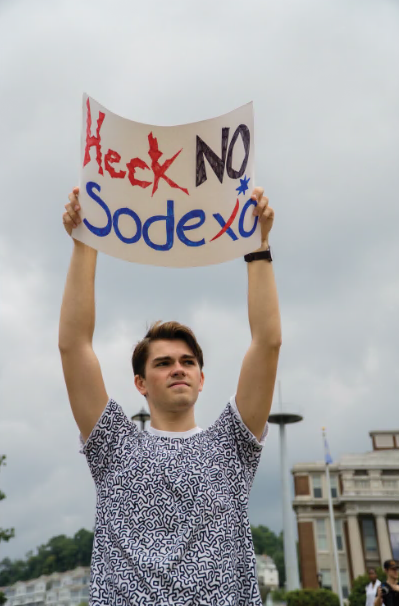 Harrison said her main goal was to protest Sodexo's dietary restrictions and lack of nutritional food options.
Harrison claimed that Sodexo does not provide allergen-friendly foods or environments for those who need it. She also asserted that Sodexo has had a problematic record with regard to compliance with government regulations.
WVU Dean of Students Corey Farris said there is some miscommunication about what Sodexo offers. He said there are accommodations for students with allergies at Summit and Evansdale Cafes, and meals do not have to be requested, unlike previous years.
"They're going to have foods already prepared on the serving line that you don't have to make a special request or you don't have to request and wait for it," Farris said. "It's going to be ready made."
Farris said WVU heard of the concerns with Sodexo a few weeks ago and the University wants to clear up any misunderstanding with students.
"As soon as we heard about it we realized it was a miscommunication because we absolutely will accommodate people's dietary needs based on allergies and health needs," Farris said.
In an email sent to the Daily Athenaeum at 9:44 p.m. on Wednesday, Sodexo provided a lengthy denial of the accuracy of claims made against it during the protest.
Sodexo wrote in the email that its "dining program is dedicated to accommodating customers who have food allergies or other special dietary needs with a variety of safe, healthy and delicious options to please every palate."
Harrison also contended that Sodexo invests in private prisons.
This claim is also disputed by Sodexo and the University. Sodexo wrote in the email, "Sodexo does not provide prison/corrections services in the United States nor do we have any ownership stake in companies that do."
WVU also disputed the private prison claim.
"Sodexo does not provide prison correctional services in the United States nor have any ownership interest in correctional facilities or detention centers," said Erin Newmeyer, director of communications and marketing for strategic initiatives. The Strategic Initiatives office identifies and maintains University goals and sustainable resources, according to its website.
Emily Frasa, a senior international studies student and a resident assistance at Boreman Hall, said that she will be attending a meeting between herself and Sodexo representatives on Friday afternoon in Morgantown. Frasa will speak about student's concerns and her own personal experiences with the company.
"I can't eat gluten or dairy," Frasa said.
She believes Sodexo is only offering allergen-friendly food at Cafe Evansdale and at Summit Cafe.
Frasa said she had to be moved to Summit Hall to be able to receive food for her nutritional needs. Upon entering Summit Cafe on Aug. 13, she reported there was no allergen-friendly options.
"I will say that the dining hall then went back and prepared a meal personally for me just because they wanted to make sure I could eat. But all in all, we're here to say that the allergen friendly options on this campus have been extremely limited, and that is not acceptable," Frasa said.
Amanda Marple, a recent masters graduate at WVU, maintains that the plan to go with Sodexo had no student input. Marple conducted research as a masters student on the privatization of dining services on college campuses and how it affects those students. She asserted students at universities across the country are forming similar protests to share their experiences with Sodexo.
"Students ultimately should have the choice in saying who they get to purchase their food from, how it's sourced, is it ethical, is it sustainable," Marple said.