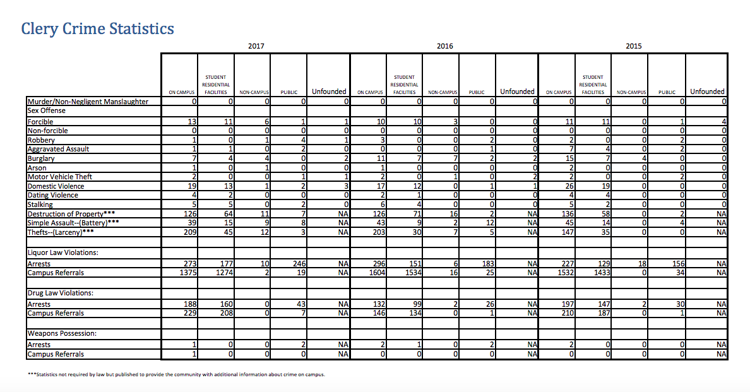 The annual WVU Clery Report shows a rise in forcible sex offenses from 2016 to 2017.
Universities participating in federal financial aid programs are required to release campus crime statistics and security information due to the Clery Act. This year's report showed crime statistics for WVU and surrounding areas from the last three years.
In 2017, there were 13 on campus forcible sex offenses, six non-campus offenses and one public offense, according to the Clery Report. The year before, there were 10 on campus offenses, thee non-campus offenses and no public offenses.
There was a single unfounded forcible sex offense in 2017, and 11 of the 13 on campus offenses happened in student residential facilities. 
WVU Police Lt. Chad Barker said the "non-campus" category in the Clery Report included fraternity houses and other student gathering places not on campus, and the "public" category included offenses on the street.
WVU Police Chief William Chedester said some of the reasons for the rise is an increase in education and awareness in reporting sexual assault.
"We have campaigns to encourage people to report any activity like this to UPD or Title IX," Chedester said.
There were also increases in domestic and dating violence offenses.
There were 18 domestic violence offenses in 2016 and 22 offenses in 2017. 2016 had two dating violence offenses while 2017 had four offenses.
Three cases of domestic violence were unfounded in 2017 and one in 2016.
While there was one less on campus stalking offense in 2017 than 2016, overall stalking offenses increased from six offenses in 2016 to seven in 2017.
There was also an overall increase in drug arrests, with 231 in 2017 and 160 in 2016.
The Clery Report shows an increase in campus referrals for drug law offenses as well. There were 147 such referrals in 2016 and 236 in 2017.
On campus arrests for liquor law violations went down, but the number went up overall, with 485 in 2016 and 529 in 2017. Campus referrals for liquor law violations went down, with 1,645 in 2016 and 1,396 in 2017.