Kate Dye and Madison Matheny will serve as next year's SGA president and vice president after a sweeping election win Wednesday night.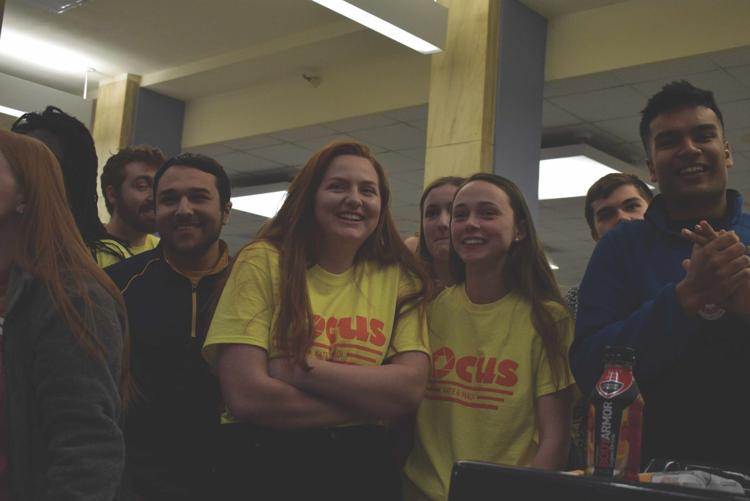 The duo will also make history as the first all female President-Vice President pair of SGA.
Dye and Matheny received 53 percent of votes for the presidential race. The pair of Mikalaa Martin and Mason Arbogast, running on the Connect ticket, received 25 percent of the vote. The pair of Jay Zaleski and Jacqueline Bonar, running on the Realist ticket, were just behind with 21 percent of the vote.
Dye and Matheny's ran on the Focus ticket, which all ten senators from the ticket were elected, including Athletic Senator-elect Tufari Graham. 
Focus' senator-elects include:
• Noor Dahshan, 507 votes
• Sarah Zanabli, 498 votes 
• Arpan Kumar, 490 votes  
• Travis Rawson, 493 votes
• Victoria Teufel, 485 votes
• Khufu Edwards, 484 votes 
• Sarah Ihlenfeld, 475 votes
• Myya Helm, 471 votes
• Dominic Cunningham, 461 votes
Martin and Arbogast's ticket, Connect, had six senators elected.
• Kevin Donnelly, 318 votes
• Amelia Jones, 300 votes
• Josh Harman, 280 votes
• Camryn Pressley, 277 votes
• Noah Collie, 275 votes
• Oriana Ovide, 267 votes 
Four referendums, all in relation to modifying future election rules, passed.
"We tried to be really persistent on social media, an we tried to just go out there and talk to everyone that we could," Dye said in an interview with the DA after the election announcements. 
Nine of the 24 senate candidates were not in the 15 elected.
• Hali Stuck, Connect, 263 votes 
• Corey Williams, Connect, 252 votes
• Conor Wischmann,  Realist, 224 votes
• Nico Hartley, Realist, 204 votes
• Ariel Ellington, Realist, 203 votes
• Travis Nupp, Realist, 195 votes
• Caitlin Fulp, Realist, 192 votes
• Richard Yates, Realist, 188 votes
• Haley Simon, Realist, 184 votes