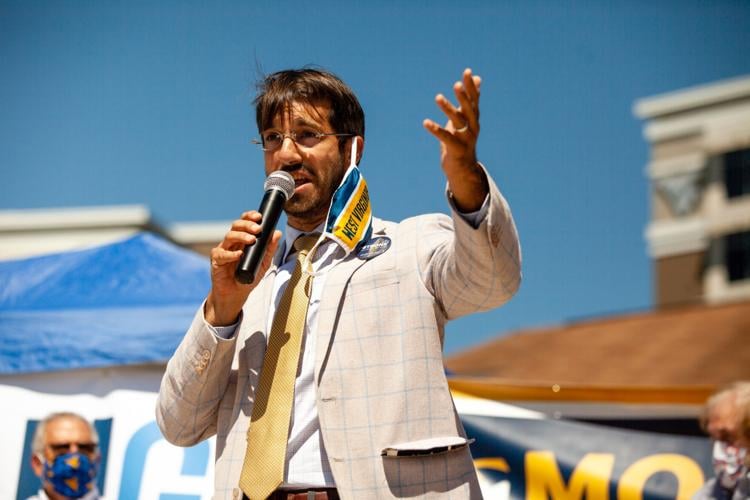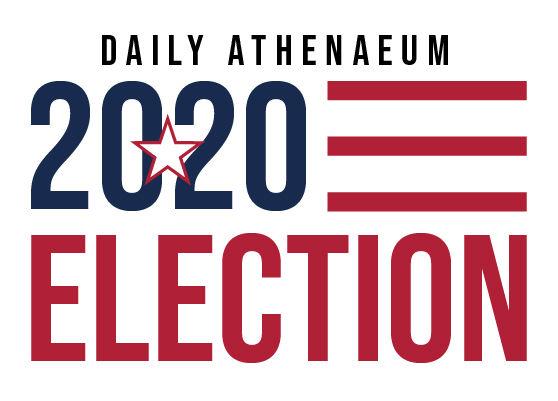 With Election Day just under a month away, Sam Brown Petsonk, the Democratic Party's nominee for attorney general, spoke with the Daily Athenaeum on Oct. 6 and discussed why he feels the state of West Virginia needs new legal leadership.
Portions of the following interview have been edited for length and clarity.
Daily Athenaeum: Make your case: Why do you believe that West Virginia needs you as opposed to four more years of Patrick Morrisey?
Sam Petsonk: The stakes in my race are stout and simple. One in 10 West Virginians will lose their health insurance if my opponent wins reelection and wins the lawsuit that he has filed, which is now pending in the United States Supreme Court. We cannot sustain that damage. It's a billion dollars out of our economy and thousands of high-quality, high-paying healthcare jobs that will be gone. Our doctors can't afford it. Our hospitals can't afford it. Our patients can't afford it. Our economy cannot withstand the damage that Morrisey will do if he wins. 
That is the most important issue for every working person in our state — for every human being who relies on access to healthcare, especially during the biggest economic crisis of our lifetimes and the biggest public health crisis that we face right now. That's far and away the most important issue. 
I'm a ninth generation West Virginian. I worked for Sen. [Robert C.] Byrd; I learned a lot from Sen. Byrd. I have represented hundreds, probably thousands now, of working West Virginians, mostly coal miners, bringing in millions of dollars for wages, benefits, black lung benefits, retirees healthcare. I deal with the medical community all of the time, and I got into this race because people in the medical community around our state said to me "Sam, we're scared. We cannot withstand the damage that Morrisey is doing to our state. Our economy can't stand it, our patients can't stand it. Our healthcare sector is crumbling if Morrisey succeeds." They said to me "Sam, you know this system, you've been in the fight. You know how our federal healthcare marketplace works. You know our state agencies." 
I litigate all the time with the state of West Virginia over wages and healthcare and education and broadband; those are the things I work on in my law practice. The job of the Attorney General is to protect the people of West Virginia on these fronts. It's the attorney general's job to protect the public interests and to defend our basic rights. That's the primary duty of an attorney general. That's what I do in my law practice, and it's what I've done for the past dozen years that I've been involved in public service, since the time that I was an AmeriCorps VISTA worker down in Mullens to when I worked for Sen. Byrd to throughout my law practice. 
The other job of the attorney general that really matters here is that he serves as the counsel to the agencies of the state, advising on education, on healthcare, on energy policy, on a whole range of economic workforce matters across the state. We need a government that is transparent, accountable, open — when I'm talking freedom of information, open meetings. We all suffer when our government does not give us due process and accountability. That's part of the attorney general's job too, and I always want to remind people about that.
DA: Morissey is one of 18 state attorneys general that filed a 2018 lawsuit claiming that the Affordable Care Act (ACA) is unconstitutional. What is your stance on the issue, and how would you approach the handling of the ACA if you were to be elected?
S.P.: Morrisey has grossly mismanaged the healthcare marketplace in our state so badly that over the last four years, half of the private health insurance beneficiaries in West Virginia — that's people like you and me — half of those have dropped out of the health insurance marketplace all together. Our federal healthcare laws provide a powerful framework for delivering affordable healthcare. Instead of using that framework to help us make healthcare affordable, Morrisey has used that framework to make our healthcare less affordable in West Virginia. He has forfeited substantial federal tax credit dollars that could have made private health insurance cheaper or outright free for the vast majority of West Virginians. 
I believe Morrisey never had the approval of the people of West Virginia to file this lawsuit, and the reason he didn't have it is that most people here understand we cannot withstand the loss of healthcare for 200,000 of our people, which is actually what will happen if Morrisey wins his lawsuit. How can we let that happen? How can we afford for that to happen? It will devastate our healthcare sector, it will devastate our economy, it's reckless and during the current economic recession and public health crisis, it's really outright inhumane. We cannot let this happen in West Virginia. 
I would remove West Virginia from the lawsuit to eliminate healthcare for 200,000 of our citizens. To me, it's a very black and white issue. Morrisey is so wrong for so long on this issue that people see that he must go. That's why the majority of West Virginians voted in 2018 to stop Patrick Morrisey from going to the United States Senate. That was a very smart move by the people of West Virginia, and the reason is that we can't sustain the damage that he would do.
Eliminating these healthcare programs will be helpful to some people, but the people it will help are the executives in the pharmaceutical industry who will sell more pain pills to our people. When we lack health insurance, we have to self-medicate. When people have to self-medicate, when they don't have physical therapy and real healthcare, we turn to pain pills. We've seen that over and over. There are companies who profit when West Virginians lack health insurance. Morrisey was a lobbyist for those companies before he moved to West Virginia and took over our lawsuits against the pain pill industry and settled those lawsuits for pennies on the dollar of the real $8 billion annual losses that we suffer in West Virginia from the overdose crisis. Those companies can profit richly if West Virginians lose our health insurance, but everybody else in the world and everybody else in West Virginia will suffer if Morrisey wins. I am in this race to stop that from happening.
DA: According to the state's campaign finance database, the majority of financial contributions to the Morrisey campaign come from out of state. On the other hand, a little more than $1,000 of your campaign's $216,000 comes from out of state. How important is that differential to you in a state-wide campaign?
S.P.: It's very important. The vast majority of the money that I've raised in my race — which is very substantial — comes from low dollar, average donations from ordinary West Virginians. People in our state see how important it is to save our healthcare sector, and they have supported me very generously. It's humbling and it's the way our democracy should function, that campaigns are funded by the citizens whose interests are at stake. It means a great deal to me.
I have received the vast majority of my contributions from West Virginia residents, and I have received the vast majority of my contributions from double-digit contributions, anywhere from $20 to — I've received a lot of single-digit contributions too. I've received $5 contributions, and I love them; they're important. When I get a check or a money order from a coal miner who I know in Boone, Logan or Mingo County, I don't care if it's a $1 contribution. That means more to me than the biggest fat cat check from Philadelphia lawyers that Morrisey has funded his campaign with. That's how our democracy should work: let the voice of the people fund these campaigns. It means a great deal to me that that's how my campaign has been principally financed. 
DA: In the Democratic primary, you defeated Del. Isaac Sponaugle by a little more than 100 votes. Sponaugle ultimately denied a recount, and the state Democratic Party hoped to unify around you. How important is party unity against a candidate like Morrisey — an ally of President Trump — in a state that went heavily for Trump in 2016?
S.P.: West Virginians are an independent-minded people, we always have been. Right now, there's pretty much an equal number of Democrats and Republicans in West Virginia. The rest of the electorate is independent-minded people. Republicans and Democrats are sort of equal in number right now in West Virginia. We need the support of our whole state if we're going to have an effective government. I'm not going to be a lawyer for some faction on the right or the left. I'm going to be a lawyer for everyone, on both the right and the left and the middle. That's what we need from our chief legal officer in West Virginia, which is our attorney general.
I've been honored to have substantial support from independents, Libertarians, Mountain Party people, Democratic people, Republican people. I think the record of achievement in my career demonstrates to the public a competency and a practical independent approach that inspires support and, frankly, that's what we should demand from a candidate for attorney general. 
I always say "I'm as independent as a hog on ice." That's important, because the job of the attorney general is to enforce our laws, to protect our people and to stand up for our constitutional values. Public education. Free speech. Freedom of assembly and association. The right to bear arms, an important right that people care about for a very good reason. Our constitution is a wise, guiding light for our state and our country. The job of the attorney general is to serve as a steward of that document and those values. I believe very forcefully in doing that, and that's exactly why I'm in this race.
DA: Do you see that party unity actually playing a role in the outcome of the election, considering how most of West Virginia's elected officials are trending toward the right of the political spectrum?
S.P.: I think West Virginians have voted for politicians — recently and always — who demonstrate a readiness to deliver results for our economy and our families. Sometimes the public feels that is Democrats. Sometimes the public feels that is Republicans. President Trump has a lot of support in West Virginia for reasons that everyone understands. Our economy is hurting. President Trump promised to shake things up and turn things around on trade, on coal, on our primary industries. I agree very forcefully that we need an industrial policy again in the United States of America. We have not had that for generations. 
The attorney general, as the lawyer for the state of West Virginia, can play an important role in going to the utility commissions around the region and arguing for a new generation of investment in primary industry, in fundamental industrial productivity. I have studied that, I have worked on that, I am ready to do that work, to rebuild our primary industries and diversify our economy for the 21st century. The attorney general must stand up and deliver on that front. Morrisey has totally failed us. I think that the people of West Virginia always look towards who is prepared and trustworthy for delivering results that improve our lives. I don't think we vote based on labels or slogans. I think we look at people; What have they achieved in their life? What can we believe and trust about them? 
When people look at me, they see I have delivered millions of dollars for hundreds of coal miners protecting our industrial workforce and developing the infrastructure policy and the energy policy that will strengthen our economy and help us get a toehold on a better future. That's the only thing that should matter in these races, not what party you are. I believe that we've got a lot of good Democrats who do that. We've got some good Republicans who do that work, too. The public makes a good decision when they judge people based on their record, their competencies and their trustworthiness. I've been loyal to the state of West Virginia. I think people see that, and I hope they believe in me because of it.
DA: Outside of healthcare, if you were to win November's election, what would be your main priorities in office?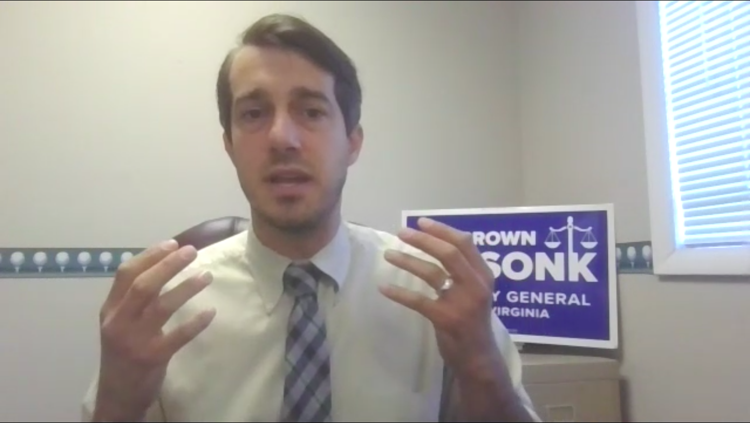 S.P.: Substance use disorder is part impartial of our healthcare challenge, but it bears mentioning on its own because it is such a massive challenge to the state of West Virginia. I have a three-part platform on substance use disorder. 
No. 1, we have to litigate against the responsible companies. We can do much better at recovering for our real damages against these companies, and we have to do it by collaborating both locally and across state lines. Morrisey has totally failed us on that. 
Second, we have to protect the federal healthcare dollars, which I've referenced already. The federal healthcare laws that Morrisey's trying to take away pay for the recovery and addiction treatment services for roughly 50,000 West Virginians struggling with substance use disorder. If Morrisey wins and eliminates those federal healthcare dollars, we are sunk in the fight against the addiction crisis, which is killing thousands of people in West Virginia. It's reckless, it's wrong. We've got to save those healthcare dollars so that we can treat people and move beyond the addiction crisis in West Virginia. 
Point three, is that the attorney general, as chief legal officer for the state, can promote vocational rehabilitation and workplace accommodations and public housing and stability for those who are drug free and trying to succeed with long term recovery. We need a culture to promote long term recovery in West Virginia. The attorney general has the legal tools and duty to promote that through his civil rights division and through rehabilitation services. I've written about that, I've lectured at the law school, I'm published in the law review about this matter. I have educated the bar, lawyers around West Virginia, how to use our human rights laws and our state agencies to help working people in West Virginia stay drug free.
We know the two biggest barriers to success with long term recovery from substance use disorder are No. 1, the stigma that goes along with addiction, and No. 2, the unaffordability of treatment. Morrisey has unilaterally disarmed himself of the tools, which we have, to fight those two barriers. We have to turn the tide on substance use disorder or we can never hope to see better outcomes from our workforce and our economy. 
Also, I have to say, I've sued the state a couple of times over public education. West Virginia's constitution espouses a fundamental right to public education for our children, and that means schooling has to be adequate, equitable, thorough, efficient and free for the children of West Virginia. Those are five legal principles that are there in our constitutional law to protect our public education system. Morrisey has actually attacked the teachers of West Virginia with the threat of an injunction and a lawsuit when the teachers' stood up, starting back in 2018, to defend our constitutional values, ensuring adequate public education for our children. 
I know those agencies, I know public education. I've litigated with some people at the School Building Authority and the Board of Education and the Department of Education, and I understand what it takes to move our education system in a better direction. If I'm the attorney general, I can say I will have a close eye on protecting community schools and ensuring adequate wraparound services and special education services. It's a pressing crisis during COVID when enrichment services are all the harder to deliver to kids schooling remotely. 
I don't mean to go on, but there is a lot to say here because the attorney general is the legal nerve center for the entire state government. The attorney general has important statutory enforcement duties: consumer protection, fighting medical debt and student loan debt that is holding back wealth-building opportunities for people all over West Virginia. The attorney general has to be a champion for fighting against unreasonable and illegal medical and student loan debt and mortgage debt. I would prioritize that as well as antitrust enforcement, which means protecting small businesses from unfair out-of-state competition, and civil rights enforcement, which also falls underneath the attorney general's office. Morrisey has let these agencies die on the vine. We have about one lawyer who is doing all of the civil rights and one lawyer doing all of the antitrust small business protection work in the state of West Virginia. It's an embarrassment. It's in shambles. Morrisey has taken this office and driven it into the ground, and we need somebody to protect workers and students and patients and small businesses. I know those agencies. I have worked with them and studied them, and I'm ready to give them a mandate to do their job protecting West Virginians again.
DA: Throughout this campaign, you've played up your previous experience working for former U.S. Senator from West Virginia Robert C. Byrd. He's seemingly become a bit of a controversial figure at points this year due to his tenure as a member of the Ku Klux Klan — which he later denounced — among other reasons. What is your thought process behind connecting yourself with him in a year like 2020 that has seen an increased prevalence of racial tension?
S.P.: I was honored to work for Sen. Byrd because Sen. Byrd believed fundamentally that we owe the people of West Virginia a government that works as hard every single day as the people in our state work for themselves. Sen. Byrd came from some hard scrabble roots. He understood how hard our people work every single day. That ethic of accountability preserved his trust with the people of West Virginia for a very long tenure of public service. I think every politician out there ought to be as accountable to the people of West Virginia as Sen. Byrd always was, so I have a great amount of respect for that, and I was honored to learn a lot from Sen. Byrd.
Something else that Sen. Byrd understood was that the history of racial tension in our country is real. Sen. Byrd understood that every voice in our political system deserves respect. Sen. Byrd apologized for his young involvement with a racist organization because he honored the voices of our citizens. Today, we've got politicians saying that certain voices are illegitimate. Certain voices must not even be heard. Sen. Byrd never supported that position, even when Sen. Byrd was back in the early years of service. He always espoused the rights of the minority to be heard. That's a fundamental principle of the United States Senate. We heed the voices of the minority. We listen and we honor each voice in our democracy that speaks for the pain and the perspective of their communities. 
Yes, Sen. Byrd took some indefensible positions as a younger man. He grew and he evolved, which is what we should hope for every person in our society. As he evolved, he adhered to the principle that every voice is legitimate and, unlike so much of our current politics, Sen. Byrd never told people, "Your voice does not matter. Your life does not matter." He said just the opposite, and I think that's a principle that we ought to embrace.
I understand the importance of acknowledging and rejecting how he was wrong as a younger man, and so did he, but the overarching impact of his voice in our politics is, I think, far more valuable than any of his youthful indiscretions because it's a redemptie principle. It's a principle that says there is not a single voice that does not matter, there is not a single life that does not matter. That's the message that Sen. Byrd left this world with, and that's the message that I take from his career of public service.