The WVU Student Government Association introduced a resolution in a meeting Wednesday night urging the University to issue a COVID-19 vaccine mandate for students and employees.
While the resolution called for a campus-wide vaccine mandate, the majority of the meeting was spent discussing what repercussions unvaccinated students would face.
"If people decide not to abide by this respective mandate, that's for the University to decide. Quite frankly, not our job," said SGA Senator Donovan Weekley.
The resolution was tabled for the next SGA meeting on Wednesday, Sept. 8.
Weekley introduced an amendment that ultimately passed requesting that students with medical and religious exemptions, reviewed on a case by case basis, would not be penalized financially by the University.
"Students who are exempt from the vaccination requirement may not be financially penalized," reads the amendment.
Several senators also clarified that SGA is strictly an advisory board and cannot decide any form of punishment or required testing under a vaccine mandate for unvaccinated students and employees.
WVU's Turning Point USA chapter had a large presence at the Wednesday night meeting, rejecting the notion of a vaccine mandate for students.
Casey Bilski, president of the WVU chapter of Turning Point USA, said he opposes a mandate and argued students shouldn't be expelled for not getting the vaccine.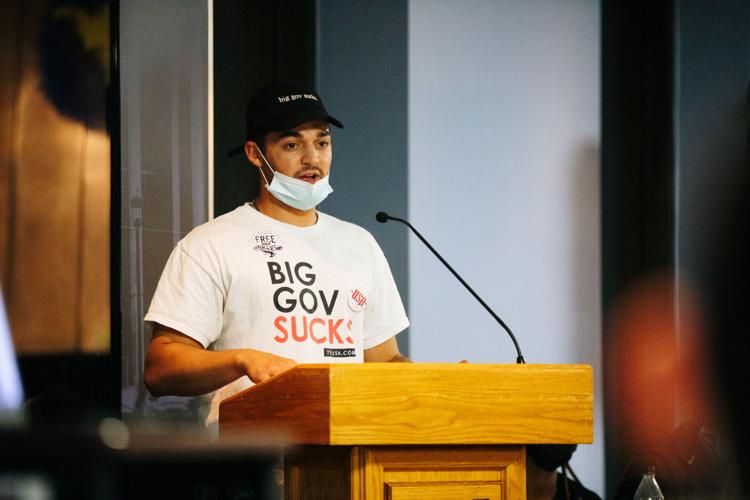 "On behalf of Turning Point, we will not quit. This is a country where we, as individuals, make decisions," said Casey Bilski, president of the WVU chapter of Turning Point USA. "This is about our individual liberties. Give me liberty or give me death. We will not quit."
Bilski said the group is going to hold a protest against the mandate and will return to the next SGA meeting with even more members. He added that they have plans to speak to WVU President Gordon Gee as well.
"We will not back down from this issue," Bilski said.
Senator Olivia Dowler mentioned that though the student body has been very vocal against the mandate, survey results said otherwise.
According to a survey conducted by members of SGA, over 60% of students are currently in support of a mandatory FDA approved vaccine mandate for all university students and employees.
As of Wednesday, just over 75% of students and 73% of employees had been vaccinated, putting the University just below its Sept. 1 goal of 80% vaccination.
Dowler requested that other SGA senators consider input from all students before the next vote.
Students who are interested in participating in the survey can do so here. Results will be finalized on Tuesday, Sept. 7, at 3 p.m.