One year ago Friday, WVU student Leah Berhanu was struck and killed by a vehicle on Patteson Drive while she tried to cross the road. 
Nineteen days later, WVU student Sara Queen was critically injured after being struck in the intersection of Monongahela Boulevard and Evansdale Drive.
Students, faculty and the Morgantown community have since come together and pushed for pedestrian safety.
But how far has WVU come in terms of pedestrian safety, especially in a city as geographically challenged as Morgantown? 
Bill Austin, executive director of the Morgantown Monongalia Metropolitan Planning Organization (MPO), said only so much progress can be made in a year.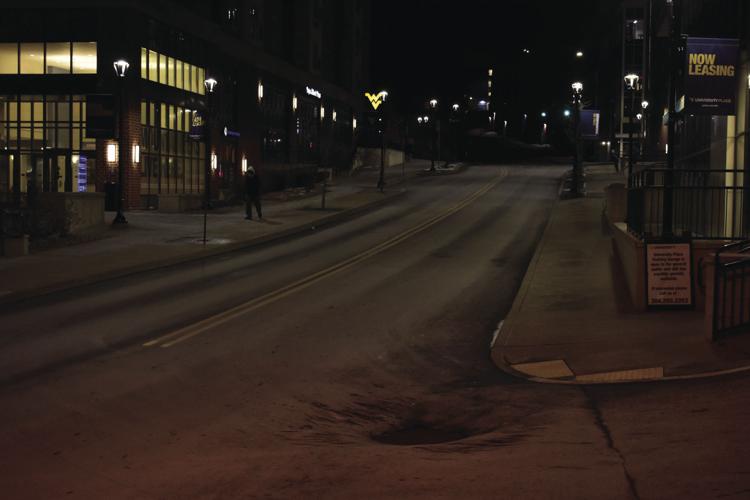 "Unfortunately, in the transportation world with engineering requirements, fast is a relative term," Austin said. "It doesn't always move as quickly as we'd like."
The intersections along Monongahela Boulevard and Patteson Drive look a little different than they did in February 2018, said Matthew Cross, chair of the Morgantown Pedestrian Board. He said the West Virginia Department of Highways put in additional lighting in these intersections to improve visibility.
However, he said lighting problems in these intersections still exist from time to time 
"With that being said, I have noticed there are still dark spots on the sidewalk where the [state Division of Highways] put lights on Patteson," Cross, who has served as chair since 2015, said.
Improvements like new lighting and freshly painted crosswalks are what the city and WVU alike have worked toward during the last year. They say pedestrian safety should be looked at on a longer timeline.
At its first meeting of the fall semester, WVU SGA set a two-year goal for improving pedestrian safety on campus. Within six months, it planned to improve the lighting in certain intersections and develop different avenues for funding.
Sometime after those two years, SGA has planned to determine where grade separated roads, or where a road is elevated over another, could be successful and find places for them to be added throughout the city.
Cross has been planning for the arrival of a brand new WVU business school building where Stansbury Hall is currently located. Stansbury will be demolished and then replaced by the new John Chambers College of Business and Economics by late 2021, according to WVU facilities.  
Putting a new multi-million dollar facility along one of the busiest roads in the city can cause pedestrian safety problems to arise. Parking is also being reduced, and the bridge connecting the Beechurst PRT station to Stansbury is being replaced.
"We've had talks with [WVU], and they've planned to put in the pedestrian bridge overhead Beechurst Avenue, possibly two of them," Cross said. 
"But in the meantime, the crossing at Hough Street, right in front of Stansbury Hall, as you may know, is horrible," Cross added. "I've had multiple comments from faculty that park in Area 11 and have to cross Beechurst Avenue, and they fear for their lives."
On Jan. 17, a man, who Cross said was a WVU student, was hit at this intersection while crossing at night.
"He made it to the far right lane of the south bound traffic lane when he was struck by a vehicle traveling south in that lane. The driver of the vehicle was cited for failure to yield to a pedestrian in a crosswalk. The pedestrian was transported from the scene by EMS with minor injuries," Morgantown Public Information Officer Andrew Stacy wrote in an email.
He would not confirm if the man hit was a WVU student.
Even though advancing pedestrian safety takes time, Cross said he's to the point where he wants to see more noticeable progress happen. 
"You know how it is in West Virginia; we've really not given adequate attention toward pedestrian safety, and I'm ready to the point now to start pushing WVU and DOH to get their attention on it, because people are getting hurt," Cross said. "The structure's not there."
"I'd like to see WVU step up and take more action," Cross said, giving the University credit for its help installing lighting; however, he wants to work at more.
One specific action the city safety board wants the state DOH to take is to change the way high-risk crosswalks are operated.
There are two kinds of intersections in Morgantown: concurrent and exclusive. Concurrent intersections allow for traffic and pedestrians to move at the same time, while exclusive intersection yield all traffic for walkers.
For example, the intersection of Patteson Drive and Morrill Way, where Berhanu was killed, is concurrent. 
When pedestrians are given the green walk signal at this crosswalk, traffic leaving Morrill Way is given the green light to turn left or right onto Patteson Drive, but those drivers must yield to walkers.
Berhanu was killed by a driver coming down the hill on Patteson Drive from the Coliseum, so the concurrent intersection did not play a factor here. However, during the criminal trial for former WVU student Michelle Gelada, who hit Berhanu, a witness who was driving on Morrill Way testified that he was yielding to Berhanu, but had trouble seeing her due to the rain and darkness.
Gelada's defense counsel argued during the trial that a light was out during the time of the incident, which further dimmed the visibility.
Exclusive intersections, similar to many downtown streets and the intersection at University Avenue and Patteson Drive, halt all traffic for pedestrians to cross.
After the two incidents involving Berhanu and Queen, Ron Justice, a state and local relations specialist for WVU, said WVU students, faculty, DOH, the city of Morgantown, the county commission, the MPO and other local individuals formed a working group to identify and help address varying pedestrian safety issues. 
Justice, who previously served as mayor of Morgantown for seven years, said WVU looks at pedestrian safety with education, engineering and enforcement in mind.
Justice said enforcement is sometimes just as simple as placing police officers in high-risk intersections during times when there is heavy student traffic.
"People can see that it's [the intersection] being patrolled and monitored, and that's had a really good effect on traffic calming," he said. "People just pay more attention when there's a police car sitting there."
Justice said there's currently a lighting project being engineered on Patteson Drive that was brought forward by the DOH.
And as for education, WVU students, especially those new to campus, should be aware of the high-risk intersections.
"It's a constant education because you are always cycling," Justice said. "Each year, we turn over 20 to 25 percent of the student population, so you have a lot of new people here in town for the first time."
"I mean, they don't even know where their classes are, much less where dangerous intersections will be," he added.
Cross said motorists share equal responsibility with pedestrians to prevent any more incidents from occurring. 
"When people choose to disregard traffic control systems and run red lights, which is the case in both Leah's fatality and Sara's injury, then there's really not much we can do," Cross said.
Justice specifically mentioned WVU students Brent Scott and Tyler Brewster, both Fall 2018 graduates, for working with pedestrian safety issues during their time in SGA. The students organized a safety walk a month after Berhanu's death to identify areas on campus they felt needed work or were unsafe.
Campuses across the country that have experienced pedestrian safety issues in the past will also aid WVU in the future. Justice said the DOH has reached out to the Federal Highway Safety Administration (FSHA) and asked its workers to find communities who have dealt with this problem before.
"[FSHA is] going to bring people in from communities like ours, that have experienced some of the same problems, and let them tell us what did work and what didn't work in their communities," Justice said.
Scott and Berhanu were childhood friends growing up in Morgantown. He said his work over the last year on pedestrian safety is dedicated to keeping Berhanu's legacy alive so that these type of incidents won't be repeated.
"When she was taken from us, it wasn't really about what we could, but what we had to do," Scott said. "She was exactly what it means to be a Mountaineer, or a West Virginian for that purpose."
To sum up all the weighing factors involved with pedestrian safety, it's important to keep in mind all the parties involved and why an issue like this needs constant communication. In the heart of the downtown campus, where thousands of students, faculty and city residents walk every day, University Avenue is owned by the city, College Avenue is owned by the state and Maiden Lane, the road in front of Stalnaker Hall, is owned by WVU.
This type of conundrum is quite common in Morgantown, both city and WVU officials say, which can lead to problems arising when trying to combat the complex issue of pedestrian safety.