Jeff Giosi is remembered by many for the impact he had on others.
Now, in his memory, many are attempting to return the favor.
As of Wednesday evening, a GoFundMe campaign created on Jan. 24 in his honor had raised more than $130,000 of $200,000 goal. Contributions have come from more than 1,000 people.
Giosi, 40, died Jan. 23 from a genetic aortic aneurysm.
The owner of CrossFit Morgantown on Green Bag Road, Giosi was a long-time member of the Morgantown community. A West Virginia University graduate and former employee of the athletic department, Giosi had spent much of his adult life in the Mountain State.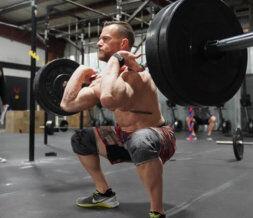 "In his short but full 40 years, Jeff made more of an impact than most people do in a lifetime," wrote Kristen Calvert Miller, the organizer of the campaign and a friend of the family. "His passion for community, brotherhood, health, and all things 'epic' was a beacon of positivity and hope to all who met him. He was the epitome of a life lived to the full, and he left nothing on the field. Jeff fought a great fight; he ran a great race; he kept the faith."
In addition to financial assistance, the campaign asks for people to share memories of Giosi, as well as to "live his example."
"Amor fati is a Latin phrase that may be translated as, 'love of one's fate.' Jeff believed amor fati, that everything, including suffering and loss, is good or, at the very least, necessary," The campaign says. "Jeff trusted that God's plan is sovereign, and He shapes us in every circumstance we face.  Without a doubt, Jeff would want us to embrace God's trajectory of our own lives, and be a beacon of all that is good in the world. "
Contributions to the campaign will go to supporting Giosi's wife, as well as his two sons. 
"Jeff lived life to the full and loved his family, his friends, and everyone he met with reckless abandon – let's go do the same," the campaign says.
To donate, visit https://www.gofundme.com/f/jeff-giosi-memorial-fund.