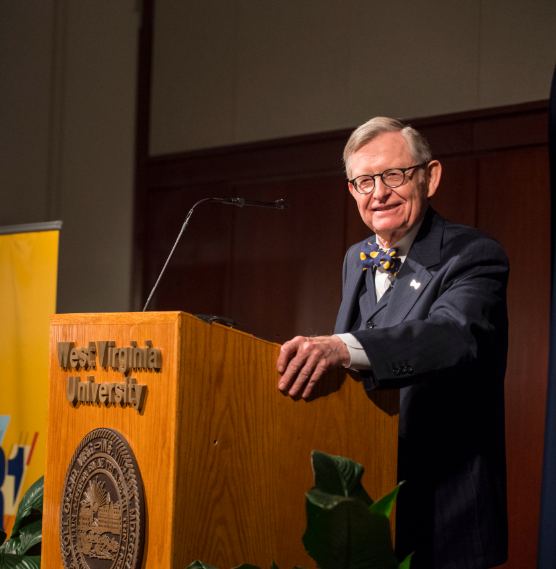 WVU President E. Gordon Gee touted the University's R1 research status and vision for the Mountain State on Tuesday during the spring 2019 State of the University address.
The University maintained its R1 research status last December, classifying WVU as one of the top-level research institutions in the country. Gee said WVU's work in all fields, including medical, physics, business and the arts, are working to move West Virginia forward.
"Hope is a catalyst for change, and change is what we need," he said.
Gee mentioned the continuous decline of manufacturing jobs in West Virginia, and that WVU's research and academic programs are aimed toward keeping the state from spiraling further down.
"This institution we love and share will not let this happen," he said.
On Feb. 4, WVU announced the creation of the Talent West Virginia, a statewide music competition which will be held this year on April 6, aimed toward showcasing West Virginia artists and musicians. Gee said these kind of events help represent the state's true culture.
He also said that liberal arts programs, even though they receive much outside criticism, will play a large part in the future of colleges and universities.
"People think the liberal arts are dead," he said. "I believe exactly the opposite."
He added that the jobs people are being trained for now might not be around in the future, but reading, writing and critical thinking skills will apply to many jobs regardless.
Gee's message of hope was also directed at students on campus. He said WVU must continue to combat student loneliness through advancing the overall student experience.
Last September, Clay Marsh, executive dean of WVU Health Sciences, told the DA that Morgantown could potentially become the first college towns chosen to become involved in the Blue Zones Project, which Gee reiterated today. The project works to promote healthier lifestyles in communities that suffer from health and environmental issues.
Gee said that work will be done in terms of advancing pedestrian safety and curbing tobacco and e-cigarette use on campus. WVU Board of Governors voted Feb. 8 to officially enforce a Tobacco Free Policy on campus.