The Mountain State Harm Reduction (MSHR) coalition launched Saturday in direct response to recent state laws that restrict harm reduction in West Virginia.
In April, Gov. Jim Justice signed SB 334 which requires all new and current harm reduction programs offering needle exchanges to be licensed within the West Virginia Department of Health and Human Resources.
This new process makes it more difficult for harm reduction programs such as MSHR to provide service to those within the community.
The group set up a booth at the Morgantown Farmers Market to kickstart their program and gain local support and recognition.
According to Laura Jones, executive director of Milan Puskar Health Right, this initial event is phase one of the coalition's plan.
"Our goal is to launch the beginning of a new group that will really focus on listening to the voices of people who use drugs and help decrease the stigma, which we hope works to improve the environment for harm reduction and harm reduction services in West Virginia," Jones said.
MSHR works with the Milan Puskar community supported free clinic, Health Right, which helps provide additional tools and resources for those impacted by HIV and opioid related issues.
By definition, harm reduction refers to a range of public health policies designed to lessen the negative social and physical consequences associated with drug use, in this case, opioid drug abuse.
The booth offered a variety of informational pamphlets to educate community members on the importance of harm reduction. Organizers also offered resources like Narcan distribution training, free Narcan two-pack nasal sprays, CPR face shields and more.
Caitlan Sussman, local Morgantown social worker and member of MSHM helped train individuals on how to use the Naloxone spray in real time at the event.
"No one wants to have to think about using Narcan on someone," Sussman said. "It's scary to think about, but it's amazing how many people will rise to the occasion."
Naloxone, known by common brand name Narcan, is a medication designed to reverse the harmful effects of Opioid overdose. Narcan can be used to counteract opioids like heroin, hydrocodone, morphine, oxycodone, and fentanyl among others.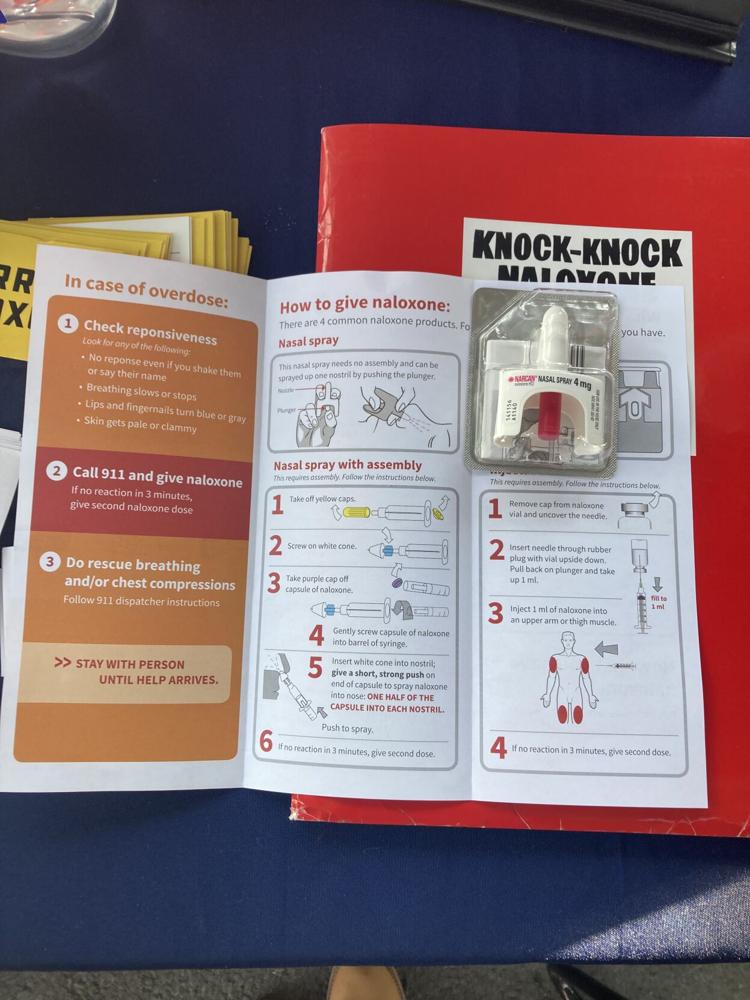 Following the launch at the farmers market, MSHR held a listening session focus group with fellow community members, allowing others to share their stories of drug use and help give better insight and perspective into the statewide crisis.
Jones said the group will continue to hold listening sessions and focus groups in other communities across the state to help raise awareness on the current opioid crisis in the state.
In 2020, West Virginia experienced 1,275 overdose deaths (a 45% increase from 2019), according to the WVDHHR.
The coalition has been meeting since June. In its first year, it will focus on direct services for drug users, lobbying lawmakers at all levels to support those services and holding strategy meetings across the state.
"We're here today because there are a lot of issues that we feel need to be advocated for, and we believe all lives are valuable and want to do as much as possible to save lives here in West Virginia," Sussman said.