Haley Jones is one of many prospective students who were told about WVU's blue light emergency call system last year while touring campus.
During her tour, Jones and her family noticed a number of the blue lights were broken. She said her tour guide assured the lights would be fixed and operational by the time she returned as a freshman.
"My dad was just really anxious about me going to college in general," Jones said. "He was more okay with me coming because of all the safety measures that they put in place."
But now, as Jones and thousands of other freshmen begin their first week of classes, more than half of the blue lights across campus are out of service.
The Daily Athenaeum spoke with over a dozen other freshmen who say they were also told about the blue lights while touring WVU in the last year.
A majority of the blue lights, which the DA investigated across WVU's Morgantown campuses, were wrapped in caution tape and had missing parts or broken lights.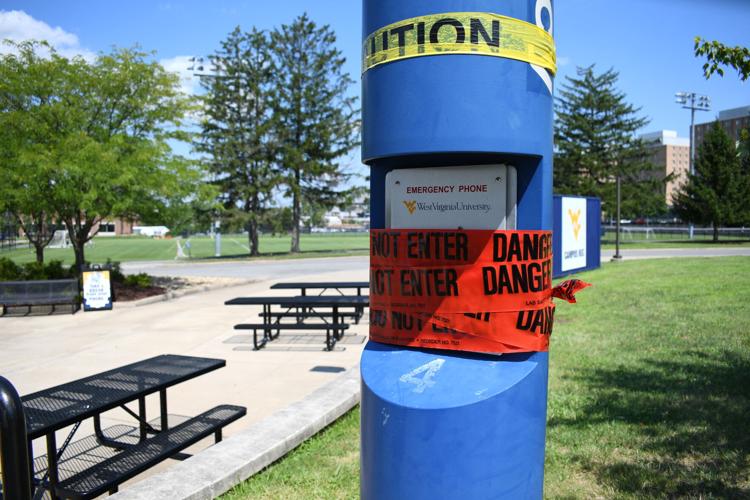 Last fall, the DA reported a similar issue, noticing that a number of the blue lights were out of service. However, the University said they had no plans to discontinue the system and that the needed repairs occurred during University Police's routine monthly inspections.
April Kaull, executive director of communications, confirmed Monday that over half of the 30 blue lights on campus are either in need of repair or unable to be used due to a discontinued network. She said repairing units has been difficult due to supply chain issues caused by the pandemic.
She added that UPD is in the process of replacing the caution tape on the lights with signage directing students to call 911, as well as use the LiveSafe app. The University has encouraged use of the mobile app as an alternative since 2014. 
Kaull said the University will work with student groups like SGA in the future to determine whether the blue lights should still be a resource on campus.
"We've seen utilization of the blue light call boxes steadily decrease in recent years as the number of students, faculty, staff and campus visitors with personal mobile phones has increased," Kaull said. "Since 2019, there have been fewer than 10 legitimate emergencies or safety concerns communicated through the WVU Emergency Call System."
There are currently 14,000 LiveSafe users at WVU, according to Kaull.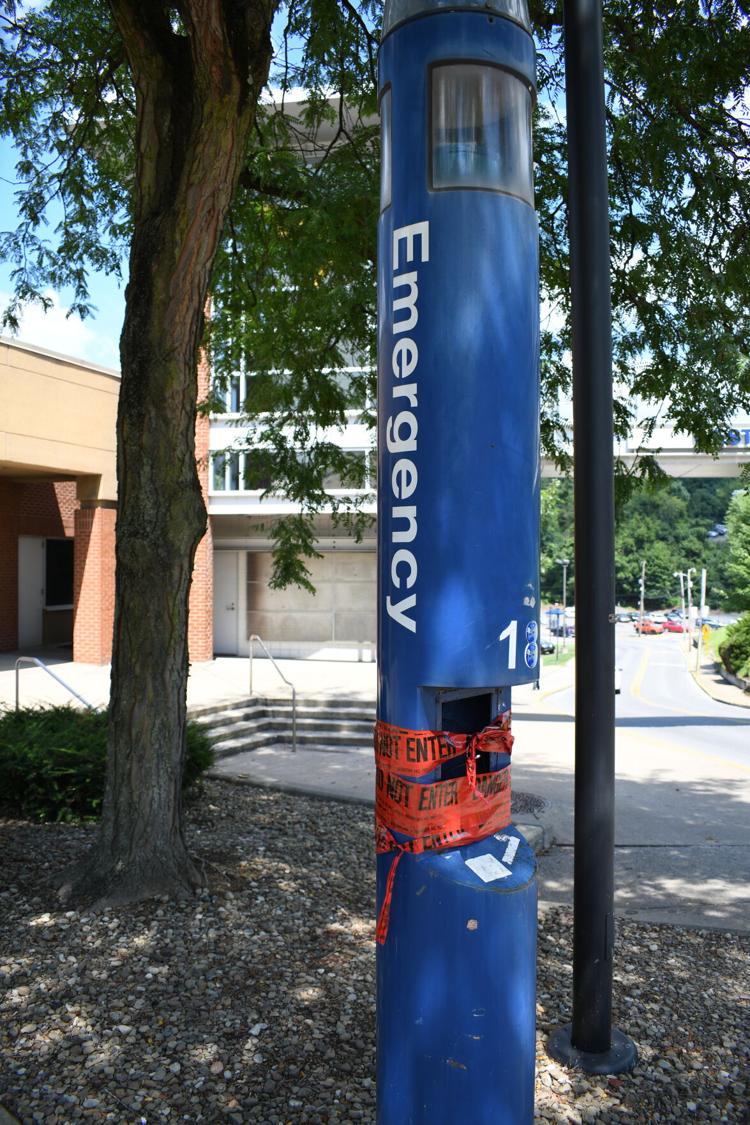 Today, maps of blue lights around campus are not available.
"I mean, we still recommend them," University Police Chief Sherry St. Clair said, adding that she's interested in learning what students would prefer. "They're still there. We haven't haven't done anything with them."
Madison Moonen, a third-year orientation leader and student, said that she is encouraged to advertise the blue lights to new and prospective students when she conducts tours, adding that she was never informed they may no longer be a resource.
Though orientation leaders aren't given a script for the blue lights, Moonen said during their training they participate in a brainstorming session to come up with resources they could advertise based on their personal experiences.
According to Moonen, the emergency call systems are always encouraged during training and often advertised to students.
"That's like one of the biggest things that I bring up like whenever I get asked about safety on campus," she said.
Moonen said the admissions office, which works directly with orientation leaders, is good about updating them about changes on campus; however, she wasn't aware of the out-of-service blue lights until she saw a recent tweet from a former student.
hey @WestVirginiaU , why is it welcome week and so many of the emergency poles are down? pic.twitter.com/anjtTYNttF

— girl from tw!tter (@liviaox4) August 13, 2022
"Usually with things changing all the time, they always make sure to give us updates on like 'oh hey, remember to mention this changed' or like, you know, that kind of stuff to where if something changes or isn't being offered, they usually let us know," said Moonen, adding that she was shocked to see so many call boxes out of service on Twitter.
Kaull said the University recommends students, faculty and staff to follow @WVUalert and @WVUsafety on Twitter and WVU Safety and Wellness on Facebook for updates on campus safety.