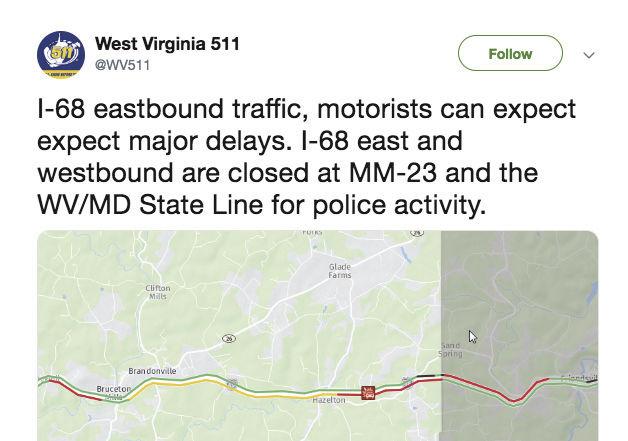 A state trooper pulled over a man in Preston County who allegedly made threats to kill President Donald Trump and blow up the Pentagon, WDTV reported Wednesday.
The trooper, D.W. Satterfield of the Bridgeport Detachment, pulled a man over on Interstate-68 for driving at speeds up to 130 mph, according to a press release from West Virginia State Police.
"At approximately 10:30 a.m., TFC Satterfield observed a gray sedan with Missouri registration approaching him from the rear in excess of 130 mph," First Sergeant Geoffrey S. Petsko wrote in the release. "The driver appeared to be confused and stressed, and made statements that were concerning. These statements, along with other factors, led TFC Satterfield to believe in the possibility that there was an explosive device present inside the vehicle."
Petsko wrote that three explosive detecting K-9's and their handlers, Lieutenant Josh Cook and Sergeant Zack Camden, later arrived to search the vehicle.
"All three K-9's indicated the presence of explosive materials inside the vehicle," according to the release. "West Virginia State Police Explosives Response Team members Sergeant M. G. Fordyce and Sergeant A. W. Webb then arrived and performed a search of the vehicle. No explosive devices were found. However, the incident remains under investigation."
The vehicle was removed from the scene at approximately 2:30 p.m, and I-68 was closed for approximately three-and-a-half hours.
WDTV reported that a firearm and an unspecified black powder was found in the vehicle.