WVU has stationed people in areas around campus to enforce an indoor mask mandate, and students aren't sure what to make of it.
Over a dozen people talked about the mask enforcers Wednesday on Yik Yak, a popular anonymous messaging app among students that only allows users to see messages posted within a five-mile radius.
"What's up with the mask maniac in the lair??" one person asked Wednesday near the downtown campus.
Another person posted: "I want to get paid to stand in the lair and tell people to pull their masks up, how do I become the mask police."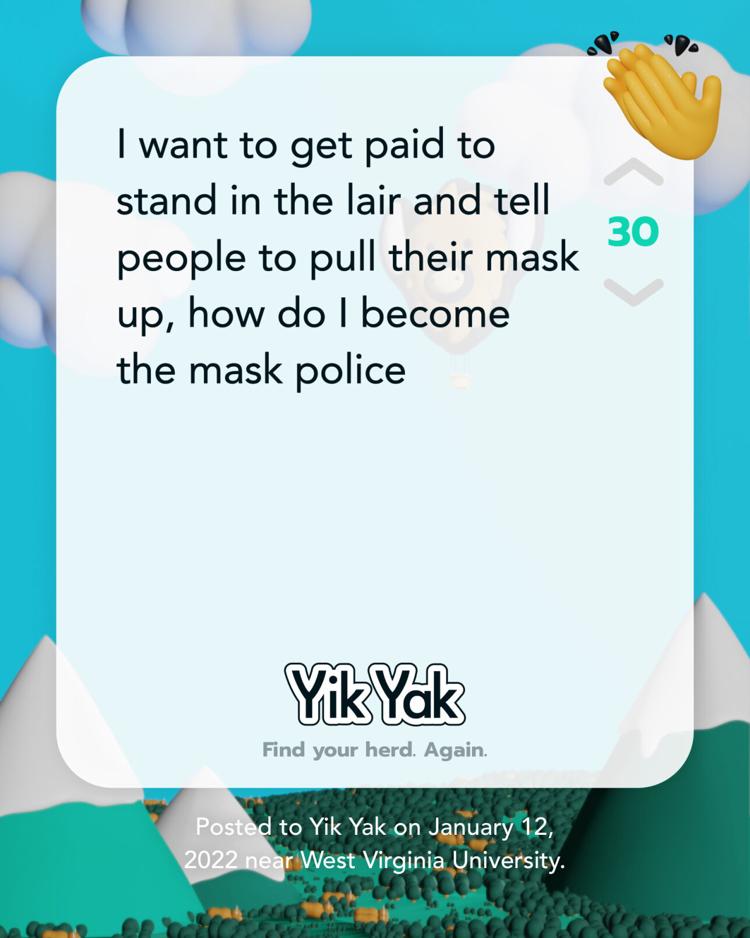 People also coined the phrases "mask moderator," "mask mandator," "mask monitor," and "mask master" in various posts.
Employees from RHINO, an event and sports staffing company, are stationed in areas across campus, such as the Mountainlair, to remind students of the University's masking policy, according to Shauna Johnson, news and information manager for University Relations.
She said other University employees are enforcing the policy as well.
"So, with the start of the new semester, the University is offering friendly reminders about the updated mask policy where necessary," Johnson said.
She added that RHINO employees were also deployed in this past spring semester when masks were required in all indoor settings on campus.
"This is the mask police," a third person wrote on Yik Yak. "Stop asking questions."
WVU's most recent policy requires everyone on campus, regardless of vaccination status, to wear a mask indoors. The KN95 mask, among other well-fitted masks, is highly recommended.
School administrators say this policy will be reevaluated on Feb. 1.
Masks are also required on the PRT, through March 18, 2022, per federal transit policies.
Not sure how to wear a mask? Here's the proper care a student should take when masking up (according to WVU):
Store the mask in a clean paper bag when not in use.
Handle the mask mainly by the straps and avoid excess touching of the outside surface of the filter.
Do not share the mask with any other person.
To protect the outside of the KN95 mask and improve fit (protection), consider wearing a cloth or surgical mask over the top of the KN95.
KN95 masks cannot be washed and reused.
Caroline Murphy and Duncan Slade contributed reporting.