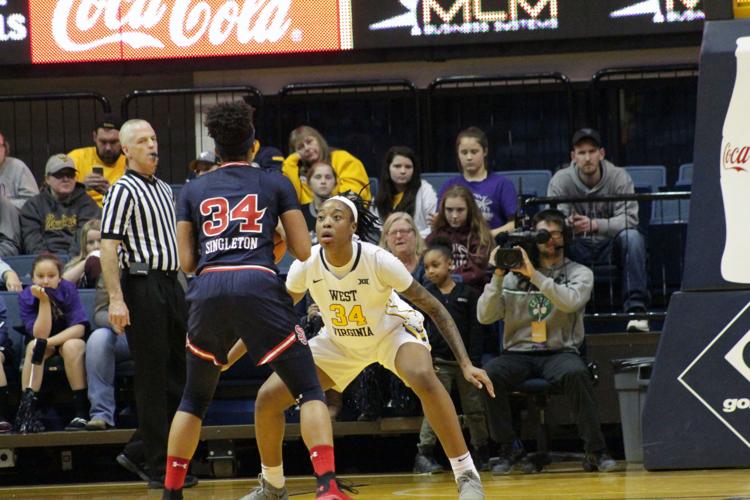 A Monongalia County Circuit Court judge denied a request made by a suspended WVU women's basketball player to become eligible for the team's postseason run.
WVU senior center Theresa Ekhelar filed a lawsuit on Friday against WVU and Athletic Director Shane Lyons, which was first reported by the Dominion Post, for what her counsel deemed as being punished for double jeopardy due to an incident from earlier this season.
According to the complaint filed in circuit court, Ekhelar's lawyer, Sean Logue, wrote "[o]n November, 27, 2018, an alleged incident happened between intimate partners on a school sponsored trip; no criminal charges have been filed in regards to the alleged incident."
As a result of the incident, Ekehlar was suspended one game (a home game versus Missouri), did not start the following game (away at Pittsburgh), and was required to undergo anger management and psychological counseling, according to the complaint.
Following the punishment from the athletic department, WVU Student Conduct later conducted their own investigation and filed a charge against Ekhelar for a violation of the student handbook.
Logue wrote in the complaint that the basketball program placed Ekhelar on indefinite suspension due to the Student Conduct charge, even though Student Conduct has not suspended Ekhelar and the disciplinary process has not been completed.
"While WVU Student Conduct has filed a charge, WVU Student Conduct has made no formal findings and Plaintiff has not had an opportunity to exercise her due process rights specifically to present evidence on her behalf, to confront her accuser and to potentially rebut the charge," Logue wrote.
The complaint alleged that if Ekehlar is not given the chance to play in the Women's National Invitational Tournament (WNIT) due to the suspension, she "will suffer irreparable harm," considering she may be innocent of the charge.
Ekehlar plans to pursue her basketball career at the next level, according to the complaint.
The WVU women's basketball team (23-10) fell to Northwestern Wednesday night in the third round of the WNIT, ending their season. WVU had already beaten Rider and Villanova in the tournament.
When asked about the status of Ekhelar, athletic department communications staff denied Carey the opportunity to comment, stating, "We don't have any further comment on that."
Prior to the suspension, Ekhelar was averaging 4.1 points and 4.4 rebounds per game this season through 17 games played. The senior also registered a career high 11 points and 15 rebounds against Morgan State on Dec. 18.