The Morgantown and University police departments are facing a staffing crunch brought on by a variety of factors, matching a larger trend throughout the United States.
"We are seeing a 'perfect storm' occur in several police departments nationwide," UPD said in a statement.
From 2019 to 2020, open officer positions at the University Police Department increased by 200%, according to records provided by WVU Talent and Culture.
Though open officer positions at UPD have declined in 2021, less people are applying to be police officers this year.
"These challenges stem from a variety of factors, including the national spotlight on police, perceptions of law enforcement by some members of the general public and the COVID-19 pandemic," UPD said in a statement.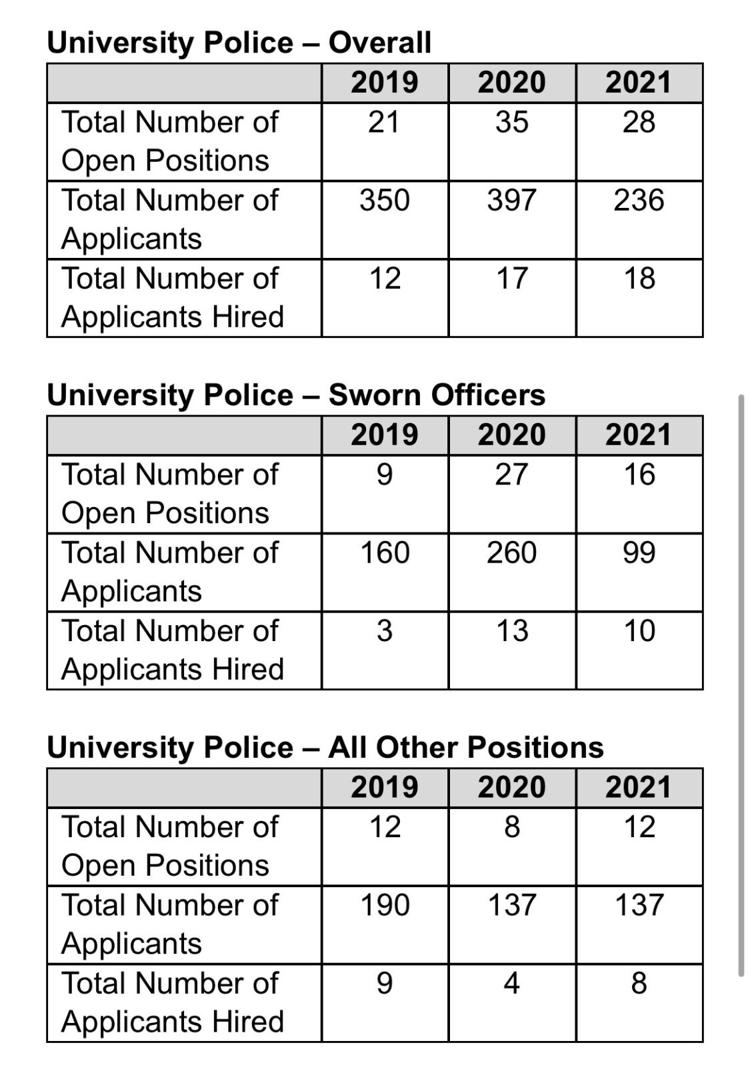 UPD is authorized to employ 57 officers, and as of now, they have 49 positions filled.
Similarly, Morgantown Police are down 11 officers. They're typically equipped to employ 80 officers. The number of open positions is projected to increase as more retirements take place throughout the duration of the year, according to PJ Scott, Deputy Chief of Police at MPD.
Scott said retirement eligibility is one reason his department is grappling with high turnover rates.
"We have a lot of officers that have become and are becoming retirement eligible," Scott said. "There was a couple of mass hiring groups in the late 90s, early 2000s — that all those officers now are reaching retirement age."
Work shortages are being seen throughout the nation. There is high demand in the labor market and police departments are just one of many units facing staffing shortages and high turnover rates.
"Many of the challenges in hiring and retaining talent we are seeing in law enforcement extend to other job sectors as well. From service and hospitality jobs to the trucking industry, more and more organizations are struggling to find workers for their open positions and retain their existing employees," University Police said in a statement.
Though the staff shortages have been a challenge, UPD said it hasn't negatively impacted their service provided at the University.
Scott had a similar response.
"I don't think there's been a decline in service or safety or anything like that, but it's being felt in other areas," said Scott on behalf of MPD.
He explained that positions have been pulled from other units to ensure the basic functions of MPD can run properly. Officers are also being pulled from other specialty departments to accommodate patrol and response units that he said need immediate attention.
Both MPD and UPD are actively seeking new talent to grow their units and reach their maximum employment potential.
UPD is working in partnership with Talent and Culture at WVU to seek out new officers.
"We have implemented several recent measures aimed at retaining our current workforce," Brent Bunner, university spokesperson, said on behalf of University Police.
Throughout the coming months, Morgantown Police will be administering entry-level police officer exams to boost the recruitment process. These exams are held on Saturdays after filling out an application for the test.
Open positions can be found on job posting boards, social media and through local universities. To apply, individuals can visit City Hall or Morgantown's city website.