While the WVU Alumni Band performed on High Street on Friday during the Homecoming Parade, one of its members, David O'Neal, underwent an emergency appendectomy at Ruby Memorial Hospital.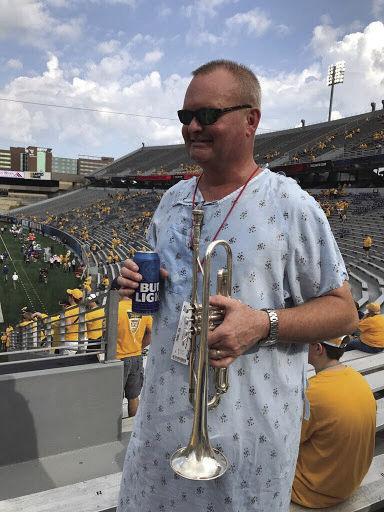 O'Neal experienced stomach pains, chills and dry heaving Friday morning, which made him concerned enough to go to the hospital, where his appendix was removed.
"I'd been looking forward to this weekend for a while, so when they told me I had to go into surgery, I was like, 'Really? Now?'" O'Neal said. "All of my friends were out having Wings Olé, and I was in the hospital."
After a successful surgery on Friday, O'Neal stayed overnight in the hospital and was discharged Saturday morning. He put on shorts under his hospital gown and went to Milan Puskar Stadium for the Homecoming game against Kansas.
"I wanted to have fun with it," he said. "The only reason I wore it [was] because I wanted to surprise [the band] in the stands with my gown."
O'Neal didn't perform with the band on Saturday, but a picture of him in his gown managed to go viral on WVU Barstool social media accounts and Facebook pages like Ladies of the Flying WV.
"People would mob me and want pictures. It was the neatest thing ever," O'Neal said. "People I knew from home were texting me saying, 'Why are you in a gown? What happened?'"
O'Neal didn't expect the pictures of him to gain the attention it did.
"I just told people that I'm just an old drag queen who finally found the right dress for the right ball," said O'Neal.