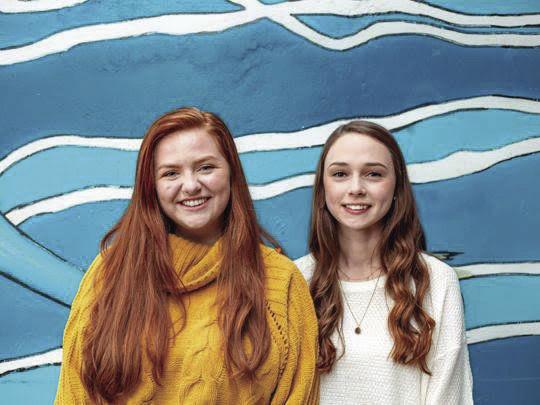 While campaigning to become the next Student Government Association administration, the Focus ticket ran on restructuring SGA so that it works for all students.
Enough students found their message compelling, earning the Focus ticket the presidency, vice presidency and a clean sweep by their senate candidates.
Kate Dye, a junior chemistry student from Clarksburg, and Madi Matheny, a sophomore studying international studies and environmental geoscience from Parkersburg, became the first all-female pair to take the role as SGA president and vice president.
Travis Rawson, a junior studying immunology and medical microbiology from Ravenswood, was elected as a senator and was recently elected as president pro tempore, or the highest ranking senator.
The three sat down with the DA for an interview Friday to discuss what issues the new administration will be working toward in the 2019-20 school year.
Restructuring SGA
One of the first changes the administration made was simply reducing the number of executive committees by creating just five broad focus areas: safety, community engagement, inclusion, health and student experience.
"In the past, SGA has actually had an executive position for about 40 different things, every campus issue you could think of," Dye said.
They said the smaller committee structure will increase productivity and accountability.
The administration also plans to hold informal meetings separate from the weekly formal meetings on Wednesday, focused on these five areas and getting students working together.
"If we can break into these committees and actually get people collaborating, then we're having more of a team atmosphere and getting things done," Matheny said.
Dye said the current way executive committees report is not very productive and that they take away from meeting time.
There will also be two chiefs of staffs, one for managing internal affairs and one for managing external affairs. Dye said they made this decision to improve management issues in SGA and increase participation on campus.
"Our productivity has to go up, for sure," Dye said. "You can't be having events and changing policy and doing things on campus if the org's not running inside."
Dye said when you look at other Big 12 schools and their SGA administrations, they are larger, but function at a much higher level. She said the key to creating a more successful SGA here at WVU will be adding more voices to the process, but still keeping everyone in line.
"If you're going to have a student government for a student body of 30,000 students, it has to be big. It needs to include as many students as possible; however, the more students that you get involved with, the less you're able to manage the org, so that's where we think management comes into play," she said.
Dye said changing the culture of SGA was what they campaigned on, and now they have the resources and power to do so.
Changes on campus and new events
A main priority for the Focus ticket and specifically Rawson was increasing mental health awareness on campus. First, they said the administration wants to improve access to therapists on campus.
Dye said the Carruth Center is heavily utilized by students, which has created scheduling and appointment issues. She said the Carruth Center is understaffed, and SGA is looking at reaching out to WVU Medicine and their professionals in order to have more available therapists for students.
Rawson campaigned on putting mental health days on the syllabi across campus. He said he has suffered from depression for the last four years, which sometimes affects his studies.
He said when people suffer from mental health issues, the last thing you feel like doing is going to class that day.
He added that because the idea of mental health days sound new and bold, he's reached out to professors for their input.
"I sent out this mass email to 200-some professors, and this email essentially said, 'Here's the idea, what do you guys think about it, do you have any suggestions?" he said. "I've gotten a lot of positive feedback, and I'm happy that probably a fourth of the professors actually responded."
He said while some other professors were not that receptive, especially the older professors, he's been able to hold extended conversations with some to sharpen up the potential policy. He said he's also meeting with the faculty of the biology department soon to discuss the possibility of implementing it in the future.
"Mental health is a priority because it plagues a lot of students," Rawson said. "This is a new generation of students, and I feel like mental health, as each year goes on, is getting more destigmatized."
"For courses to not have any make up policies for missed attendance points, I don't think that's fair," he added.
Dye said every month, the administration wants to have a specific student issue to focus on. She said August will likely be focused on sexual assault prevention due to its prevalence during this period of time.
"When you get back to the school year, that's [when] the most cases and reports happen, during those first couple weeks," Dye said.
They also want to hold monthly town hall-style meetings, which are geared toward specific issues.
Dye said among other things, her administration is looking at the logistics of holding their weekly meetings on other campuses, handing out reflectors for students to place on their backpacks in hopes to improve pedestrian safety and increasing the amount of surveys emailed to students throughout the year to hear what issues students are concerned about.
To increase student participation in SGA, Dye said her administration hopes to hold multiple festival-like, campus-wide events. Two that she had in mind, she said, are a festival celebrating identity and a festival showcasing what students are working on that they are passionate about: arts, research, etc.
Election changes
Starting next year, students will be able to vote in SGA elections online.
Matheny said the Obioma-Yachini administration were able to amend the SGA constitution to allow online voting in hopes to increase turnout and participation.
"The concern had to do with wording in our Constitution about whether or not it was allowed or not, but we did change that so that next year we will definitely be able to have online voting," Matheny said.
The amount of days of active campaigning will also increase to seven days, up from five days, starting next year.
They also said that the elections code has been tweaked in order to allow prospective candidates to speak about their platforms more freely before the designated active campaigning period.
The DA published an article last semester asking two pairs of presidential and vice presidential candidates general questions about their platform, and a few days later they were charged with violating the election code by the elections committee.
Matheny said that the old elections process was frustrating for both SGA and for the student body.
That tweet
On March 25 of last year, Rawson tweeted, "I never like to generalize a group of people but I think it's safe to say that most Republicans are extremely idiotic, gullible, close-minded, ignorant, and sometimes evil people."
The tweet received attention before the election, and after the election, the Connect ticket reposted the screenshot of it after Rawson was elected as president pro tempore.
Rawson said this tweet was posted in the month following the Parkland shooting, and he was upset at the current state of our country.
"I know in the preface of the tweet it says, 'I don't want to generalize people,' because I really wasn't, I should have worded it better because I really wasn't directing it to the group of Republicans, and matter of fact, at the time of the tweet, I was a registered Republican, my whole family are Republicans," he said.
He said he doesn't want this one incident to define his purpose in SGA, and that he's working for all students, and that he invites any student who is upset by the tweet to talk to him about it.
"If I could go back I would definitely not tweet it," he said, "because I'm not working just for certain types of students, I'm working for all students here."
Matheny said at the end of the day, they are all students, and sometimes they make mistakes.