There are new exemptions to the campus carry bill, which now bans weapons from most parts of a residence hall, areas where patient-care is taking place and in science laboratories. The new exemptions are marked with an asterisk.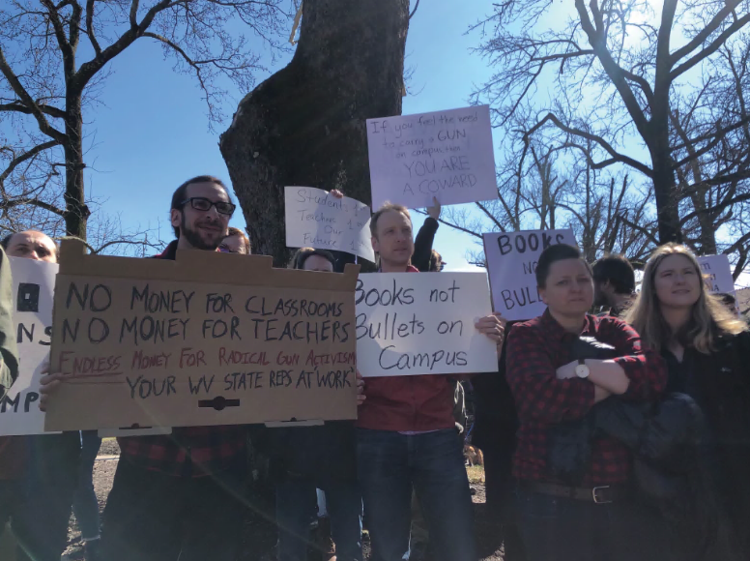 Updated list of campus carry exceptions:
Stadium or arena with a capacity of more than 1,000 spectators
A daycare facility located on campus
The secure area of a building used by a law-enforcement agency on campus
In an area on campus that has "adequate security measures" in place (these areas will be determined by the WVU Board of Governors at a future date; these areas must also be equipped with metal detectors or other security)
At the location where a formal disciplinary or grievance hearing for a student or employee is taking place
In a sole occupancy, or single-person office
Where a primary or secondary education school-sponsored event is taking place on campus
In an area where possession of a firearm is banned by state or federal law
*In designated areas where patient-care or mental health counseling is being provided
*In high hazardous and animal laboratories
*In on-campus residence halls, except common areas such as lounges, dining areas and study areas
However, the bill states that employees whose responsibilities require them to be in an on-campus residence hall (RAs, janitors, dining hall staff, etc.) are permitted to carry a firearm in a dorm.
The bill requires that at least one dorm on campus provide a secure location for the storage of a weapon, or an institution can install safes in a resident's room.
But the bill specifically names WVU, and it requires that if the University chooses to use a secure location instead of safes, it must make two dorms available.
WVU Vice President for Strategic Initiatives Rob Alsop has said that WVU will use the two residence halls option.
The bill also allows colleges to "charge a reasonable fee for the use of secure storage or a safe."
Bill advances to House floor
"The Campus Self Defense Act" passed the House Finance Committee last Thursday and is now headed to the House floor for a full vote. 
A fiscal note, or cost estimate, was added to the bill last week that projected if the campus carry bill were go into law, it would cost around $11.6 million to implement, with $10.3 million being needed within the first year. Lawmakers debated the cost, asking whether sending the bill to the finance committee was even necessary.
House Judiciary Chairman John Shott, R-Mercer, who was the only Republican in the judiciary committee to vote against the campus carry bill, said it would be a "terrible idea to ignore this type of fiscal note," WV MetroNews reported.
However, when the bill was eventually sent through the finance committee on Thursday, it was successfully advanced later in the afternoon.
Faculty walkout
More than 100 members of the WVU and Morgantown community gathered in Woodburn Circle on Thursday to protest against a campus carry bill gaining ground in the state Legislature.
"I do not believe that guns have a place on an institutional ground that is meant for learning," said protester Olivia Young, a junior physics and astronomy student from Short Gap, West Virginia. "I do proctor exams for large classes sometimes, and we have had people get very upset in the past, and if you put a gun into that situation, it becomes much worse."
Alsop has previously said that he thinks the legislation will pass.
Young said she is also concerned that, if police are responding to an active shooter situation, they might take down someone who conceal carries instead of the shooter.
Nicolas Zegre, a WVU associate professor of forest hydrology who was once an enlisted member of the U.S. Army, spoke out against the bill during the gathering.
"I think it's absolutely absurd to think about introducing legal right to carry firearms in a location of public discourse," Zegre said. "Campuses should be safe places for us to discuss contentious and complicated aspects of our society, and by introducing weapons on campus legally, it makes a higher likelihood of violence to occur."
Some present at Woodburn Circle talked about further protests, including at the state Capitol.
While the crowd overwhelmingly came out in protest of the bill, there were a handful present who supported campus carry.
"There are many people in West Virginia that carry, all over the country, and it doesn't seem to be a problem with people just going crazy with legal guns and legal carry," said Jackson Wolfe, who carried a sign that said, "MY BODY MY SAFETY MY CHOICE!"