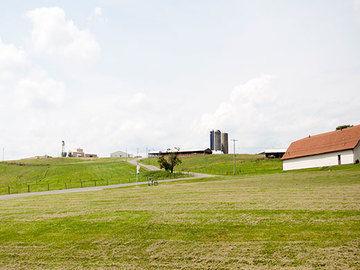 While many pet-owning students who head home for school breaks take their pets with them or find alternative ways to care for them, some pets are left behind.
Margaret Minch, WVU veterinary medicine professor, said toward the end of the spring semester a common place pets get dropped off is at the WVU Animal Science Farm.
"It's a seasonal issue. It's not like it happens all the time," Minch said. "Spring semester when [students] are leaving for the summer, the pets, usually cats, show up at the farm."
Minch said three or four cats are dropped off at the farm during the transition between the spring and summer semesters. She said about 10 cats currently live at the farm. She said in April or May, she expects to see that number increase.
While the cat population on the farm at the moment is not unmanageable, she said pet duping is an issue in Morgantown.
"Animal control often times ends up picking up some of them, or the cats in that particular situation end up in the feral cat population," Minch said.
Minch said if cats are forced to go from being indoor cats to surviving on their own, those that are not properly vaccinated are at high risk for contracting and spreading disease. Just last year, a feral cat that attacked two people in Suncrest tested positive for rabies. Minch said this is one of many examples of the complications feral cat populations present to the community.
Beyond the implications of illness the cats may face, they also have to adjust from living indoors and being cared for to surviving on their own.
"It's a hard life to live on the streets for a cat, especially for one that has been sheltered and had food and water provided for it on a routine basis," Minch said.
Minch said the cats are dropped off at the farm generally receive physical examination, are vaccinated, and are neutered or spayed to ensure they will not pose any risk to the current cat population; however, because the farm now has a stable population of cats, it is likely that any other pets dropped off will be taken to the animal shelter.
"We are not advocating or allowing this to happen," Minch said. "We don't want to grow any bigger, so going forward I think what will end up happening is any strays that show up will likely be turned into the animal shelters. We don't have the facilities to provide for them."