WVU President E. Gordon Gee discussed next year's tuition, campus carry and the Spruce Street snow day riot among other issues in an interview with the DA staff on Thursday.
Tuition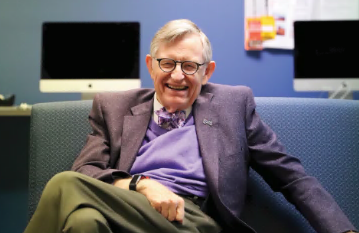 Gee said because the legislature did not make cuts to higher education funding, he thinks if there are any tuition hikes at all, he expects the increases to be "very moderate" ones.
"I think with the stability of our budget, I think the expectation would be that if there is any, it will be very, very modest," Gee said.
Last year, WVU upped tuition 5.7 percent after cuts were made to the state's total higher education funding. Average tuition for West Virginia residents this year was $4,428 per semester and $12,480 per semester for out-of-state students.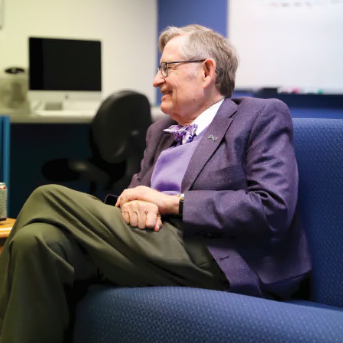 Campus Carry
WVU spent a good chunk of January and February preparing for the increasing probability of campus carry being passed into law, allowing any person with a valid permit to carry a concealed weapon on campus.
The University and Gee have long been opposed to campus carry being enacted at the state level, asking that WVU have "local control" on the issue.
Ultimately, the bill never made it to the governor's desk. It passed the House of Delegates, but was eventually struck down in the Senate Judiciary Committee just a few days before the 60-day session ended.
Gee said for him, this legislative session in particular was one of the most difficult to navigate due to this bill, along with funding and the organization of higher education.
"I think in many ways it was the most challenging that I've been through in a long time," he said. "We did very well; it's just that there were a lot of moving parts."
As for next year, Gee said he sees one of two things happening with campus carry: either the supporters of the bill run it again without negotiating exemptions with WVU, or they'll just wait until the 2020 session again in hopes to put Republican legislators on the record about it during an election year.
"Now, there's a theory that it may not come back next year because it's a non-election year, and maybe those who want to have it passed will pass on having it come up because they want to punish who vote against it this year, then they can go after them in the following year," he said. "So, I hope that that's not the case.
"People in political life are afraid of being labeled, or afraid of having someone run further to the right than them, and I think that's probably where it is," he added.
He said WVU's approach next year will be a little different than this year's.
"I think our strategy will be a pretty clever one," Gee said. "We'll just, between now and then – I'm going talk about it a lot, I'm going to get other people to talk about it a lot, rather than us being sort of quiet and hoping it won't come up."
"I think we have to be prepared by very aggressively explaining why we don't think it's good because, as I say, I doubt if we'll be able to negotiate exemptions next year," he added.
But he did say that WVU will work toward getting more exemptions in residence halls if the bill comes up again.
"I think that the one exemption we didn't get is we didn't get exemptions in all the residence halls," he said. "We got them in the open spaces of the residence halls, but not in the rooms. I think that would be one of the things."
"I think we'll have no choice but to go at it in a direct, no-holds barred way," Gee said. "I think that the notion of playing a parallel process probably is beyond our capacity now. We tried it once, and I think it was the right thing to do, I'm not defensive about that, I just think that next year, that the likelihood of us being able to negotiate on a straightforward way over any of these kinds of issues, it's going to be... They're going to be mad that they lost, and we're going to be mad we have to try it again."
Spruce Street snow day
When asked about the Feb. 1 snow day festivities on Spruce Street, Gee said, "Students come to universities to have opportunities, and we should not be about preventing fun. We should be about making certain that danger doesn't occur," he said.
Gee said he was away while the incident was happening, but as he watched online, he said he was unhappy with how it escalated so quickly; especially with the now-viral videos of police officers shooting pepper balls into crowds of students spectating on porches.
"I am a great believer in our own police department, I think that they do a great job, because in many ways, they are trained to be both mother and father and psychiatrist, they understand we're dealing with 18, 19 and 20-year-olds in most of these circumstances, but sometimes I'm afraid we go to DEFCON 1, if you know what I mean," he said. "I just felt that was probably over the top."
However, he said he wants to be fair to the Morgantown Police Department and respect its protocols.
Gee did leave the door open for other ways students could gather and have fun on days off in the winter, as long as everyone stays safe.
"Maybe we have to create ways when we have snow days for everyone to go to the big hills out back, and everyone would go [sled]," he said.
Alpha Phi/NAACP
On March 2, the DA published photos of a baby doll with a blackened face hanging from the ceiling of the Alpha Phi sorority house. WVU deemed the incident "not one of intended black face," but required members to attend various trainings and participate in community service throughout the semester.
WVU's NAACP chapter, however, released a letter later that week calling on WVU to implement "real change to prevent this from happening again." WVU NAACP's President Stephanie Buggs wrote that the way WVU handles investigations into these incidents needs to be "critically examined."
Gee said he and Buggs have spoken since, and these issues were discussed.
But he disagreed that WVU did not handle the situation well. He pointed to WVU's meeting with Alpha Phi members and parents with WVU Vice President for Diversity and Inclusion Meshea Poore, where the incident was discussed and a resolution was made.
"That was an unfortunate incident, and I don't just say that lightly," he said. "Vice President Poore met with the 110, 115 women in Alpha Phi, they had a conversation, they understood what the issue was, and I think that both Alpha Phi and the University handled it well, and I think the NAACP is hopeful that those kind of responses and conversations continue."
Greek life
Although it's been a relatively quiet semester for fraternities, Gee said the safety of the students in the Independent Interfraternity Council (IIFC) is still a main concern for him.
He said the dissociation of five fraternities, Kappa Alpha, Sigma Chi, Phi Sigma Kappa, Theta Chi and Alpha Sigma Phi, was partially to blame on the "adults" steering the students away from the University. He said the national organizations, the Greek housing corporations and the owners of the fraternity houses need students to fill the rooms and pay dues.
"The national fraternities are very opposed to deferred recruitment," he said. "And the reason is because they're afraid because if they recruited in their second semester, then they won't [have] enough to fill up their houses next semester. So, it's a money issue, and I hate characterizing it that way, because I think that there are lot more subtle reasons, but I do believe that we are doing the right thing, and the reason I believe that is the fact that we did at Ohio State very successfully we actually moved recruitment at Vanderbilt to the second year, very successfully, and so this is not a figment of my imagination, the data [is] very clear."
"But the adults who are controlling a lot of it say that's against what we want to do so they put pressure on the young men," he said.
As for the recruitment process next year, Gee said it is a little too early to say, but he felt the pilot program WVU implemented this year for freshmen pledges was a way to be fair to the fraternities who stayed with the University.