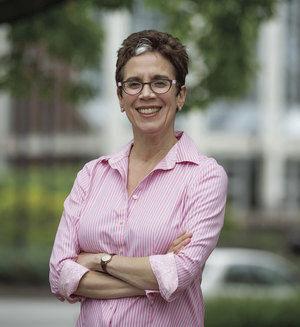 Starting July 1, Maryanne Reed will become WVU's provost, where she plans to use her 26 years of experience at the University to begin the next chapter of academic affairs at the institution she's been a part of since 1993.
Reed served 15 years as the dean of the Reed College of Media (no relation) and spent the previous 11 years as a WVU faculty member. That experience, she said, will help her become an effective head of all academic affairs at the University.
"I'm an experienced administrator; I've gone through the faculty ranks," she said. "I do understand the institution from the perspective of faculty and from being a dean."
When it looked as though current Provost Joyce McConnell was heading west to become the next president of Colorado State University, WVU President E. Gordon Gee had to make the decision of who would take the post next. Reed said Gee simply just asked her if she'd take the job.
"I was very flattered, humble and a little overwhelmed, so I had to think about it, but not for very long," she said.
The media college at WVU has undergone significant changes since Reed took over as the dean in 2004. She was first head of the P.I. Reed School of Journalism, and years later worked toward centralizing the journalism, public relations, advertising and general communications programs and created the Reed College of Media in 2014. 
WVU opened the lavish Media Innovation Center in the Evansdale Crossing in 2016 as part of that move.
Reed said she believes her work condensing the media college to better fit the modern job market was why Gee asked her to take the position, hoping Reed can work toward similar changes University-wide.
"I think what I bring, and what the president is most excited about, is a willingness to adapt and evolve to a changing world, and I think you would see that in the college of media, how we've completely adapted our curriculum, our programs, our facilities to prepare students for the industry, but also to help evolve the industry and advance the industry," she said. "Approaching my job or my role with that lens is something that I'm interested in doing and I think the president is excited about."
"We've really anticipated where our industries are headed and evolved our curriculum to respond to those changes, so I would like to be involved with that at the University level," she added.
Reed hired Eric Minor in 2013 as the media college's first director of student careers and opportunities. She said that by professionalizing advising and bringing in a person solely dedicated to enhancing career opportunities for students, the college has made strides in securing students internships and post-graduate careers.
"That's the part of education that isn't just the classes, right, that's really that support structure that enables students to succeed," Reed said.
As for other objectives she wants to accomplish as provost, Reed said she wants to use the University's research capabilities to develop various new programs in the state of West Virginia. She mentioned WVU's research in increasing the lifespan of residents, developing recreational tourism, applying new technology and creating sustainability in the state.
Reed also praised her predecessor for the work she did as provost, and she said the way McConnell worked with the deans across campus will be similar to how she wants to conduct herself.
"She has made social justice a top priority at the University, so I want to continue to support those efforts," Reed said. "She's been very collaborative with the deans, which is something I appreciated as a dean, and I will continue in the provost's role."
Reed said while it will be tough leaving the media college, she thinks with her new position, she'll be able to use her experience to implement productive programs across campus.
"I love the college of media, obviously, but to have the opportunity to be a part of WVU's future and help to shape that with the leadership team that's already in place, is very exciting," she said.