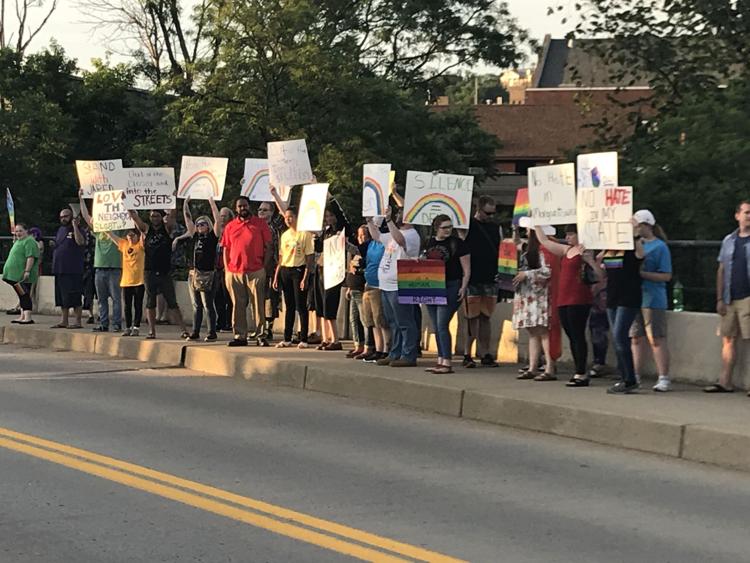 Update: Morgantown announced on Tuesday, June 11, that Jared Rote filed a discontinue investigation form. The investigation into the alleged assault has been discontinued.
Update: Morgantown news release information added at 11:27 a.m.
Morgantown's LGBTQ community and allies gathered in Morgantown on Monday evening to show solidarity with Jared Rote, a local drag queen who performs under the name Ophelia Jewels and said he was attacked early Monday morning.
In a Facebook post on Monday, Rote shared the aftermath of a reported malicious assault by the Pleasant Street bridge.
In the Facebook post, Rote wrote he was approached by three people while walking home and was attacked.
Rote wrote that he was told "this is what y'alls kind gets."
Eric Powell, deputy chief of the Morgantown police department, said in an email that the report of a malicious assault is under investigation.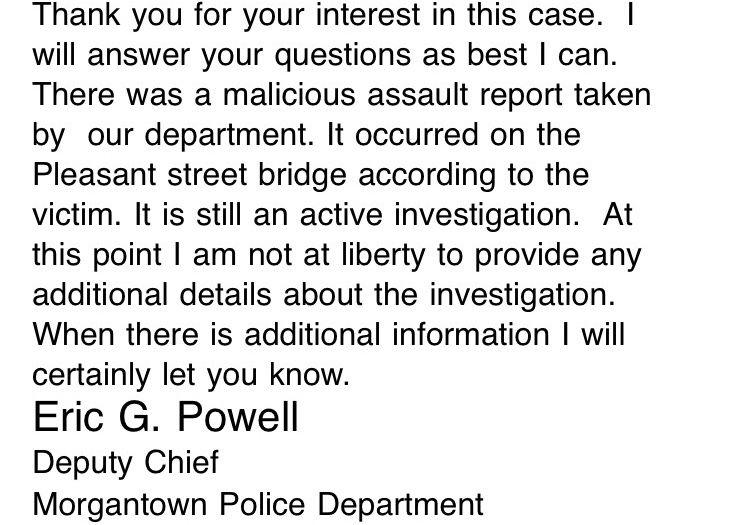 Rote was unable to provide a description of the attackers, according to a Tuesday morning Morgantown news release. Officers conducted a foot patrol in the area where the alleged attack occurred but did not find any subjects or evidence of the attack.  
The protesters marched from the Public Safety Building to the Pleasant Street bridge, where the attack is reported to have occurred.
Rote spoke to a crowd of around 75.
"I was told that I probably found a pair of shears on the bridge and decided to cut myself for attention," he said about the aftermath of the post.
Rote said he was released from Monongalia General Hospital Monday morning with 32 slashes on his body, along with some bruising to his scalp and a torn tendon in his leg.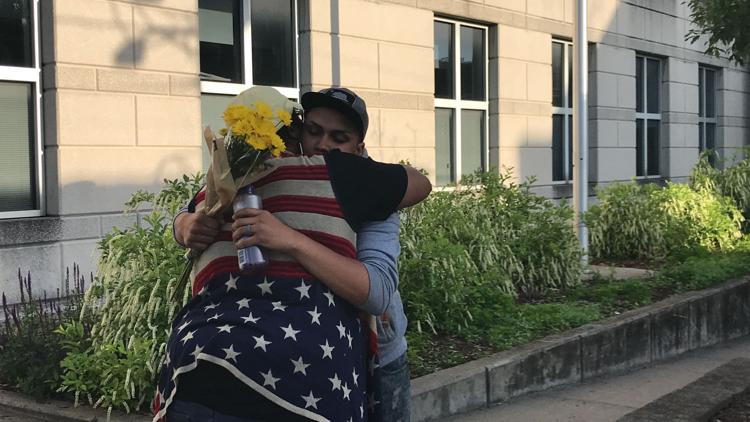 "I had to share what happened to me this morning, for the people who are too afraid to speak up for what happened to them," Rote said. "I could not believe the outpouring of love and support that I received when I opened my eyes today."
As of publication, the post detailing what happened has received over 2,600 likes and other reactions, 1,417 shares and over 1,000 comments.
Christopher Reed, one of the organizers of the rally, said it was a sign of solidarity for Rote, but also a call to action.
"West Virginia has such a large population of trans people and queer people and other LGBTQ people, and I just want them to know that we're here for them when something like this happens," Reed said.
Reed called for a serious investigation into the reported attack.
"We're not going to be quiet when something like this happens," he said. "You hurt one of us, you hurt all of us."
There is no further information on the report of a malicious assault at this time, but updates will come as information becomes available.