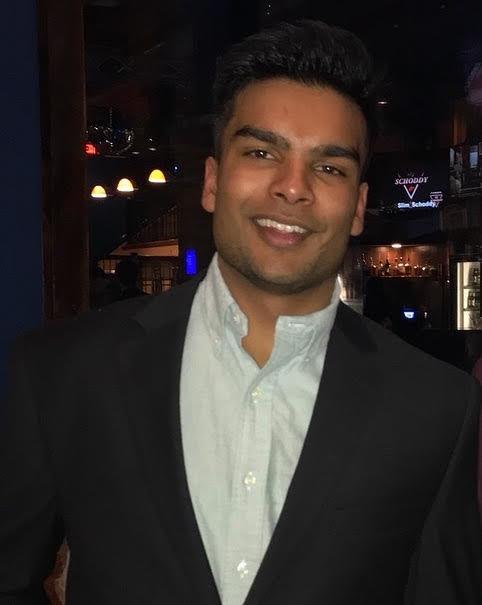 WVU Student Government Association Sen. Arpan Kumar is facing possible impeachment against the student government association for reasons he said are unreasonable.
SGA is asking Kumar to resign or face impeachment due to his two unexcused absences from meetings and behavioral issues brought forth by SGA members.
The committee met with Kumar on Nov. 19 regarding his absences, SGA Vice President Madi Matheny said. She also said all excuses are ruled on by a committee made up of the attorney general, the secretary and vice president and that all decisions were based off of an entire committee and not by any one person.
"We made those decisions with the information that we had and we are obligated to follow our constitution," Matheny said. "We have not heard a formal response from him on that offer or on the issue at all, so at this time we have have not filed articles of impeachment. We are not pursuing that until we hear from him because we feel strongly that offering that resignation would be in the best interest of everyone in order to avoid a contentious and possibly damaging impeachment trial."
Regarding the behavioral issues, Matheny said she'd elaborate on that at a later time.
"With his attendance record and due to also some behavioral issues that have been brought to us by other members of SGA, that committee had decided to move forward with an impeachment," Matheny said. "However, we do feel that this is a really sensitive issue and so we wanted to give Sen. Kumar the opportunity to resign.
Kumar, who submitted an editorial to the Daily Athenaeum about the matter titled "WVU's own witch-hunt," said his first unexcused absence came during the spring semester.
"The first instance of anything wrong was when I missed a meeting last year," Kumar said. "I missed it on April 24 and it was for a Calculus 3 review and it actually really helped my grade. At the time though, they did say that it counted as an unexcused absence, but they didn't make it known how severe it would be."
Kumar said in the SGA constitution, after the first unexcused absence, a member is supposed to get an email from the executive secretary noting what happened and noting that the member must not have any more unexcused absences. He said he had never received an email.
The proper grounds of impeachment stated in the SGA constitution say: Attendance at meetings of the Student Assembly shall be mandatory; more than two unexcused absences by a member of the Student Assembly shall constitute grounds for impeachment and removal from office. The President, SGA Attorney General, Executive Secretary, and the President of the Senate, shall rule on excuse.
"It's weird because then I missed one more meeting," Kumar said. "I missed it for very personal reasons. My aunt was in the ICU, and I had to go take care of my dad who had just had knee surgery in Charleston, so I had to leave Morgantown and they didn't count it as excused. After that, that's when they were supposed to have a meeting with me."
Kumar said he met with the president, vice president, attorney general and secretary and that from the meeting, they decided they would impeach him if he didn't resign.
"As for the constitution, they didn't have proper grounds," Kumar said. "So the only time it states proper grounds is if I have more than two unexcused absences, which I don't, and then they also were heavily reliant on character based allegories like, 'Oh, I heard you did this.'"
Matheny sent Kumar a text that read:
"Okay, if you do not want to resign I would ask that you send an email saying that. I also just want to reiterate what I said in the email that an impeachment process will be public, intrusive, and to be clear will be allowing the assembly to review all of the things we discussed in our meeting, question you on them, and then decide whether or not to impeach you. I know that you care a lot about SGA and want to keep this position, but please seriously consider resigning so that this situation does not turn into something that will negatively impact the rest of your college career and force your peers to call your character into question."
"From my side it's very unexpected," Kumar said. "It is not at all in view of what I've been doing for this government and for this council. I've been avidly proposing legislation, I've been talking to administrators, I've been to all of the meetings except for the two that I missed for pretty good reasons."
Kumar said that as a senator, he was working hard this summer, going to a retreat, going to a pedestrian safety expo and doing a lot of things to ensure that he could serve the position as best he could.
"Part of me wants to resign just for the fact that SGA is not what I thought it was and it really is kind of an elitist group, which some people say because they want to hold me to some standard that isn't what a normal student would be at."
If there is an impeachment, Kumar will go through a hearing in front of the student assembly, which is about 30 students. Two thirds of the majority will have to approve Kumar getting impeached and then Kumar is required to have a meeting with the judiciary committee.
"This resignation is to protect his reputation and his future in SGA because an impeachment is very serious and it would obviously grab the attention of the news and the student body and could damage his reputation in the future and also he would not be allowed to continue in SGA, so we want the best for everyone and we in no way want to harm Arpan, but that's why we're suggesting resignation," said SGA President Kate Dye.
Kumar said he doesn't want or plan to resign.
"There's going to be people in life that you just don't get along with and that might oppose you or might not like you for a specific reason, but no matter what, if you have a goal and you have something that you love, such as SGA, and making sure that those communities are better from it and from what I can do inside of it, then damn well I'm going to fight this impeachment so I can be here to help the students."