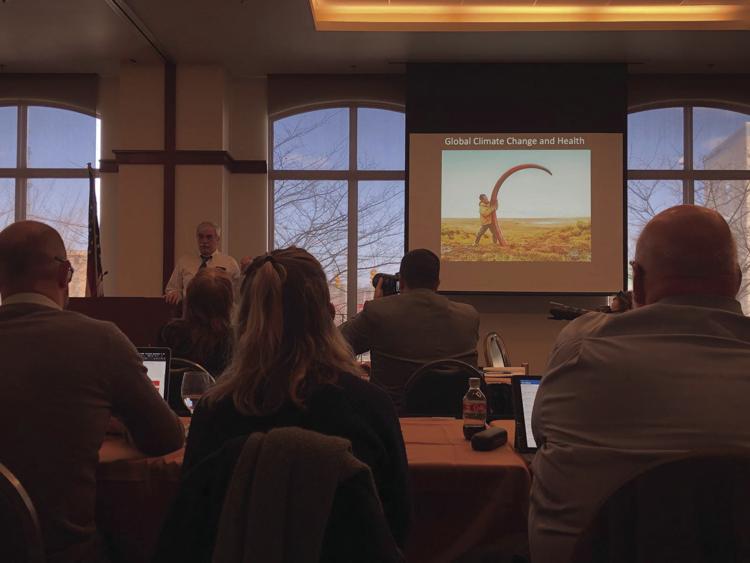 Two speakers discussed the importance of WVU's R1 research status and finding new clean energy solutions at the WVU Academic Media Day for Climate Change on Monday.
Fred King, vice president for research at WVU, began by discussing the University's status as the only R1 university in the state.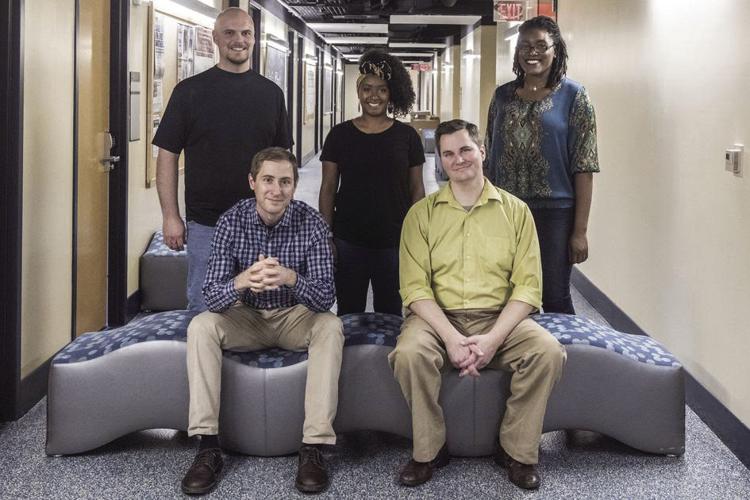 "Every day [WVU President E. Gordon Gee] reminds us that the purpose of our existence is to serve the state of West Virginia," King said.
WVU's flagship research comes in the form of work in the humanities, creative activity and in the lab," King said.
WVU has 263 degree programs and conducts 87 percent of university-based research in West Virginia. Annually, $117 million is given to WVU from external support for the University's research activities, and over 3,500 faculty, staff and student researchers are employed in research, with a payroll of $89 million in 2018.
Some advantages of being an R1 university include an enhanced institutional profile, access to private foundation opportunities, increased investments and an attraction for higher quality students and faculty to the University.
"Having an R1 university is also important to the state from an economic perspective," King said.
King also discussed the research focus areas at WVU, which include energy, water stewardship, STEM education K-16, gravitational wave astrophysics and addressing health needs in the state and Appalachia.
"There's a collaboration between WVU, Pittsburgh Carnegie Mellon [University], Shell and NETL [National Energy Technology Laboratory] rounding the area of how we take natural gas, shale gas and convert it into other products," King said.
Within the partnership, natural gas is being converted to hydrogen and carbon fibers. The work from that partnership has attracted the Chinese Energy Investment Corporation, and today the University is working in partnership with the company to develop technologies for natural gas conversion.
In WVU's research into water stewardship, or keeping the state's water supply clean, the University works with the Appalachian Freshwater Initiative, which seeks to understand the impact of contaminants on rivers and streams. The University is also working with the US Department of Energy funded effort to extract rare earth elements from acid mine drainage.
"This is a really big deal because they take what is a pretty nasty waste and they determine a way they could extract from that, an extremely valuable mineral," King said. "So that's a way, perhaps, we could take the acid mine drainage [and] the waste we have and turn it into an economic benefit."
WVU also seeks to improve the state's STEM education. WVU founded the Center for Excellence in STEM Education which seeks to get students interested in finding STEM careers. The University is also involved in CodeWV and WVUTeach.
"We know the importance of STEM and having a workforce very well prepared with great math skills so that we can bring engineers and scientists to colleges, [which] is something that's of central importance to the state," King said.
WVU is in partnership with the National Science Foundation's Physics Frontier Center – for Astrophysics research– at the Green Bank Observatory in Pocahontas County. He said there are only 10 such NSF frontier centers in the United States.
"A large part of what we've been focused on is how to protect that asset and keep that national lab going," King said.
WVU works with the Pulsar Search Collaboratory, a training program that bridges the work between gravitational wave astrophysics in collaboration with Green Bank. Through the program, high school students are trained to analyze data, while developing skills in data science and analytics and looking for signatures of pulsars, King said.
WVU is also focused on solving health problems in the state. It partners with West Virginia Clinical and Translational Science Institute's Extension to educate physicians on non-opioid treatments for pain.
"The Center for Translational Science is really working on community health [by] working with individual providers, helping community physicians in small towns and educating them about the risks of prescribing opioids by helping them understand what are the alternative treatments that are available, so they don't have to prescribe opioids," King said.
"People do not realize the high level of research that goes on at WVU," he added. "The research that we do here, the quality of what we do is sometimes under-appreciated. We need to do a better job of telling our story, so people realize the great things we have going on at the University."
Interim director of the WVU Energy Institute, James Wood, primarily discussed the work that the energy institute does and the value it adds to WVU's research programs in terms of accelerating intellectual property of commercialization of clean energy solutions.
"The energy institute supports research in resource extraction such as innovative techniques for the injection of carbon dioxide to produce oil," Wood said.
Wood said that for several years, the energy institute has been part of a program that studies the action of underground formations and fracking. The research has produced results suggesting the amount of natural gas leakage from a well pad can be reduced to near zero.
He said the institute wants to transition away from coal and toward natural gas in West Virginia.
"Replacing a typical 600-megawatt coal-fired generator with a 600-megawatt natural gas generator would produce the same amount of electricity with about 2.2 billion tons per year less carbon emissions," Wood said.
Wood also discussed steam methane reforming, or creating fuel from the methane in natural gas, that the institute does in collaboration with the WVU Center for Innovation in Gas Research and Utilization. In partnership with the WVU Water Research Institute, the energy institute is working on mine reclamation, water management treatment and recovery in oil, gas and rare earths as well.
"[The WVU Energy Institute's] more geared to help guide outcomes based on research that has commercial potential and can be commercialized in West Virginia for the benefit of West Virginia citizens," Wood said.