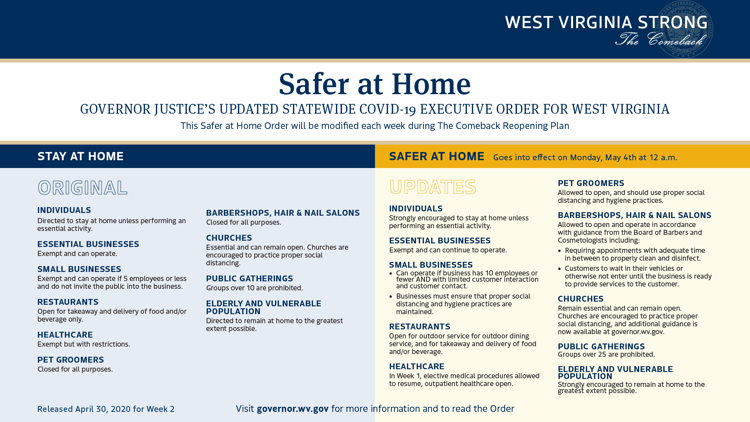 West Virginia Gov. Jim Justice announced Thursday the plan for lifting the state's "stay at home" order and its replacement with a new "safer at home" executive order. 
Justice said the "safer at home" order goes into effect at 12:01 a.m. Monday.
Through the new "safer at home" order, individuals are "strongly encouraged to stay at home unless performing an essential activity." The order also allows for increased customer activity involving small businesses, restaurants, churches and more.
"We want you to use your best judgement, follow the advice of your boards [of health] or whomever it may be, but absolutely as we reopen, we want to reopen as safely as can be," Justice said in a Thursday press briefing.
The move to the "safer at home" order allows businesses to operate if they have 10 employees or fewer and there is limited interaction with customers. Through the original "stay at home" order, which was issued March 26, only businesses of five employees or less could be open, but they could not "invite the public into the business." 
It also allows for restaurants to resume outdoor dining service, and pet groomers, barbershops, nail and hair salons to open.
"Again, I encourage all businesses that are allowed to open to do so, but only if they follow the guidelines to keep West Virginians safe," Justice said. 
According to the West Virginia Department of Health and Human Resources, West Virginia has 1,118 confirmed cases of the COVID-19 and 41 deaths due to it.