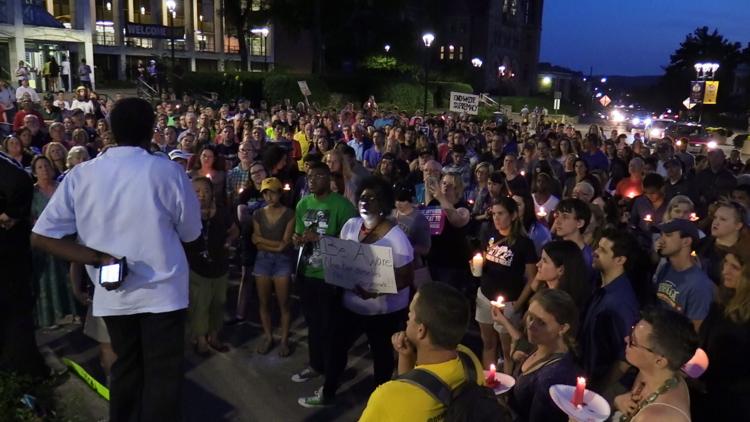 Edited at 2:13 p.m.
WVU Student Body President Blake Humphrey spoke to hundreds gathered in Morgantown the day after a car struck people protesting a white nationalist rally in Charlottesville, Virginia.
Starting with City Councilor Ryan Wallace, fourteen people addressed the crowd in front of the Mountainlair on Sunday. Humphrey left his spot in the crowd and volunteered to speak.
"Hatred has no place in our country," he said. "But it is in fact because of love and compassion and us being here tonight that we will be okay."
Protesting the impending removal of a Robert E. Lee statue, on Saturday members of the Ku Klux Klan and neo-Nazi groups gathered in Charlottesville, home of the University of Virginia. Later that day, a car struck a crowd of counter-protestors, resulting in one causality and 19 injuries.
Two Virginia State Police Officers were also killed when a helicopter responding to the rally violence crashed outside the city.
Humphrey signed a letter addressing the events in Charlottesville alongside college and university Student Body Presidents from across the country.
"It's so critical that we as student leaders speak up on things like this," said Humphrey. "Although it wasn't on our campus we have to lend our support to causes like this."
Humphrey said that it is important for WVU students not to remain silent when seeing oppression.
"West Virginia University welcomes and accepts everyone," he said. "We are a community I believe that is cohesively focused on promoting diversity, equity and inclusion and speaking out against the hateful bigotry."
Another WVU student spoke at the Mountainlair gathering.
"Every time you're silent is the time we let them win," said Sophomore Roark Sizemore. "Every time we let hate, we let bigotry, we let racism, we let Nazis be accepted in our culture and mainstream society, that's ridiculous."