WVU hosted its annual Mountaineer Arts and Crafts fair during Mountaineer Week, where a variety of shop and business owners from all over the state showcased their unique work.
Mountain Craft Shop Co., located in Proctor, West Virginia, carries products that are collectively known as American Folk Toys.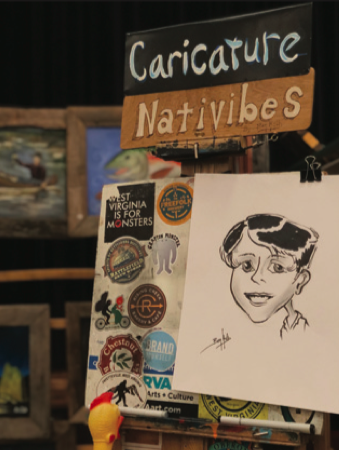 "These toys are a reproduction of toys once made at home and handed down from one generation to the next," said Steve Conlon, owner of Mountain Craft Shop.
Although the original shop was started in 1963, Steve and Ellie Conlon bought the shop in 2001.
"We make all parts of the toys, except for the marbles," Conlon said.
The toys are made from native hardwoods like walnut, cherry, beech and maple.
The marbles are made locally in Paden City, WV, at the Marble King Factory, which is one of the last remaining marble factories in North America.
"We found the business fascinating and a good fit with our other shop, ThistleDew Farms," Conlon said.
ThistleDew Farms was also at the event, carrying honey-based condiments, mustards, bees wax and candles, sauces and even skin cream and cosmetics.
The couple houses more than 700 beehives, offers bee tours and educational tours where visitors can taste fresh comb honey and learn how it's made.
The Conlon's products can be bought at their store in Proctor, WV, or online.
The Pretty Pickle, located in central West Virginia, was another business at the event and sells jewelry consisting of delicate botanicals and wings.
"I started out with sewing and slowly transitioned to resin which eventually started my shop in 2010," said Megan Brown, owner of the Pretty Pickle. "I guess my need to always create was my inspiration for starting my business."
Although she doesn't have her own physical store in West Virginia, more than 100 stores have bought her products in wholesale, including Hoot and Howl located on High Street.
According to her website, Brown said she obtains the butterfly wings used in her jewelry from conservatories, butterfly farms and friends and fans who have found wings.
"I'm always asked if I kill butterflies, and the answer is 'no,'" Brown said. "The butterflies and moths in my jewelry are collected after they have naturally expired."
The jewelry consists of flowers and wings carefully preserved in resin, with variations containing a bezel or other times left in their natural form. The process takes up to three weeks.
Along with the jewelry on her Etsy page, Brown does custom orders as well. She has previously made memorial pieces, bridal bouquet sets, and is open to other floral pieces clients may ask for.
The Arts and Craft Fair, located in the Mountainlair, exhibits a wide array of items like jewelry, skin care, local food, artwork, historical toys and much more every year.